Mike & Ashley
Hoping to Adopt
(California)
A bit about us
---
check out our full profile by clicking on the link below
---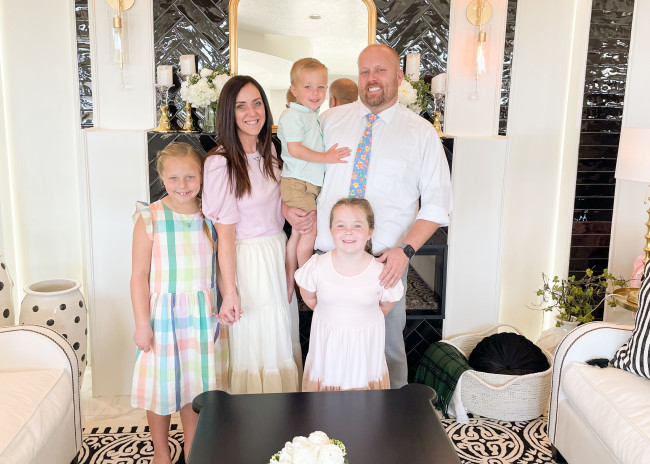 the clan
Hi! We won't go into too much detail (click the link below if you'd like to read our more in depth profile), but we'd like to share a little bit about our family! Mike was born and raised in Southern Utah, he loves baseball (fav team is the Atlanta Braves), likes to golf, loves to travel, and is an Anesthesiologist. He works hard to provide a very comfortable life for our family, and he is so so loved! He's very silly and funny, and our kids are taking after him (he loves their developing sense of humor). If you know Mike, you love him! I (Ashley) was born and raised in Southern California. Two of my most favorite things in the world are Disneyland and the beach, and those two things are even better now that we have kids to share them with. I always wanted to be a high school Language Arts teacher, but after having kids and with age, I've developed a love for all things interior design and I'm currently working on certification classes which will help me pursue that in the future. I love being a stay at home mom and having the ability to be a part of our growing kids lives every single day. I'm so grateful for everything that I have in my life, and I try really hard to instill that in our family.

Mike and I met when we were both working as summer camp counselors one year. We hit it off fairly quickly, got married about a year later, and spent most of our first 10 years of marriage in Mike's training for medicine. We've kind of bounced around from place to place and have lived in Utah, Arizona, Kansas, and California. We love that we are done with training and finally able to be settled around the corner from my parents in my hometown.

We have 3 beautiful biological children who are so unique and amazing in their own ways. They fill a joy in our hearts that's quite hard to describe with words.
Choosing adoption
---
we know that there is an expectant mama out there who is looking for the things our family can give to her baby
---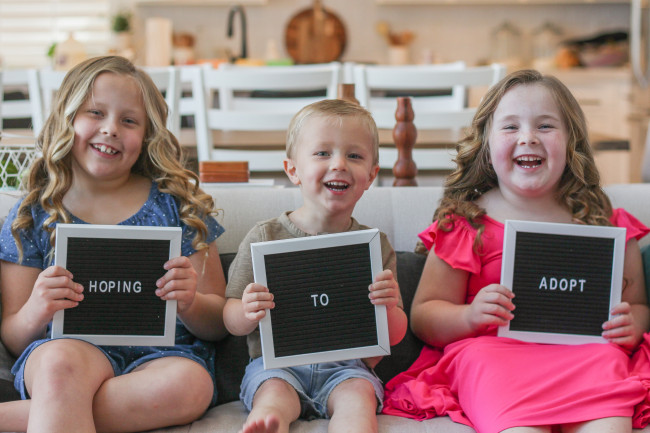 they're so excited and ready
We recognize that our reasons for adoption may not be the typical reasons some people choose this path for growing a family. We are so blessed to have our 3 biological kiddos, and we thank the Lord every day for them. But there is something tugging on our hearts that keeps bringing us back to adoption. We don't know how, we don't know when, and we don't know who. But we do know why. We know our family is supposed to be completed through adoption. We know that we have so many blessings to share and a beautiful life to offer a sweet baby. We've talked about our future adoption with our kids openly and often, and goodness are they ready NOW ha! We are confident in God's timing and we know that there is an expectant mama out there who is looking for the things our family can give to her baby. We might not be what every mama is looking for, but we know you are out there somewhere, and we will be patiently waiting for our paths to cross.

Our Letter to You
---
This is your baby, and you get to chose where the future goes for you both
---
Thank you for taking your time to learn a little about our family!
First off, if you have some time and would like to learn more about our story, our life, our families, our parenting style, and to read our longer letter to you, please check out our full profile over at

www.christensenshopetoadopt.com

A dear friend of mine placed her baby for adoption when she was 19 years old. I (Ashley) watched her go through the pregnancy, watched her weigh lots of options, watched her fall in love with her baby, and watched as she made the bittersweet decision to choose adoption. I wasn't her and I can't say I know what she felt. But as an outsider, and as a friend who's heard her share her story in the years since, she's taught me a lot about the tenderness of adoption stories. I hope I can convey to you the love and respect I have for birth moms.

Adoption is not about us and our family. While this profile is about us and giving you a glimpse into who we are and the life we live, this adoption is not about us. Ultimately, it's about the baby. But right now? Right now it's all about you. Your situation is delicate and we hope as you consider all of the options you have in front of you, that you first and foremost take care of yourself. Take your time, don't rush yourself to make a decision, and don't let others rush you, either. This is your baby, and you get to chose where the future goes for you both. Whether or not you believe it right now, you are important. You're quite literally EVERYTHING to your baby growing inside your belly. We hope you never doubt that you're important and that you matter.

If by some chance, you decide adoption is the right choice for you, and then by some miracle our lives are connected through that adoption, we want you to know a few things. We will always honor and respect your role as a birth mom. We hope to have a healthy open relationship, however that may look. If you allow, we hope to teach this child about you, to help this child grow a love for you. We plan to foster an environment in which there will never be any doubt of your unconditional love for your baby. This child will always and forever be blessed to have two moms.

We are not blind to the difficulties and pains of adoption, but we hope one day when you look back at your life, you can see there was beauty in it, too. We hope and pray you're able to find peace with whatever road you decide to take. If our paths don't cross, and it's ok if they don't, always know we are praying for all of the expectant mothers out there, you included.