Soyoung & David
Hoping to Adopt
(New York)
Our Story
---
We are each other's biggest cheerleaders.
---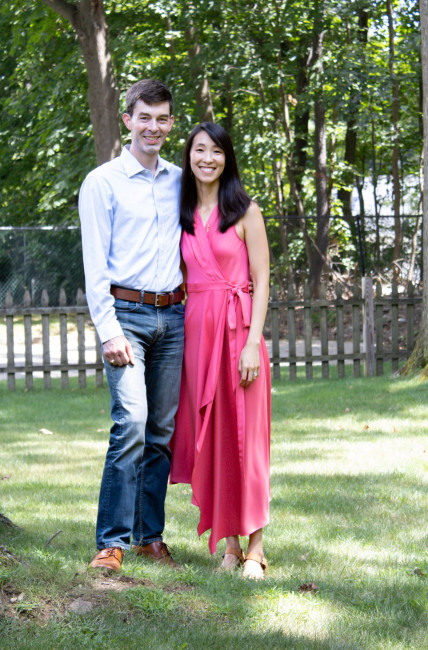 There is so much laughter when we're together, and also lots of tears.
Like many modern-day couples, our story begins on a dating app. David was drawn to Soyoung's genuineness, while Soyoung was drawn to David's thoughtful responses. We had our first date at a pastrami sandwich spot where Soyoung worried that she would never be able to hear the very soft-spoken David (luckily the restaurant was just really loud), and David laughed that Soyoung's backpack was half her size.
Both of us were struck by how honest and open-minded we found the other person to be. We dated for several more years after that. Our dates often involved some form of exploration: attending musical performances, trying out a roller-skating rink, visiting a museum, hiking a steep mountain, or simply watching the sunset and chatting. Three years ago, we got married in the church where Soyoung grew up. Our first dance was to the song, "My Best Friend" by Tim McGraw. This song seems to be more and more applicable to us as each day passes. We are each other's biggest cheerleaders, most important thought
partners, and greatest sources of comfort. We tell each other everything and truly enjoy spending time together.
Of course, we have our challenges, but we do our best to put everything on the table and not shy away from
hard conversations. There is so much laughter when we're together, and also lots of tears. Both are welcome,
even when it feels hard to work through difficult emotions. We are committed to authenticity and transparency, like true best friends.
Our Home
Built in the 1960s and furnished with our eclectic style, our house is a perfect combination of old and new. We chose this house because of the large deck that looks out onto a forest, and because there is a lot of light in the house thanks to the many windows and a high ceiling. It is close enough to the city for us to go to a museum or a basketball game, but we can also go camping or hiking less than an hour away, so it is convenient for everything we like to do.

The room that would belong to your child is a corner room with lots of windows. We have another bedroom that is a guest room, which we hope will someday become a bedroom for a brother or sister. We live in a peaceful neighborhood with a mix of ages (from grandparents to young families) and backgrounds. Just on our street, there are families from African, Indian, Egyptian, German, Jewish, Ecuadorian, and Chinese
cultural backgrounds. Our neighbors are very friendly. We will have dinner with neighbors or their kids will come
say hi to Ami while we walk.

Our home is close to a small downtown area with shops and eateries representing food from around the world. We can walk or bike to the local elementary, middle, and high schools. A community pool and several parks are within minutes from our house. There is also a pair of hawks that live nearby. We love to watch them and hear their calls frequently.
Our church is a 4-minute drive away. Our church community is incredibly diverse. We love that there are many mixed race and multicultural families like us at the church, as well as several adoptive families. The church community is very warm and welcoming. In addition to Sunday services, we meet up with church folks for informal gatherings and formal programs at least once a week. Our church family is an important source of support for us.
Through Each Other's Eyes
---
When you combine Soyoung's caring, her planning, and her career working with children, it seems she was designed to be a great mom.
---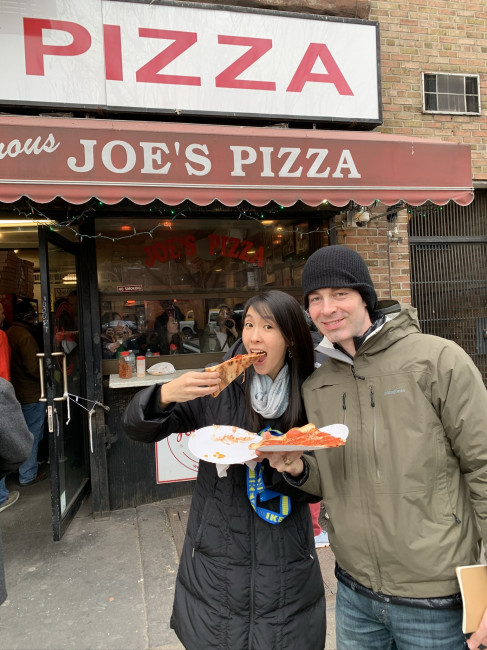 When I think of David, the first words that come to mind are leader, thoughtful, and (dry) humor
Meet David
When I think of David, the first words that come to mind are leader, thoughtful, and (dry) humor. David has a quiet strength that makes everyone around him feel at ease. You know you're in good hands if David is around. David is the person who thinks of everything that no one else thought of. He asks incredibly thoughtful questions. His
analytic mind always wants to understand the world around him. He is also a natural problem-solver. Any opportunity he has to think strategically – whether it be at work or while playing a game with friends – gives him genuine joy. When David is not in his intense logical thinking mode, he can be pretty goofy. His dad jokes are painfully cheesy, and he finishes each one with a boyish smile, a bit proud of himself when he makes me groan. He doesn't show this side with everyone, but with me David is so warm. My favorite place to be is wrapped up in a David hug. Sometimes he'll even start dancing while holding me and will whisper all the encouraging words I need to hear. With his gift with words, thoughtfulness, and dry sense of humor, I know that David will be such a fun, loving, and kind father.
Meet Soyoung
Soyoung is awesome. But if I need 3 words, she is caring, smart, and get-it-done. She is the person who remembers every birthday or anniversary for everyone and sends a card, and is the one who will take an
emergency weekend call from a student to help them with a situation. She is always an advocate for the underdog. She is a planner and does everything to a high standard. She is the rare person where everyone she works with really likes working with her: she is loved by her adult students, the young children in their classrooms, and the other professors at her college. She is adventurous and is always learning. As an example, she had never camped before we met, and now we camp frequently and she has gone on a 4-day backpacking trip. I love to cook with her, where my role is DJ and assistant chef. She beats me when we play word games together. She has seen me cry more than anyone else. She frequently says "buggers" when something goes wrong, which always makes me laugh. When you combine her caring, her planning, and her career working with children, it seems she was designed to be a great mom.
The Rest of Us
---
We are close to our families.
---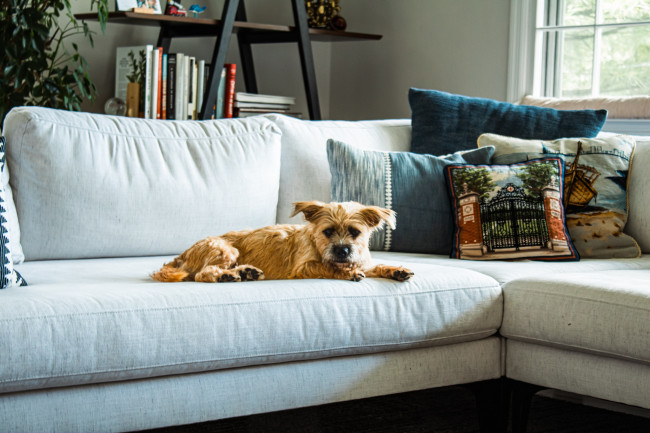 We have a sweet, snuggly, food-motivated Norfolk Terrier mix named Ami.
Meet Ami
We have a sweet, snuggly, food-motivated Norfolk Terrier mix named Ami. She is becoming bilingual, learning commands in English and Korean. We adopted Ami in June 2022, a few months after we lost our dog whom we'd had for 14 years (you'll see Jinjoo – our black Pomeranian mix – in several of our photos).
Ami means "child" and "beautiful" in Korean. She has certainly brought a lot of beauty into our lives. Ami loves people (especially children), solving puzzles to get treats, and adventuring with us. She's a great
companion on our long hikes, bike rides, and camping trips. She particularly loves snuggling with us in our tent! She's a playful pup who will enjoy having a child to run around with. Ami is also deeply loyal and
protective of her people. We know she will be a great dog for a child.
Soyoung's Family
Like many immigrant families, Soyoung's family is really tight-knit. Everyone lives within 30-minutes of us, and we see at least one person from the family just about every week.
Soyoung's parents came to the U.S. from South Korea. Soyoung is the middle of three
daughters. As children, Soyoung and her sisters spent every summer with their extended family in South Korea. They are fluent in Korean and are very connected to Korean culture. (David is an honorary Korean, since he enjoys the food and culture, and knows enough Korean to impress Soyoung's parents!).
Soyoung's older sister is married and has a young child who is very social, loving, and
hilarious. Soyoung's younger sister has an
active dog who frequently comes over to play with Ami in our yard; the two of them join us on many outdoor adventures. Soyoung's sisters and brother-in-law were the first people in Soyoung's life to meet and get to know David. We've become a close group of 5 over the years. We love getting together for meals, game nights, movies…really any excuse to hang out. Soyoung's parents are incredibly welcoming and warm. They've been our biggest cheerleaders and core source of support through various challenges. We often have whole-family gatherings at the parents' house, which typically involve a delicious feast that Soyoung's mom has prepared and lots of laughter sparked by Soyoung's dad's stories.
David's Family
David's family is spread out all over the country, but we still see them regularly. David is the oldest of four children. He has two younger brothers and one younger sister. We visit David's parents, and grandmother, and youngest brother in Texas a couple of times each year. We are sometimes able to coordinate these visits with David's sister so we can be together. David's other brother, wife, and two
sons live furthest away; David frequently travels their way for work, so he sees them a couple of times a year. Various members of David's family also visit us at least once a year.

When we are able to get together with David's family, the time is often spent playing games and telling stories around the kitchen table. The conversation always turns to cars at some point, which all of the brothers enjoy. We also love hearing stories from David's grandmother, whom we call Gommie. David sometimes turns on his phone recorder so he can store up those
memories before they are lost. Common traits in David's family include appreciating
tradition/history, servant-heartedness, and
sacrificial love of family.
One Last Thing
---
We are grateful for you, no matter where your journey leads.
---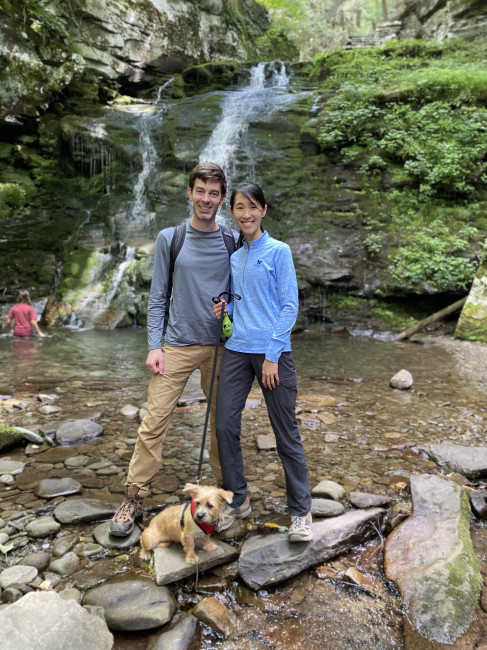 We promise to provide a loving and safe home for your child, full of laughter, learning, and exploration.
In Korean culture, there are two terms that are considered central to the Korean spirit: han and jeong. Han is deep sorrow coupled with the hope of overcoming it. Jeong is loyalty and deep emotional connection to people and places. Our own journey to adoption has been filled with both han and jeong. The feelings of
sorrowful hope, which you might be feeling, too, have led us to a deep sense of commitment and connection to you and your child, even though we haven't met you yet. We know we are not perfect, but we promise to do our best to ensure your child knows they come from a legacy of courage, strength, and love. We want whatever level of "openness" is best for you and your baby. Even if we are the ones to raise your child, your story will always be an important part of their story.

We promise to provide a loving and safe home for your child, full of laughter, learning, and exploration. We are excited for them to feel welcomed by our family and friends who are eager to shower your baby with love. Your child will have access to different cultures, adventures, and opportunities. We will support your child to
pursue their interests, whatever they be, and will love them as they are. We promise to raise your child to have a strong sense of their own identity, as well as a desire to use their strengths to make meaningful
contributions to our world.

We are grateful for you, no matter where your journey leads. We hope to be able to work as a team so that all of us can show your child the jeong we feel for them. Thank you for reading our story.
With love,

David and Soyoung