Profile not found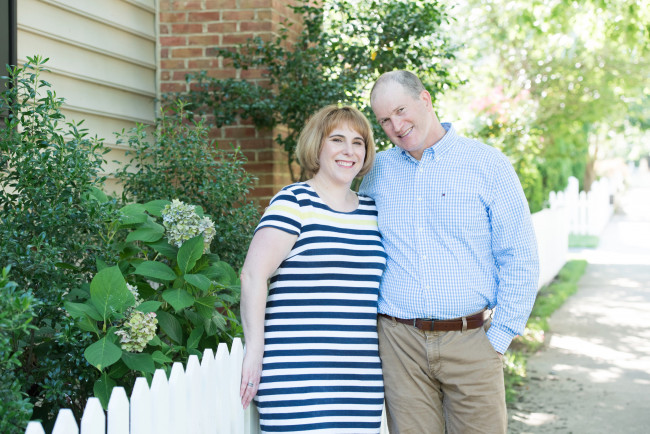 Hi, we're Jeremy & Stefanie.
Where It All Began
We have now been married seven years and our only regret is that we did not start dating sooner.
We met the beginning of our freshman year of college. We were friends throughout college and after graduating, but didn't start dating until July 2011. For a few years, we had been talking about going to New York to see the "new" Yankee baseball stadium but we had never followed through and made plans. Finally, in 2011 Jeremy made it happen. As we got closer to the day of the game, it became obvious that Derek Jeter might hit his 3,000th hit at the game we had tickets for. What was not obvious to either of us was if this trip was a date or not. The night of our game, it was pouring rain, but we took the subway to the Yankee stadium anyway. As we arrived at the stadium, we found out the game was postponed, and no make-up day announced. Jeremy quickly went and bought tickets for the game the next day and then we went out to dinner. At dinner, Jeremy worked up the courage and said, "Do you ever wonder what is going on between us?" I said yes and after a brief discussion, we ended up deciding that we should start dating. The next day we went to see the Yankee game and witnessed Derek Jeter make history with his 3,000th hit--as a couple. We immediately began spending most weekends together and quickly knew we would marry, but we just needed time. We dated for a little over a year before Jeremy proposed. Eleven months later, we married overlooking the DC skyline, with our family and friends witnessing our marriage. We have now been married six years and our only regret is that we did not start dating sooner.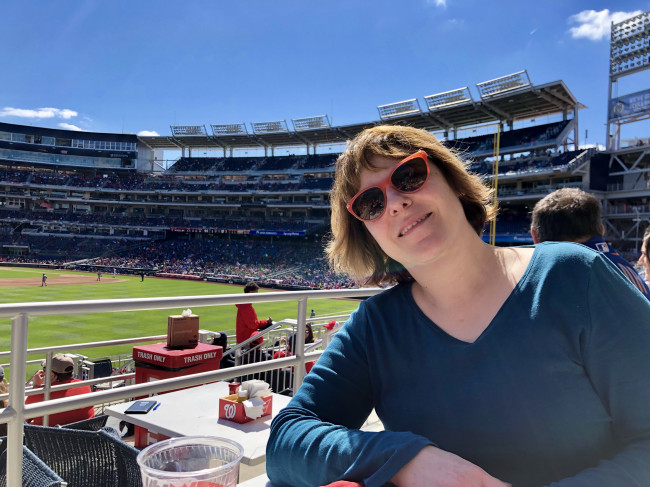 Stefanie at a baseball game
Meet Stefanie
Stefanie is a good listener and support system.
Jeremy Shares: I knew Stefanie for 19 years before we started dating. I also knew her mom and brother most of that time. I always enjoyed being with her, but what came as a pleasant surprise when we started dating, was how much everyone else adored her. When we were out at a restaurant or at a ballgame and we ran into colleagues and friends, they would express how lucky I was to be with her. Of course, I felt the same, but hearing it from others showed me the deep relationships she builds with her friends and colleagues. Stefanie always puts forth an incredible effort. I know this dedication propelled her to the top of her profession in accounting, and I get to see it in everything she does from researching the places we travel, making a major purchase, or helping a friend or family member make an important decision. Stefanie is a good listener and support system. In times when I need to talk, Stefanie supports me by actively listening. She allows me to express how I am feeling without judging. My family adores Stefanie. My parents treasure how she welcomes them into our home and makes visiting them in Florida a priority. My brothers cherish the fact that she can play with our nephews and niece and keep them entertained when we visit them or go on vacation together. All in all, it is safe to say that anyone who encounters Stefanie finds a treasure within her!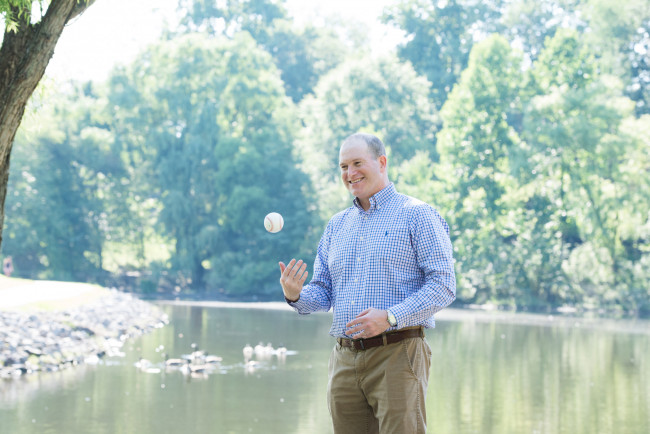 I can't imagine Jeremy not being a part of my daily life.
Meet Jeremy
Jeremy is very patient and calm.
Stefanie Shares: I met Jeremy for the first time when he was 18 years old and starting college. He was the cute guy from Chicago who was always smiling, was always up for whatever you wanted to do, and just loved life. At 18, I had little appreciation for how important it is to have someone like this in your life. But, fast forward to present day and I can't imagine Jeremy not being a part of my daily life. Jeremy is very patient and calm. He is also good listener and always helps me to see the other side of the story. When I hear him talking with the teenagers in the youth group he advises, I see how much these boys respect Jeremy. Parents in Jeremy's youth group have jokingly said he is not allowed to stop advising until their youngest kid graduates. They know what a great role model he is for their children. Jeremy served as a camp counselor during high school and college and also led the counselor in training program for the camp. Recently, someone who Jeremy trained as a counselor at camp reached out to him and was quoting all these things that Jeremy taught him all these years ago like it was yesterday. When I am with him, a sense of calm comes over me. I know that together we can accomplish anything. Jeremy does all the cooking in our house. He is always trying new recipes and the first question he asks when he sits down is how I liked it. Jeremy wants everyone around him to be happy and will do whatever he can to make this possible. He has a strong sense of family, and although his family does not live near us, we are good about getting on a plane to see them on a regular basis. Jeremy treats my mother as if she is his mother and is always helping her around her house or inviting her over to dinner at ours.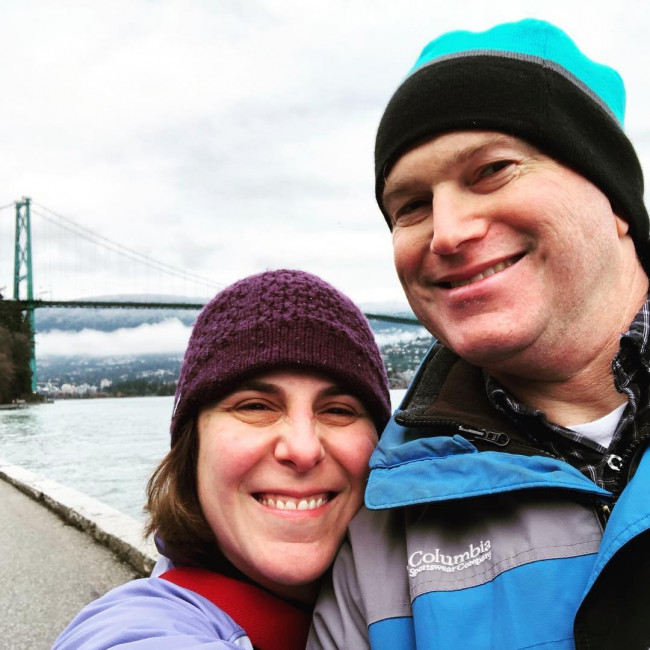 We hope to be able to take this journey together.
We Promise You…
We promise to love your child unconditionally, and nurture him or her to grow into the best person they can be.
In Judaism you sign a Ketubah (which means marriage contract) before your actual wedding ceremony. It is framed and displayed on the mantle in our family room and reminds us of the promises we made before our family, friends, rabbi and God. If you choose to pursue an adoption plan with us, we would like to do something similar with you. Below are some things we think can be a part of this contract, but we would love to work with you on the details. We promise to love your child unconditionally, and nurture him or her to grow into the best person they can be. We promise to provide a safe home for them to thrive in. We promise to be there for your child no matter what life has in store for them and to instill your child with a sense of right and wrong, love of family, God, and our great country. We promise we will embrace your child's independence, make education a priority and balance educational achievement with extracurricular activities and hobbies they enjoy. We want your child to have a happy and joyful childhood filled with family and friends. We promise to respect you and have you and your family be as much a part of your child's life as you want and is healthy for your child. We promise to let you be a part of telling your child their adoption story if you so choose. We realize this is a story the two of you share and you can tell it best. Lastly, we promise to work as a team so the child will grow up knowing he or she is loved by all of us. I think we can all agree that no child can be loved too much! We hope to be able to take this journey together.