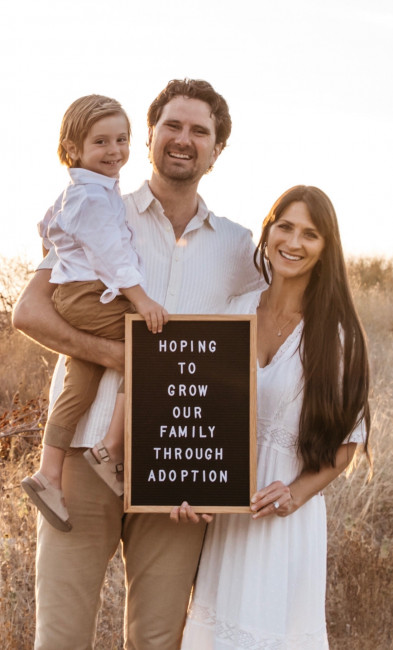 Hoping To Grow Our Family Through Adoption
We Are The Ferguson Family
We Believe God Is In The Details Of Our Lives
Dear Prospective Birth Mom, hello! We are the Ferguson family – Tyson, Jamie and our vivacious three-year-old son Maverick! Our family was established on September 18, 2015. One year and four days prior to our wedding day, we met at church through a series of not so serendipitous events and the rest is history! We believe God is in the details of our lives and that we were supposed to meet in sunny southern California where neither of us were from and where both of us were on a conditional/temporary basis. Today, we call Orange County home and have grown to love our life here. We hope to continue to grow our family here as well.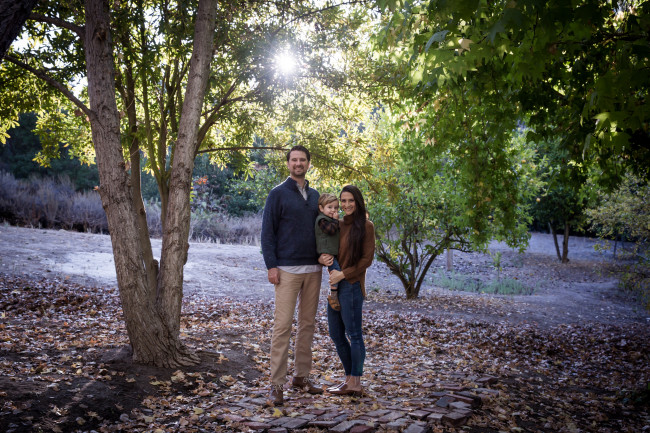 Our Peaceful Place
We Feel Blessed
We Are Surrounded With Love And Support
Because neither of us are from Orange County, we feel so blessed to have created meaningful friendships and deep connections with our neighbors and our supportive church community. Our family strives to live Christian values and we attend The Church of Jesus Christ of Latter-day Saints. We value spirituality and the peace that being in nature brings to the soul, so feel blessed to have our home in Coto de Caza where our backyard opens to preserved wilderness land. We enjoy the beautiful trails behind our home and often feel like we live in the country with the added benefit of only being five minutes away from the library, Trader Joes, Target and all the other conveniences of life. Our hope, especially after recent world events, is to be more self-sustainable. We have had fun learning ourselves and teaching our son how to garden and harvest the lemons, limes, pomegranates, and mulberries home grown fresh. Maverick's highlights were making fresh squeezed lemonade and eating the mulberries right from the bush. Homemade mulberry ice cream was a special treat too! Last Spring, we planted a tower garden that provided us kale, chard, lettuce, and variety of other greens and tasty herbs that I use in our salads and homemade cooking. Wildlife is all around us, so we have made a list of all of the animals we have seen. Occasionally horses ride on the trails behind our backyard. Our son loves to explore and we regularly walk to go see the horses at the equestrian center in our neighborhood or walk to the nearby reservoir to look at the ducks and turtles.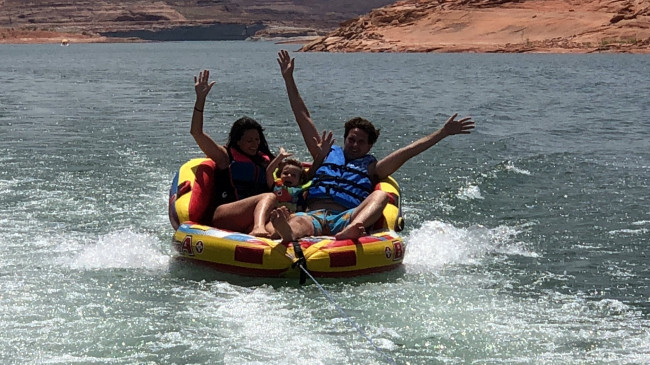 Fulfilling Living
Travel, Traditions & Time Well Spent
We Thrive On Adventure
As a family we love to travel! Especially to be with Mav's grandparents, uncles, aunties, and cousins – so we spend a lot of time in St. George, Utah; South Jordan, Utah; and Sonora, California. In addition to trips to see family, Maverick has travelled with us to Ireland, Hawaii, Arizona, Utah, Texas, Nevada, Montana, up and down California, and to many National Parks. Prior to becoming parents, we travelled extensively as singles and as a couple. We feel that travel is such an integral part in understanding our world and how connected we all really are. We look forward to more family adventures together. When it comes to family traditions – we have some favorite things we do every year. Anniversary shoes was one of our first traditions. Each year on our anniversary we buy a matching pair of workout shoes (Mav is now included in this tradition), to help us remember to always walk in each other's shoes and be compassionate. Fall is our favorite season as a family and we try to travel somewhere each year where we can see fall color and get our cozy vibes going. We go apple picking in Julian and go to the farm to pick out our pumpkin from the patch. Mav loves to get on Ty's shoulders and pick the apples. He is such a great helper. We usually go apple picking on our anniversary weekend and then drive by the Temple where we were married and go to the yacht club where we had our reception and have dinner as a family. At Halloween, we go to one of our favorite fall festival petting zoos with pony rides and feeding the animals and all the fall festival fun. When Thanksgiving rolls around we host a Friendsgiving each year for dear ones who are like family. During our Thanksgiving meal we go around the table and say the things we are thankful for. Hearing Mav say his gratitudes and offering the prayer melts our hearts. At Christmas time we cut down our Christmas tree from a local tree farm in the canyon and take our little guy on a train ride to see Santa…definitely one of our highlights of the season to see his excitement and the wonder in his eyes. We make efforts to be with family for pre-Christmas in Utah which usually consists of fun family gatherings, Luminaria, snowball fights (the good kind), ice skating, tubing, sleigh rides, and most importantly quality time with our family. After pre-Christmas we then head home so Santa can visit Maverick on Christmas morning. The day wouldn't be complete without wearing our annual family organic Christmas pajamas. For New Year's we stay up and watch the ball drop and create a mantra for the year. For Valentine's Day, we have a tradition of going to a local Italian restaurant for lunch just the three of us. For St. Patrick's Day we always honor our Irish heritage and eat corned beef and cabbage and of course wear green. For Easter, we typically go to Utah for a huge family Easter party / Egg roll off. It is loads of fun for the kiddos and the adults! For Earth Day, we try to plant something and celebrate the lives of our angel babies. For Memorial Day, we honor our relatives and all others who have served and usually spend time with family and friends. For the Fourth of July, we love celebrating America and do a neighborhood parade at the Country Club, swimming, and BBQ with family and friends. Most years we go boating at Lake Powell with family in the summer. And of course, Disneyland season passes and frequenting the beach are big parts of our life here in Southern California. Fulfilling living!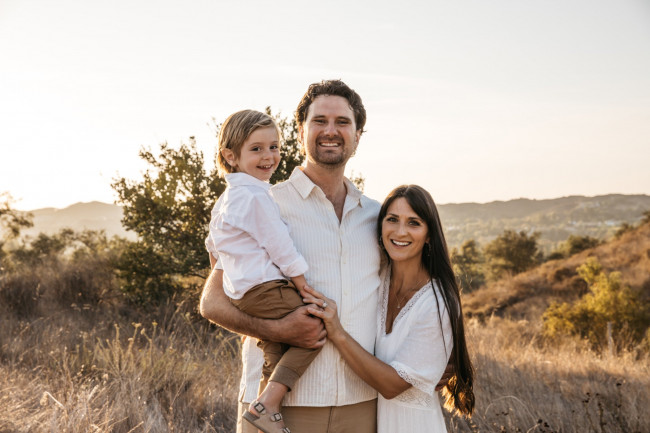 www.fulfillingliving.com
Adoption Has Been On All Of Our Hearts
We Hope To Grow Our Family
We value a wholesome lifestyle and appreciate self-care through all of the things we do in our lives to enrich and nourish our souls. Tyson works hard to support us and owns his own business. He loves to golf, play basketball and pickleball at the courts near our home and is an avid sports fan. He is actively involved in the Young Men's organization at our church. Wresting with Maverick is one of his daily highlights. Jamie finds fulfillment with her meditative walks, yoga, healthy cooking, constantly learning, and all things natural. She is a prenatal health coach, licensed massage therapist, and yoga instructor and loves to share her passion with moms. It is her dream to be there emotionally, spiritually, and physically for our prospective birth mother (if she desired) through yoga/meditation, nutritional support, and nurturing doula massage. Being a stay at home mom is her greatest joy and she loves the moments baking with Maverick and teaching him Spanish and yoga poses. Jamie is also involved with the Young Women's organization at our church. Maverick is bright, energetic, full of life, curious, and smart. He loves talking with all of our neighbors when we go for family walks or when he rides his John Deere tractor down the street. He loves learning Spanish, music makers, co-op, baking with mom, wresting with dad, and Jesus. For his 3rd birthday party, over 60 of our friends and neighbors came by to show him some love. He is a special child and we feel so blessed to be his parents. Maverick often talks about his brothers and sisters. It is so dear. At his young age, he understands that we have two angel babies through miscarriage. He prays for them. He talks about them being in Heaven. He asks when we will see them again. He craves a sibling and hopefully siblings. We want nothing more than to give him his siblings and to love and adore those children like we do Maverick. Adoption has always been a desire of Jamie's heart . Her mom reminded her that as a young unmarried woman she would talk about her dream of having three children – one of them being adopted. Tyson has also had very spiritual experiences that are very adoption friendly. We still hope to grow our family through the help of our natural fertility doctor, but we also equally hope to have the opportunity to adopt a baby into our family. We believe it will organically happen if it is meant to be and that we will know it, the courageous birth mother will know it, and God will help all parties involved to feel His peace. We hope that birth mother is you. We would love to hear from you and are happy to answer any questions you may have about our family. We enjoy sharing pictures and videos and connecting with friends and family directly, so don't utilize social media much as a tool to connect. To see more pictures and videos of our family, please visit the website we created specifically for you to get a better feel for who we are and what we are about: www.fulfillingliving.com. Sending love and be well wishes. ~ Tyson, Jamie & Maverick Ferguson