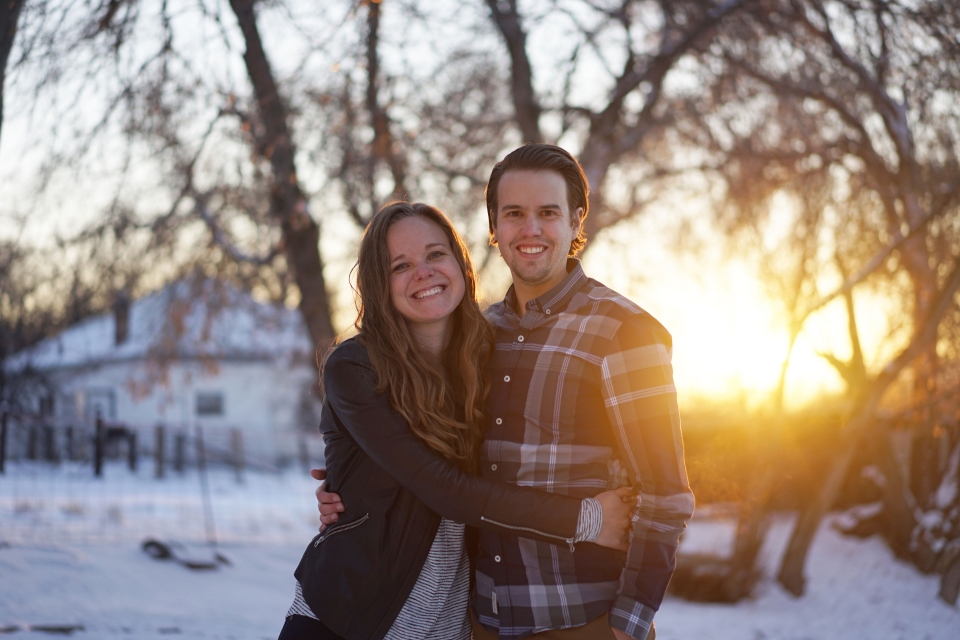 Enjoying some snow in Utah
Dear Expectant Parent
Thank you for considering us to be the adoptive parents of your baby. We created this profile to show the love, adventure and fun we want to provide for a child. We've always wanted to adopt, and we are beyond excited to become parents. Thanks for taking
This is one of the most emotional things we've ever written, it is hard to find the right words to express our emotions and the empathy we have for what you're going through. It's amazing that you're considering adoption for your baby, your strength is an example to us. We want to provide a heartfelt and authentic picture of who we are, what we love doing, and what kind of life your child could have with us. We're here to answer any questions you have. We met snowshoeing in the Swiss Alps in a blizzard. Our love of adventure and fun quickly drew us together. We've been happily married for over 5 years and luckily we still really like each other. We've learned to be an awesome team and we genuinely love hanging out, laughing, and enjoying life together. We are both designers with flexible jobs allowing us the opportunity to travel the world and experience new cultures together. We love exploring the beauty California has to offer, we're a short drive to the ocean, Yosemite National Park, Tahoe, and countless redwood forests where we hike, camp, paddleboard and rock climb. We love our diverse neighborhood in the Bay Area just outside San Francisco. It's safe, with mostly young families, awesome parks and one of the best elementary schools in the state—which happens to be right out our back gate. Our house is open and bright and we like it best when it's filled with laughter of family and friends for BBQ's and game nights. We have 2 dogs who may actually be comedians, they constantly crack us up with their goofy personalities. They will be awesome side-kicks and snuggle buddies to their future mini-human. Adoption has played a big role in both of our lives through a sibling, aunt, uncle and many friends. Before we met our positive experiences made us want to adopt. As we've become more stable we feel like we are able to provide the life we want for our child while still being young, full of energy, and fun. We are so excited to become parents. We won't let a day go by without reminding your child how loved and special they are. Not just to us, but to you. We promise to give your child every opportunity that we can. We can't wait to see what lights up their imagination and to learn where their unique passions lie. We'll be there to teach them to ride a bike, enjoy a sunset, dance like no one is watching, eat with chopsticks and cheer them on through it all. We want to travel as a family, exposing your child to new cultures, people and foods and teaching them to love and respect the amazing world and people around us. Your child will not only be adored and loved unconditionally by us, but will be surrounded by a fun and diverse network of our family, church members and friends who can't wait to love and spoil them. We both love art and photography, and there is no way we will be able to resist taking photos and videos of the adventures and milestones throughout your child's life. We would love to create a special Instagram account for you. We will share funny moments, stories and adorable photos so you can feel connected on your terms. We want to support whatever level of openness and contact you want with your child, including visits. We'd love for you to be a part of the family in whatever role you feel comfortable. We recognize that for us to start a family you'll have to experience a loss, and make an enormous sacrifice. This is not something we take lightly, and we promise to openly tell your child's story in a way that honors and respects you and ensure they know how much they are loved by you. We hope and pray that whatever you decide you find peace and comfort.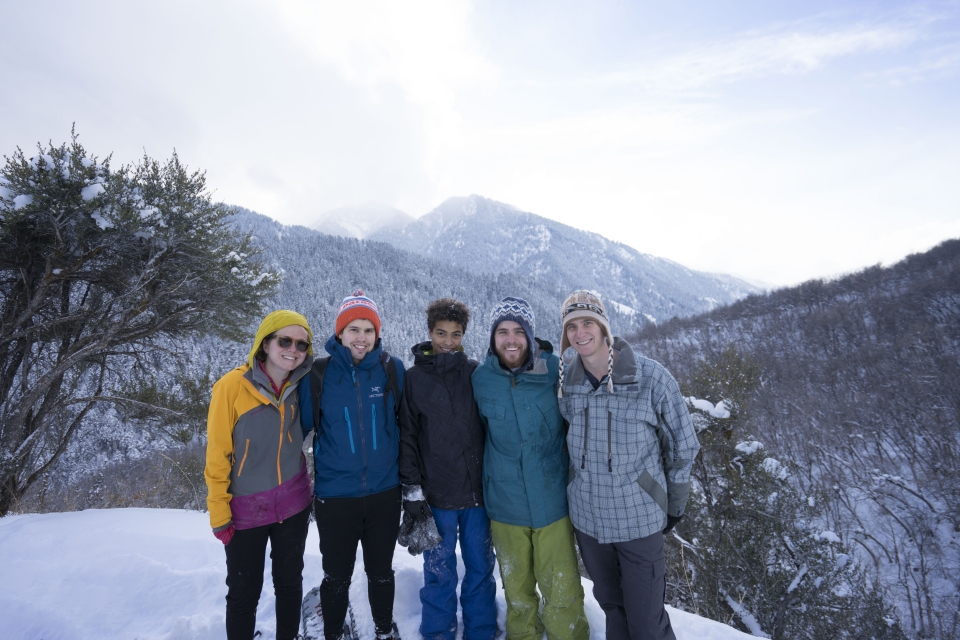 Snowshoeing in the Rocky Mountains with our family
Our Families and Home
Our house has a great open living space for us to hang out. We love filling it with laughter from friends and family for a big game, to eat or play games.
We both come from big, fun, and outgoing families who are a huge part of our lives. Alan is the second oldest of 6 kids and Ali is the oldest of 5. Our families LOVE sports. We are competitive and love cheering on our favorite college football teams, skiing down mountains together, and bonding on the court with family basketball. Food is often the center of our gatherings, we crowd around the table laughing over delicious BBQ, homemade family recipes, or take out from our favorite restaurants. We love nature, we spend warm days paddleboarding in lakes, camping under the stars, roasting marshmallows around a bonfire, and exploring the beauty around us on hikes. Our families are excited and very supportive about our plans to adopt. Ali's family doesn't have grandkids yet and our child will be adored by them, they can't wait to be a part of our child's life. Ali is also the oldest of 42 cousins, ranging from 30 to 2, this child will be surrounded by love from all of Ali's fun (though very loud) family. On Alan's side we have 2 adorable baby nieces and a nephew who we love spending time with. They will have a blast having another kiddo to join the crew. The whole family is excited to meet a new little one and watch them grow up. We live in a bright 3 bedroom home just outside San Francisco, nestled in the hills of the Bay Area where the weather is perfect for a BBQ with friends. We're a short drive to several sunny beaches, redwood forests and our favorite cities: San Francisco and Oakland. We've loved getting to know our diverse neighborhood and the fun young couples with kids who are always excited to see our two fluffy pups prancing down the street. We live right behind one of the best elementary schools in the state, our back gate opens to playgrounds, soccer fields, baseball diamonds and basketball courts. We know it's spring when the sounds of evenings turn into cheers and whistles. Our house has a great open living space for us to hang out. We love filling it with laughter from friends and family for a big game, to eat or play games. Our church is a warm group of diverse friends who feel like family, they can't wait to meet our new addition. We are pretty blessed to enjoy a small town feeling of our neighborhood, church, and friends.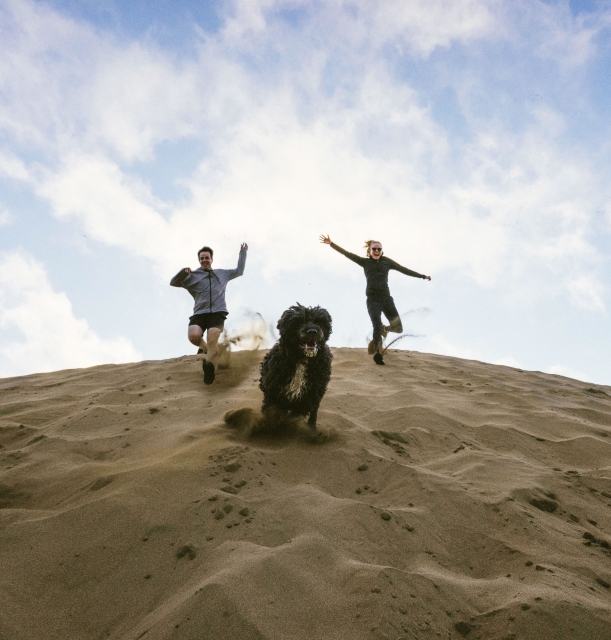 Having fun on beach sand dunes with our dog Zipper.
What adoption means to us
We will share their birth story with them as early and as often as possible so it isn't ever an uncomfortable topic.
How will you address cultural diversity? This is something we've spent a lot of time preparing for, as we feel it is very important. We want our child to be aware and proud of their inherited culture and impact it has on them and their world. We will always do our best to provide awesome friends and mentors who look like our child, and expose them to their culture through art, music, media, books and studying their cultural history. We realize that as two white people we won't always have the answers and we will probably make mistakes, but we are lucky enough to have close family, friends, and neighbors who are people of color and who we trust to call us out and provide awesome support for us and our child. We would love help from you as well, if you have suggestions we will always be open to learn and grow. Has adoption affected you personally? Both of us have been surrounded by adoption throughout our lives. We both felt like we wanted to adopt before we even met and talked about it. Ali's aunt placed her baby with an amazing family 20 years ago. Seeing her blossom into an incredible person through their open relationship and the healing that relationship has provided for her aunt was part of what moved us to adopt. Ali's youngest sister is adopted and she is an integral part of our family, we can't imagine life without her. Throughout Alan's life he has had close friends who are adopted and he's heard positive stories regarding their experiences. Currently we have several friends who have adopted who have been really open about their experiences. These positive adoption stories shaped our opinion on adoption and lead us to this point. What will you tell the child about his/her adoption? We will share their birth story with them as early and as often as possible so it isn't ever an uncomfortable topic. We both love photography and plan on printing a picture book for them to read and look at and to help open up discussions when they are small. When we talk to our child about adoption we will always be very honest, while giving them age appropriate information. We would love your help deciding how to tell your part of the story, but your child will know of your loving decision in considering an adoption. We promise to honor your role and connection to your child and us. We hope our child will be proud to know that there are extra people who love them.
Our Video
Get to know us
What qualities do you love, admire and respect in each other? Ali "I first fell in love with Alan's sense of adventure, humor, and fun. He finds ways to make even boring moments fun, whether it's tossing pennies into water bottles on a long train ride, noticing beautiful scenery on long hikes, or finding something to laugh at when a moment gets stressful, life is always better with Alan in it. He loves organizing camping trips and fun things for us to do. It's amazing watching him with kids, they always gravitate to him because he gets on their level and becomes a human jungle gym. The thing I probably love most is Alan's huge heart, he is always looking out for those who need it most." Alan "Ali is amazing. She is confident, lovable and is never afraid to be herself. When we first met I was drawn to her goofy sense of humor, her love of sports (she was a college athlete), and her compassion. She is constantly checking in with those close to her to see if she can enrich their lives. Ali has a fun personality and zest for life and loves to go on adventures and explore with our friend's children. She has the ability to instill a sense of wonder and exploration in their little worlds and help them see the world through new eyes. Everyday she seems to find new ways to amaze me."