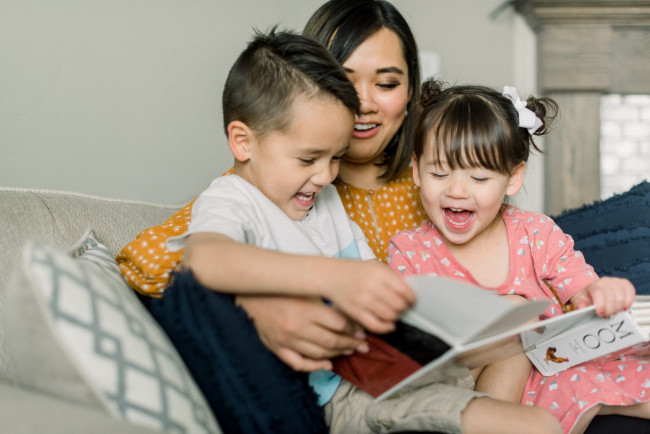 We're a family of foodies- we LOVE eating, making, and sharing memories around food
Our Family
We have so many "chosen" family members- we know that blood isn't what makes a family.
Brett, Lisa, K, and M. We're always singing, dancing, wrestling, and hugging in our house! Here are a couple of things about us as a family: We love being together! We are so silly when we're together and make a conscious effort to play together every single day- individually 1:1, and together. We don't have to be doing anything significant to be happy. We go on walks together as much as possible, and love to snuggle in our warm bed or in front of the fireplace in a fort. We say, "I loveeeee you!!!!" probably no less than 384820 times a day. We are always singing. Seriously, there's always music playing somewhere and someone is always singing. Brett's actually incredibly talented. Lisa, not so much. But we still do it and the kids love singing and music. We eat at least one meal a day all together, no phones or screens. It is such a sacred time of day and our kitchen and dining room is our safe place. We love travelling! We have been to Hawaii and Japan a couple of times together, and the kids do great in cars, trains, planes, and even bumpy Jeep rides to the Grand Canyon. We have an annual pass to both the Aquarium and the Zoo, so we love seeing animals! (minus the birds for Lisa)
Counting our Halloween candy!
Why We Are Hoping to Adopt
At the end of the day, we truly believe the right expectant mother that is considering placement will be lead to us and vice versa, regardless of race/gender/ethnicity.
We are hoping to adopt because we both strongly feel this is the way we want to grow our family. Brett and I decided about two years after we got married (before we had K) that adoption would be part of our journey at some point. At the time, I think we both thought it might not be until we were "established" or when our kids were older and grown. Surprisingly, we feel like it is the right time, right now. We want all our children to grow up together and share experiences together. We know in our hearts that this is the right time to grow our family. We are not hoping to adopt because we feel like we're "saving" someone, or because we feel like we can give a child a "better" life. Our lives are amazing, but not exempt from hard things and struggle like everyone else. So while it may not necessarily be "better," we know we can provide a different life. If we can be the right match for someone, we want to be available and be an option.