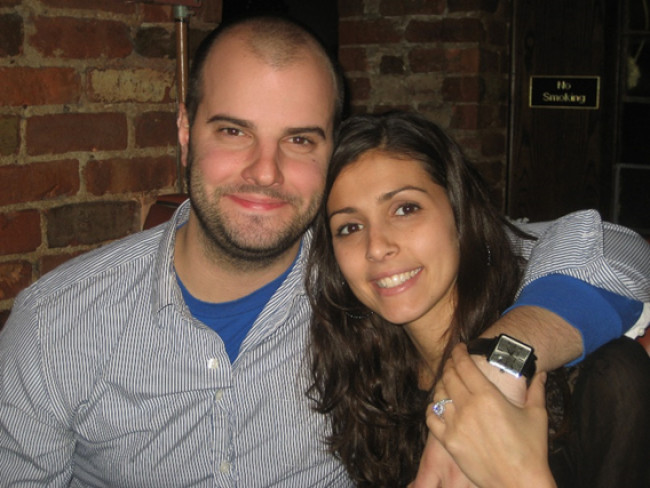 We can't wait to learn more about you!
Hello, and nice to meet you :)
You are that brave, courageous light we have been searching for.
Dear expectant parent, Hi! We are Joann and Jay. We want to sincerely thank you for considering choosing us as adoptive parents of your baby. We think that you are such a wonderful and strong person to consider this journey for your child. We can only imagine the bravery and courage it takes to make a decision such as this and to entrust us with this precious life. You are that brave, courageous light we have been searching for. We know that if you are reading this, you are probably going through a challenging time. We understand that your decision to make an adoption plan is based on love, and we truly admire the strength this takes. We hope that after reading this we can make you feel more comfortable and at ease. We promise you that we are ready and able to provide all the emotional, educational, financial, and loving support that your child will need. Please read on to learn more about who we are, our marriage, the path that brought us here and our loving family.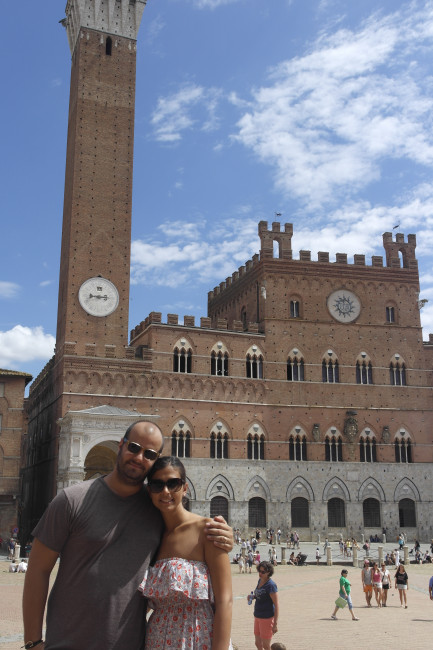 In Siena, Italy during our year abroad!
Our Story
We married in 2012 and after 14 years together, we are still here, by each other's side.
We met in 2005 in Manhattan and became friends almost immediately. Our first few years together were an adventure. The first year of our relationship was long distance which provided some challenges, but it also gave us the opportunity to truly learn everything about one another by having endless phone conversations and visiting each other whenever possible. Then our second year together, we moved to Siena, Italy for a year in order for Joann to complete part of her Master's degree. After those first two years of traveling and adventure, we landed in Brooklyn, NY. We married in 2012 and after 14 years together, we are still here, by each other's side. We consider ourselves so lucky to have found one another and we try our best every day to not take that for granted. Throughout our relationship, we've been lucky enough to travel to many places, but in the end no matter where we are, as long as we are together, we are happy and everything else is just icing on the cake. Though our struggle with infertility was difficult, it served us by making us stronger and closer as a couple. It also showed us that in times of need we are there for each other and it made us realize that we did not need a biological connection to our child in order to love him or her unconditionally. Our path may not be one most couples have to travel, but because of the strong base we have, we have been able to get through everything together. Our hearts are filled with love and excitement at the thought of becoming parents and we can't wait to share all the love we have in our hearts with a child. Oh, and we can't forget about Lorenzo! We rescued our dog Lorenzo four years ago. He is just the sweetest little dog that anyone could ever ask for. He is so gentle and loving with everyone and especially loves being around small children!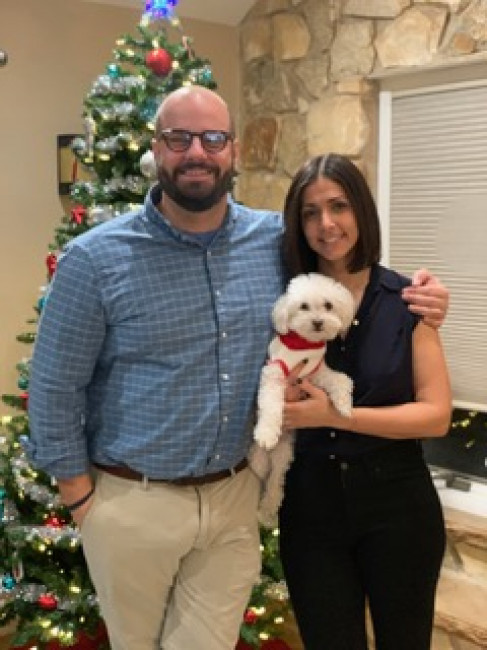 Christmas day with our dog Lorenzo!
Our Family & The Holidays
although we have so much fun with all of them, it makes us yearn to be parents and to have a family we can call our own even more.
Family is the most important thing to us. Both of our families are supportive of our plan to build a family through adoption. They know we will be loving and responsible parents. Joann's family is super close. We see each other every week for Sunday dinner and especially for birthdays and special occasions. Though Joann's parents are no longer with us, we've kept their spirits alive by maintaining traditions and just spending time together. Joann is the youngest of four siblings. She has one sister, two brothers, 3 nephews and one niece. Jay has a very tight knit and loving family as well. His parents, Nancy and Steven, live in the Washington D.C. area as does his brother, Evan, and we visit often, especially in the summer for dips in the pool! They are all so very excited to be an uncle and first time grandparents! Holidays and traditions are very important to the both of us. The traditions are kept alive not only by our parents, but also by us. Thanksgiving and Christmas are our favorite holidays and we love preparing for both. Every year for Thanksgiving we go to Jay's parent's house. His dad loves Thanksgiving more than anything and he really shows it with the amount of love and attention he gives to us (and the food!). His mom's famous Carrot Soup and dad's irresistible secret stuffing recipe are definitely some of the highlights. For Christmas Eve we go to Joann's family's house and of course, being Italian, they always make sure that we do not leave hungry! One of the traditions we have for Christmas Eve is a scavenger hunt. My nephews, Eddie and Antonio pick the teams and away we go. One year we had to sing Jingle Bells with marshmallows in our mouth, but due to all the laughing, we lost that round… Through the years, both friends and family have joined us for the holidays, helping us maintain the traditions we love. Of course, I also have to mention Christmas Eve dinner. In the Italian tradition we do not eat meat on Christmas Eve, instead we have the feast of the seven fishes. This includes many things, but our favorite is my father, Gaetano's famous shrimp parmesan recipe! At every opportunity we look forward to celebrating holidays with our family and friends and although we have so much fun with all of them, it makes us yearn to be parents and to have a family we can call our own even more.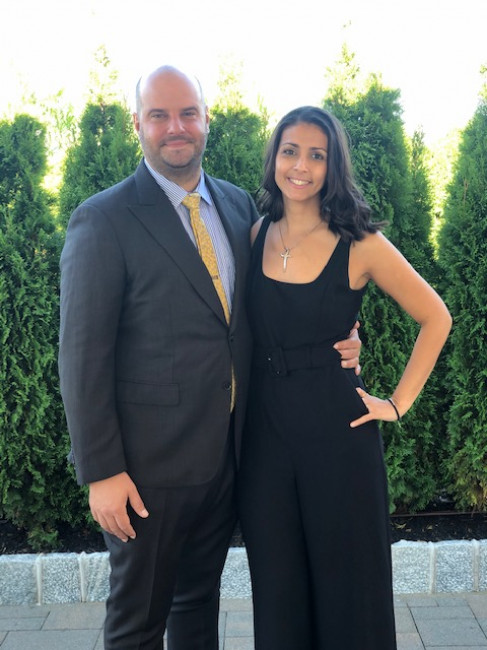 Thank you for considering us for your child!
Why we dream of having a family
As you have the answer to our prayers, we hope to have the answer to yours.
We have a very happy, fulfilled and loving family life, but the truth is, we've wanted and have felt ready to be parents for a very long time. We both love kids and have always dreamed of how amazing it would be to have a family of our own to share our life and love with. We plan to raise a child in a loving home and in a positive environment. We were raised with similar morals and ethics instilled in us. Our parents taught us to be kind, to treat others as you would like to be treated, to work hard and be honest. We plan on building our home on the same values. We will raise a child with compassion, support and understanding. We plan to provide opportunities so they can become their own person, to support and encourage their dreams, interests and goals in life. We truly want to thank you for taking the time to consider us as adoptive parents for your baby. We hope all of these stories, pictures and notes will paint a clear picture for you of the kind of people we are and the kind of family we want to create. We would love to learn more about you. We know this is a difficult decision and long process. We are in awe of your courage through all of this and will be forever grateful for even the opportunity to be considered. We respect the decision that you are making and we promise to make sure that this child understands that we will all make this choice about their life together with only love in our hearts. As you have the answer to our prayers, we hope to have the answer to yours.