Things for adoptive parents to consider before announcing their new addition.
You have made the decision to adopt and are ready to share your plans with the world! The decision to grow your family through adoption is exciting, and many couples are turning to social media to announce their news.
There are many creative ways to tell friends and family about your adoption plans, match, or finalization. The adoption process can be grueling, and emotional support from your community is important.
On occasion an adoption situation will present itself through a personal connection, which is how we came to adopt our now daughter! My coworker knew we were hoping to adopt and knew of an expectant mother making an adoption plan.
Or perhaps you are in the midst of a domestic infant adoption and finally received the news you've been waiting for—an expectant mother has chosen you! Just like when announcing a pregnancy, it is exciting to share the news.
While you are brainstorming fun and creative ways to share the big news, here are a couple things to consider.

Be careful sharing your (hopeful) child's story.
People are naturally curious and might ask intrusive questions about expectant and birth parents and the situation surrounding their decision to place (among other things). Guard your child's story, and realize that it isn't yours to tell—it's theirs.
Be mindful of your child's feelings as they grow, when they begin to understand the private pieces of their story that were shared with others. No one is entitled to this sort of information, even if they ask.
Consider the timing of announcing an adoption match.
We met our now daughter's birth mother when she had around three months left of her pregnancy. After a couple of failed matches we were cautious, and did something rather unconventional—we waited to tell almost anybody, even our parents, until we were discharged from the hospital. What a surprise that was!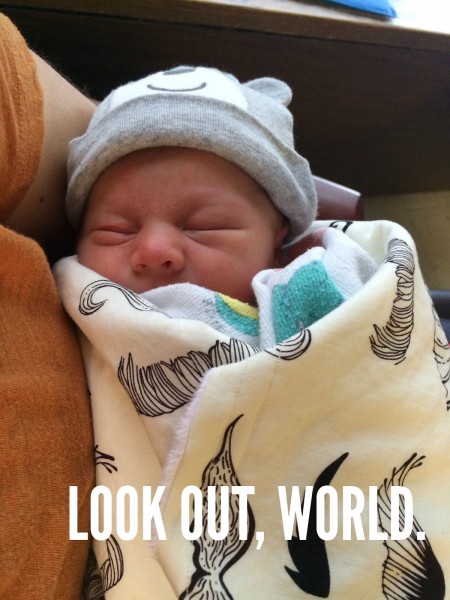 I certainly don't think this level of secrecy is required, but it is worth being mindful of the timing when announcing an adoption match. A match is not a promise of placement. A woman is not a birth mother until after placement, and until then she is an expectant mother making an adoption plan—an adoption plan that she may or may not choose to continue with at any time.
I posed this question to some mothers who have placed their children for adoption and listened to their unique perspectives. I am pleased to share their thoughts with you!
– "I think that unless you know that the birth mother is a birth mother, not an expectant mom, and the child is yours, I don't feel like you should announce it as a definite."
– "I think the announcement should be either discussed with the birth mom before it's made, or the adoption should be finalized."
– "It bothers me when I see announcements about a match mostly because nothing is set in stone. [Including gender and due date] is something personal and private for the expectant mother and announcing like that seems like they're claiming the child already."
– "People forget about the woman who made the decision to place. If it wasn't for her, there wouldn't be a new family."
– "Announcing you're planning on adopting is one thing. Announcing a specific match—no. I don't think that's right. Especially if the child's mother can see it. She may really wish she could choose to parent, but 'what kind of person' would she be to let all these people down? They're counting on her to make someone else's dreams come true."
– "When placing my own son, I appreciated that his adoptive parents did not announce beforehand and only did so once I said I am sure that he is yours. If the match is successful, they will have a lifetime of things to announce and photos to share."
Just as with a pregnancy, bringing a child into your family via adoption is certainly to be celebrated. I am hopeful these few thoughts will be helpful as you consider how to do so without unintentionally causing hurt.
Best wishes and congratulations on your adoption journey!