My greatest advice I would give an expectant mother who is considering adoption is to talk—find a source of support, maybe even go out of your comfort zone and talk about your feelings and fears. Also, ask questions. Ask questions to the agency you are working with and ask questions to the prospective parent.
January 2, 2009, confirmed what I had suspected for about six weeks—I was 39, married, and pregnant with another man's child. I had my mind made up before I spoke to anyone about my pregnancy. I had already parented a 21-year-old; I knew I didn't want to "start over." Although I believe my husband would have stood beside me in any decision I made, I wanted this child to have more than I could offer. I also knew the birth father was not going to be around to support me or the child.
Looking back, I wish I would have talked to my husband's best friend's wife. At the time, I was trying to protect my husband from the embarrassment of a cheating wife. This gal is a very strong Catholic with great kids and an open heart. I think talking to her may have opened up my eyes to a more suited adoptive family than I chose. My brother and his wife were going through infertility issues and although I offered this child to them, they were not familiar with open adoption at the time. I remember my sister-in-law telling me it would confuse the child and "who would the child call 'Mom'?" The general public knows very little about open adoption.
I did tell the birth father when I found out I was pregnant, updated him after every appointment, and offered to make it possible for him to see the child after birth. That is one of the things I know I did right.
By the time I told my family I was pregnant, I had my speech down, "I'm pregnant, it's not my husband's child, and I am placing the child for adoption." There was no further discussion. There are very, very few people other than my family that knows I am a birth mom. I told only who I had to tell—my work, my family, and two friends. I am working on opening up about my story to educate others and hopefully be a source of support for other birth parents.
I was given about 20 profiles of prospective parents. Narrowing it down to five or six was easy. Eliminating profiles after that was a little more time-consuming. I was choosing my child's parents. If things went horribly wrong, it would be my fault. I was going to be part of a new family, I needed to be okay with most things about them. I chose a family that had been waiting for over 10 years with the assumption that they would more be educated about open adoption. What I found out was open adoption is much more "open" now than even five years ago.
I met with the prospective parents and my caseworker. I asked what they envisioned contact to be and they said three to four times a year. I knew that first year I could not go that long without seeing this child. I asked for once a month get-togethers for the first year and I was okay with three of four times a year after that.
My caseworker asked me what my hospital plan was. I was shocked that I had a say. I figured I'd have this baby and I'd try to catch a glimpse as the nurses whisked the baby away to the new family. I was uneducated. I came up with what I wanted and how I wanted it to look. I took my child home from the hospital because it was important to me that the child's first home was mine–I also breastfed because that was important to me.
She was born on a Tuesday and I placed her with her new family on Saturday. All my family came over Friday night to say hello and goodbye. The most comforting thing that evening was my dad praying with her and me. He reminded me that Moses was adopted and we as Christians are all adopted by God. I had never thought about adoption in that way.
Walking away from that Saturday was difficult, but nothing prepared me for signing relinquishment papers a few weeks later. That was the most heart-wrenching, gut-clenching time of my adoption journey. Every page I signed was stained with a flood of tears. I was no longer her mother. I had to have complete trust in a stranger to raise this child that I carried in my body and was, and still is, loved in my heart.
When my other daughter and I arrived at the new family's home for the first visit, the baby was sleeping. For two hours, I made small talk with these strangers while my heart and head were pounding. I needed to see her, I wanted to know she was okay, I longed to hold her again. What I needed to say was, "May I please just look at her and watch her sleep?" I had no voice. I had no vote. I was at the complete mercy of the new parents.
The second month, there was no get-together. The new family was too busy. Although we had talked about celebrating major events in her life together, I was not invited to her baptism. My worst fear of never seeing her again was coming true. I was scared, deflated, and hopeless. The rest of the visits that year did happen.
Pregnant and considering adoption?
Get your free adoption benefits and support bundle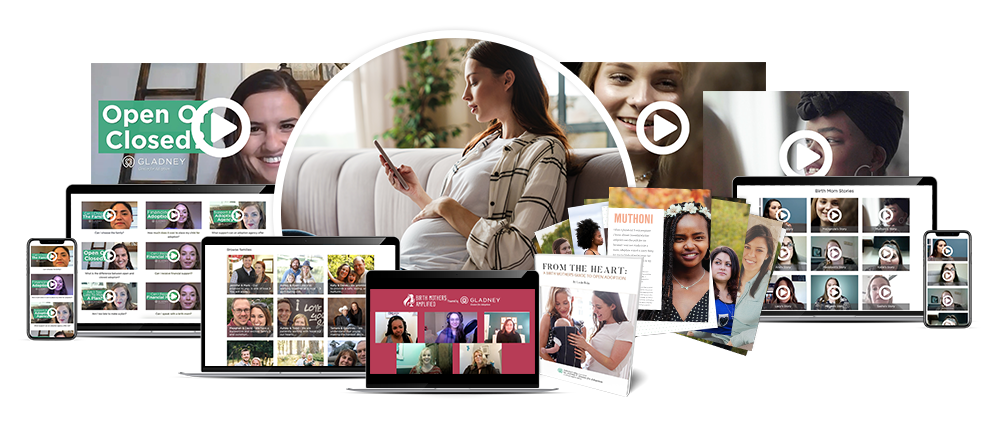 After the first year, my caseworker, their caseworker, the new parents, and I had a meeting about what the next 17 years would look like. The adoptive parents decided that three to four times a year was too much contact. I was crushed. I took them at their word from the pre-birth meeting and now they can just decide they didn't want to honor that? I did not explain that they wanted to "just be a family." There was and still is weirdness about spending time with her. "Am I being too parent-ish? Am I showing too much love? Do they trust me? Am I doing something wrong?"
That said, this journey has not been without moments of pure joy, excitement, and relief. The parents talk to her about adoption and I do get to talk to her on the phone, via FaceTime, and see her in pictures. I see her twice a year in-person to hug and take my own pictures. For some reason, having my own pictures of her is important to me. Two and a half years after placement, the adoptive mom told me that they did not approve of my hospital plan and breastfeeding is the only phone call that they initiated since her birth. That set the stage for dread every time after that when my caller ID would show their number. For some reason, it is always up to me to call them.
Adoption is a beautiful choice if parenting isn't the best choice. I could have parented, but I knew the better choice for my child was to be placed with two people that longed for a child, who had the resources emotionally, physically, and financially to give her a better life.
Ask questions. Quiz the adoptive family. If you don't like the answers, ask for another family. Trust your gut. Talk to one more person about your choice. After placement, use your experience to educate others and wrap your fellow birth parents with hope, love, and encouragement.
Did you like this story? Read more like it by downloading our FREE ebook, Stories From Birth Mothers. Get it here.
Are you considering adoption and want to give your child the best life possible? Let us help you find an adoptive family that you love. Visit Adoption.org or call 1-800-ADOPT-98.