You may be reading this article because you or someone you know and love has found themself unexpectedly expecting a child. If this is you and you have found yourself in a situation that was not planned and not expected, you are not alone. Some statistics cite that up to 44% of pregnancies each year are unwanted pregnancies. You may be wondering, what does an unwanted pregnancy entail and what are your options? If so, you are not alone. This article will help answer some of your questions about an unwanted pregnancy and help you make the best decision moving forward.
Unplanned Pregnancy and Next Steps
Whether this is an unplanned pregnancy or an unwanted pregnancy, you may be wondering what to do next. You are in the right place to get more information to make the best choice moving forward. You may be very early in your pregnancy, or you may have found yourself in an unwanted pregnancy situation very late into your pregnancy. It is important to remember there are wonderful resources for women who have found themselves with an unwanted pregnancy, so you do not need to worry about the social, emotional, financial, and health burdens of an unwanted pregnancy. Getting your needs met immediately and understanding how best to do that is critical to taking the next right step. That is all this life journey is–taking the next right step. Pretty soon, you will have one foot in front of the other and move in the positive direction you can envision for yourself.
Financial Resources for Pregnant Women
An unwanted pregnancy may bring a lot of stressors and emotions to the forefront. Among the top of these stresses and burdens for women who find themselves with an unwanted pregnancy is often the financial stress of the pregnancy and raising a child. You may not be in a situation where you think you can afford to carry your baby to term, or you may not think you could financially care for your child once you give birth to them. You may not have a partner, or you and your partner may not be in a situation where you could financially support a child. You may be already raising a family and found yourself in a situation with an unwanted pregnancy and know you can not afford another child to raise. You may just want to know what an unwanted pregnancy entails and if you choose to continue with the pregnancy if there will be financial assistance and options for you and your baby. The short answer is yes! Regardless of whether you decide to create a parenting plan to raise your child or an adoption plan to place your child with a hopeful adoptive family, there are many financial resources for you as a pregnant woman. Finding yourself in a situation where you are facing an unwanted pregnancy can feel overwhelming, and anxiety-producing financial pressures should not burden you as you decide to create an adoption or parenting plan. There are wonderful resources at the local, state, and federal levels for pregnant women and mothers. Understanding what these financial assistance options are is critical to take that burden of stress off of your plate during this trying time.
Financial assistance is available to pregnant women, those in unwanted pregnancies, or planned and wanted pregnancies alike. Various agencies within the federal government offer financial support for pregnant women and mothers. You will still need to apply for financial assistance at your state level, even for federal programs. There are many financial programs, but one is Women, Infants, and Children. This financial assistance program is often referred to as WIC. This program offers pregnant women and mothers postpartum access to nutritious food through farmers' markets, local grocery stores, and other food stores. This financial assistance program is for pregnant women, breastfeeding women, infants, and children through 5 years of age. The Women, Infants, and Children office in your respective state of residence will have more information on if you qualify based on your income level and how best to apply. Starting that process now is critical to ensure your health and well-being are taken care of from day one of your pregnancy–or whenever you found out you were expecting. Making your health a priority is critical. Getting nutritious foods will help you make the best decision regarding your unwanted pregnancy.
Further, it is critical you see a midwife or obstetrician soon after finding out you are unexpectedly expecting. You may not have insurance or access to healthcare. Understanding if you qualify for Medicaid is important. It is a financial assistance program available to women from pregnancy throughout their lives if they qualify in their respective states. Contacting your state Medicaid office today to see how you qualify should be your top priority. If you do qualify, you can continue to use Medicaid for health care services throughout your life, regardless of whether you decide to parent or place your child for adoption.
Another financial assistance program is Temporary Assistance for Needy Families (TANF). It is an option for pregnant women who financially qualify at their state level. Temporary Assistance for Needy Families (TANF) is offered to pregnant women and their families through a financial assistance program in which you can receive groceries, housing, maternity clothing, utilities for your home, and medical supplies. Contact your state TANF office to see if you qualify today and how you receive these benefits.
SNAP, formerly known as food stamps, is another financial assistance program to help pregnant women and their families during pregnancy and beyond. If you qualify, again, according to your state, you will get a debit card to use for food and groceries.
Emotional and Social Support During Your Unwanted Pregnancy
As someone who worked in the adoption field for many years and is now finishing a counseling Master's program, I am intimately aware of the need women have during non-normative life events to be supported in order to find their strength and resilience. An unwanted pregnancy is a non-normative event as it came out of the blue and was literally unexpected. There can be trauma around such life events, and understanding what you need in terms of coping skills, self-care practices, and support systems is key. Meeting with a licensed counselor during this time can be critical for your mental and emotional health and in helping you decide on a path forward. You may feel a plethora of emotions during this time, and a licensed counselor can help you navigate those feelings, relationships, and next steps for the pregnancy. They can also help you understand what you need to move forward, one step at a time. They can also help you navigate any other social and emotional support you may need with support groups with other women in similar circumstances and financial resources available to you in your community.
If you feel you have safe and supportive individuals you can share your pregnancy news with, you can discuss doing so with your counselor or follow your heart. You may have a faith leader who can also listen and provide support and resources. Leaning on trusted support folks in your community, friend circle, work, or in your family is key.
If you have a partner, whether or not he is the baby's father, if you feel safe to share this pregnancy, you should. If you in any way feel unsafe in your situation or with your partner, you need to tell someone you trust and the authorities. You must prioritize your health, well-being, and safety above all else to make the best decision for you and your baby, regardless of whether you decide to make a parenting or an adoption plan.
Pregnant and considering adoption?
Get your free adoption benefits and support bundle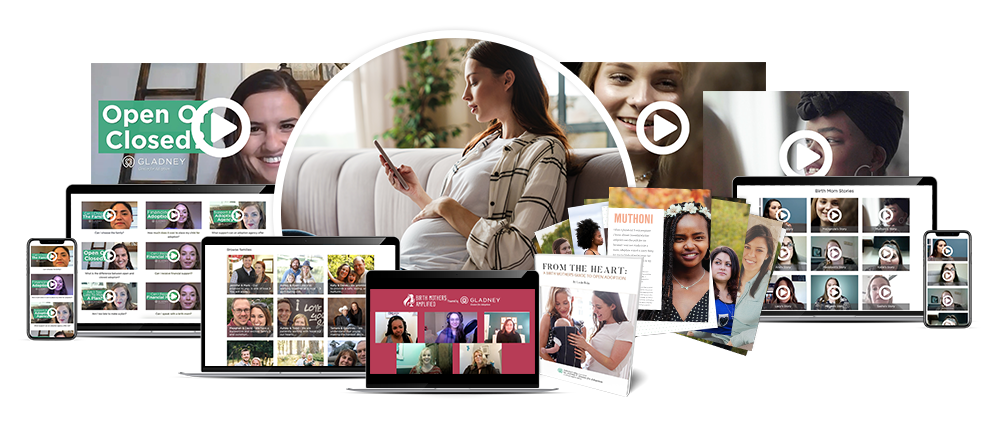 What Does It Mean to Make an Adoption Plan?
You may be looking at all of your options for you and your baby, or you may just be digesting the news that you are expecting an unplanned pregnancy. Understanding all of your options is critical. Looking into creating an adoption plan is one such option. If you are contemplating adoption for you and your baby, you may wonder what that includes.
First, contacting a great adoption agency like Gladney Center for Adoption can help you understand all of your options. Their options counselors can give you more information on the available options with no pressure or coercion to pursue adoption. It is critical to know good adoption agencies and adoption attorneys will support you in whatever decision you end up making. They will give you all of the information and answers you seek to make the best decision for you. This is entirely at no cost to you. Adoption will cost you nothing. Even if you decide not to use that adoption agency or go through with an adoption plan, you can speak to adoption agencies, their counselors, and social workers at no cost. If you decide to move forward with an adoption plan, your adoption agency will help you understand what expenses can be covered, including any potential birth mother expenses, though they are state by state. You can call an adoption agency at any point during your pregnancy, and they will provide any information you need to understand what options are available and what type of financial assistance you are eligible to receive. Most offer free legal services, counseling services, and all of your pregnancy, birth, and adoption costs. They can help you understand that process and help you navigate the financial assistance process in your respective state, as previously discussed. There is no pressure to use an adoption agency, and you can stop using them at any time. You can find an adoption agency near you to also answer any additional questions you may have at this point in your process.
Envision Your Life After the Birth of Your Baby
As you have found yourself unexpectedly expecting, you may wonder what is next for you. You may not have envisioned yourself here, with an unwanted pregnancy, but this news does not need to derail your future. You can find the support you need to raise your child if that is what you choose. There are financial, emotional, child care, educational, and healthcare options for you as a pregnant woman to best support you and your pregnancy. These resources will be available to you in similar or different forms after the birth of your baby and throughout your life and your child's life.
If you decide to explore your other options and think adoption may be for you and your baby, contacting an adoption agency can help get you the information you need. You may not envision a life where you are parenting a child or another child at this point in your life. If this is the case, the options counselor and adoption agency will help you see there is life beyond these nine months of pregnancy. They can help you focus on the dreams you had before this pregnancy, dreams of school, a professional career, starting your own family one day, finding a life partner or spouse, traveling, or healing.
There is no one right path for you. You have the opportunity to decide what path is best for you and your baby. Getting all of the information you need to make the best decision for you and your pregnancy is key.
Are you considering placing a child for adoption? Not sure what to do next? First, know that you are not alone. Visit Adoption.org or call 1-800-ADOPT-98 to speak to one of our Options Counselors to get compassionate, nonjudgmental support. We are here to assist you in any way we can.