I placed a baby boy for adoption in Georgia in May of 1996, at the age of 18. At that time, most agencies, including mine, were just starting to evolve into an open adoption. I was allowed limited correspondence for five years, through the agency, without identifying information exchanged to either party. Last April, I was blessed to be reconnected with my friends!
I had such a resistance to the idea of adoption or what would happen if I placed for adoption for the first several months of my pregnancy. My mother brought up the suggestion almost immediately, to which I took offense. My view at the time was that by suggesting that I place my child for adoption, she was saying I would be a terrible parent, that I would fail, that I couldn't provide for or raise a happy child. At the time, I thought that adoption was for the very young, the very poor, the drug-addicted, and/or mentally ill or emotionally unstable. But none of that was true of me, and I was a good person! I would have been a good mother.
People say a lot of unenlightened things about adoption, but one of my biggest peeves is when people will say that the birth mom couldn't raise the baby so she placed him with those who could. This is not accurate to my story or the majority of adoption stories I've known. I came to see that adoption wasn't about bad parents placing children with good parents, it was a matter of good/better/best. My Justin would've been fine with me. I would've been enough if I hadn't placed for adoption. Ultimately, however, I couldn't find peace in my offer to him of "fine" and "enough." When I knew that BETTER and MORE were available to him through adoption . . . he had to have it. Even at my own expense.
I also had the idea that I had made a mistake! I needed to take responsibility and face the consequences. For me, though, that's exactly what adoption was. By providing the best life available to my Justin, I was taking responsibility. And the consequences were bitter, but they were mine, and I didn't share them with him. After all, he'd made no mistake! A child is not an object lesson. They are not a punishment for foolishness!
The biggest reason that I wouldn't let myself consider adoption was that it would hurt! I knew it would hurt me like nothing ever had. I knew it would be harder than anything I'd ever done, and I was afraid that I wouldn't have the strength and that it would break me.
Months into my pregnancy, I had almost totally resolved upon single parenting, but there was something in my mind or my spirit that was still restless. I wanted to feel such confidence in whatever choice I made that it would sustain me through the hard times that would inevitably come, no matter which path I chose. I wanted peace of mind in 5, 10, 20 years and beyond that, I had done right by this child. I was looking for an answer, for THE answer. So on this day, I sought the counsel of One who knows and sees what I can't: the needs of this specific child; the ends of the paths I could only see the beginnings of; the future, essentially. As I made my inquiry, I began to look at the situation in a way I hadn't previously considered.
I asked myself "Tamra, why will you not consider adoption?" The answer that came back was "He's mine! I want him! That would kill me!". I . . . me . . . may . . . I began to understand that I was now a parent, and as a parent what my mom wants, what my friends say, even what the birth father thought, EVEN what my own heart told me, none of this mattered as much as one question: "What is best for this child?" It was SO, so, so difficult to eliminate myself from the equation – what I thought, what I wanted, even what I needed. But when I, ME, and MY weren't in my way, I could finally see clearly. I had to acknowledge with my limited experience, maturity, and preparation, and being on my own, even at my best I couldn't make up the difference between the life I could give him, and the life an adoptive family could. Especially the right adoptive family! When we met, I KNEW they were his!
I have been so grateful to discover that this path didn't break me! It didn't kill me! Or . . . actually, it did, but in a way, I still find difficult to explain, it also made and mended me. The peace of mind I have that Justin has the life that is right for him sustains and comforts me. I learned to love. The kind for which you'd break your own heart! The kind you don't just feel but the kind that you DO! I have never doubted and I have no regret.
Pregnant and considering adoption?
Get your free adoption benefits and support bundle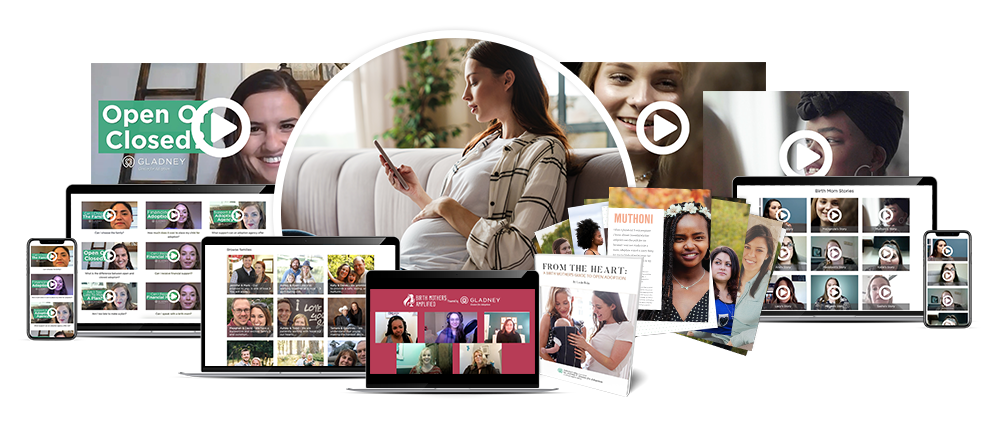 Did you like this story? You can read more like it by downloading the FREE eBook, Stories From Birth Mothers. Click here to get it now.
If you'd like to hear more from Tamra about her adoption experience, you can see her share her experience here and watch her in a series of birth mother panel discussions.
Are you considering adoption and want to give your child the best life possible? Let us help you find an adoptive family that you love. Visit Adoption.org or call 1-800-ADOPT-98.