What does adoption mean?
Adoption is a turning point for expectant parents, adoptive parents, and, most importantly, adoptees. An unplanned or unexpected pregnancy can make expectant mothers question whether or not they'd like to parent their baby or place their baby for adoption. Giving your baby a better life is not an easy decision to make and should not be taken lightly. There are many aspects to both sides of adoption and the hope here is to assist in making a choice a little easier and less daunting when considering Chicago adoption.
Chicago Adoption for Expectant Mothers
What are some of the reasons a birth mother might consider adoption? This article from Adopting.com includes these reasons:
– You may have other children you are barely able to care for and do not think you can raise another baby.
– You may be a teen and know you cannot finish your education and take care of a baby full time whether you have a great support system or not.
– You may realize being a single parent is a reality and fear you cannot take this task on alone.
– You may be a college student who knows the grueling hours of classes and homework and would definitely have to get a job to pay for the baby's needs.
– You are barely starting your career and you want to get that off the ground before starting a family.
– Your relationship is domestically abusive or toxic and you do not want to bring a baby into that.
Whether it is one of the above reasons or something else that leads you to decide on adoption, this decision is the most selfless and difficult choice you will ever make, so you want to make certain no one is pressuring you into this decision.
1. Counseling
Once you have made the decision, the first step in placing a baby for adoption is speaking to a therapist or an adoption counselor. They can assist you in navigating the whirlwind that will follow such as helping you find housing if needed and help you get funding for the many expenses such as medical bills and doctor visits.
During the time from finding out you are pregnant to after you place your baby in someone else's care, you will more than likely go through all the stages of the grieving process (not in any particular order).
Denial & Isolation
When first finding out you are pregnant, you may go through a stage of denial which means that you do not want to face the fact that you are expecting a baby. Isolation sometimes happens when you do not want to talk to others about the situation (sometimes even the birth father). At times, being isolated from others gives you the much-needed alone time to process the choice you have made in regards to your baby.
Anger
This step is probably the longest one that you will encounter. Anger is a feeling that covers up hurt and even guilt for the decision you made. Most of these steps you will feel more than once and not in any order but this one could come and go more than the rest.
Bargaining
During this stage, you may find yourself bargaining with God or a higher power to figure out a way to be able to keep your baby and still be able to accomplish the things that you want.
Acceptance
This stage is the hardest one to reach because by accepting the fact that you will not be raising your baby and accepting that you are giving your baby the best life you can, you must accept your role in everything that has happened.
2. Adoption Professionals
The next step is giving your baby a better life is finding an agency or adoption attorney to aid you in the long process that awaits you. You may choose not to use an agency and do this on your own, but most expectant mothers choose to have someone walk them step-by-step through the process which, in a way, makes it a little easier to navigate. The Gladney Center for Adoption is one agency that may help you along your adoption journey. Although they are based in Texas, they assist birth mothers in all areas of the world.
3. Adoption Plan
After choosing an agency you'll begin to make an adoption plan. In this step, you will not only decide what type of adoption you want, but you'll organize a hospital plan. What does an adoption plan entail? The first aspect you must decide is whether you want an open, partially open, or closed adoption. An open adoption means that the birth mother or parents have the option to watch their baby grow up through video, FaceTime, Skype, pictures, letters, and, at times, visitation. A partially open or closed adoption is one where the birth mother or parents are made aware of certain areas of their baby's life. There is also closed adoption. This type of adoption means that once the child is placed with their forever family, contact will cease between the biological and adoptive families.
The hospital plan entails the birth mother deciding who is involved with the delivery. You may choose to allow the prospective adoptive parents in the delivery room so that they are able to experience as much of the birthing process as possible. You may wish to spend some alone time with the baby before signing relinquishment paperwork.
4. Find a Family
You'll then begin the search for your baby's forever family. This step is difficult and not to be taken lightly. This is where an adoption counselor can be of great help as they assist you in navigating through the emotional roller coaster that is bound to take place. The agency will have photo listings of families or individuals who are waiting to add to their family. This makes it a bit easier in finding the right family. When you are having a hard time, go with your gut instinct.
5. Post Placement
The last and final step, step five of placing your baby for adoption in Chicago, is moving on with your life knowing you made the best decision for you and your baby. This may require counseling. Perhaps you are ready to finish school or jump-start your career with confidence in the choice you made.
Chicago Adoption for Hopeful Adoptive Parents
Wanting a child and not being able to have one of your own or wanting to add to your growing family is not an easy thing to go through. Being chosen as a prospective adoptive parent is a roller coaster ride in and of itself. There are steps that must be taken when making this decision.
1. Choosing to Adopt
The first step in this process is making certain that adopting a baby is what is best for you and your family. This stage, like that of the birth mother, should not be taken lightly and should involve all members of your immediate family who are of an age to understand what your intentions are. You must not only aid them in understanding, but you must take how they feel into account.
2. Finances
Money can be an issue when looking to adopt. This is the second step when looking at adoption in Chicago. You must make certain you can afford to not only go through the steps of adoption but also care for the baby once he/she is placed in your care. There are many options for grants and fundraising to help you along the way. Consider all of your options before dismissing Chicago adoption for financial reasons.
3. Adoption Professionals
The next step is getting help either through a therapist or an adoption attorney. The therapist can help your family deal with the emotions that come with the aspects of adopting a child or baby. An adoption attorney can not only assist you in understanding the steps but he or she can help you with the legal aspect that is involved in adoption.
4. Paperwork
You will then need to start gathering all the paperwork that is needed when going through the stages of adoption. Some things that you'll report on or have observed through a home study include:
– Finances
– Employment History
– Background Checks
– Marriages
Pregnant and considering adoption?
Get your free adoption benefits and support bundle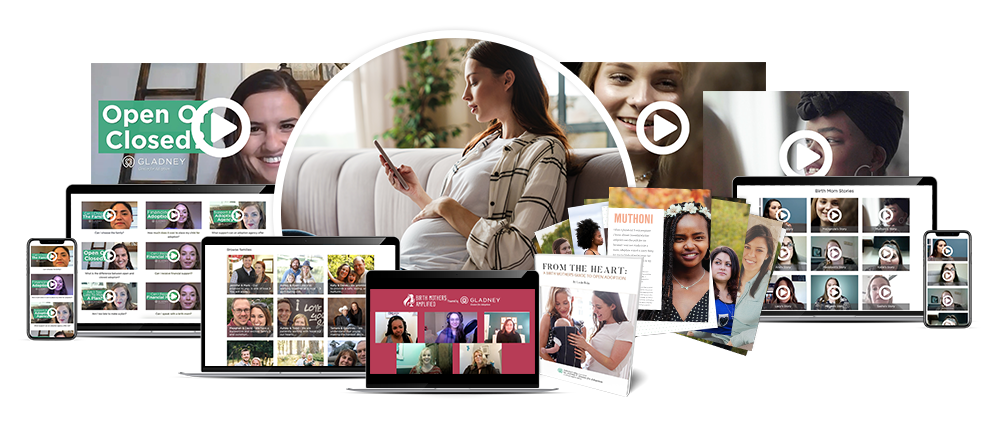 – Divorces
– Religious Affiliation
There will be questionnaires to answer fully. This is where an adoption attorney can assist you as well.
5. Parent Profiles
The next step is creating your parent profile and photo listing. Check your state laws about adoption before advertising your interest. If you are working with an agency, they can help you navigate this. Put your best foot forward as this is how the birth mother will learn about you. Some common parent profiles include the following information:
– Family biography
– Pictures of you and your family
– Pictures of you and your spouse on your wedding day
– Hobbies
– Occupation
– Photo of your home
– Your feelings about adopting a child
6. Matching
Getting matched with & meeting the birth mother is the next step in the adoption process. This can be as nerve-wracking as the home study and even deciding to adopt because this is where you have not only been chosen, but you get to meet the person that will give you the blessing of a child. One good thing to remember when meeting the expectant mother is that this is probably a first for both of you. Everyone is nervous and excited, stay calm and try to take one step at a time.
7. Home Study
You'll need to complete a home study before being considered eligible to adopt. They will look at what your home life is like, whether you have enough room to add a child to your family, and your parenting style. They will interview you and your spouse collectively and individually as well.
8. Finalizing the Adoption
During this phase, the parental rights of the birth parents are relinquished. If you are adopting over state lines, there may need to be documentation completed such as The Interstate Compact of the Placement of Children. You'll also begin engaging in your adoption plan whether that is closed, open, or semi-open. Post-placement visitation will be discussed and decided on beforehand.
There are many aspects when adopting in the Chicago area; much like other places, a lot is the same but, in the end, the best interest of the child is what everyone is striving for.
Are you and your partner ready to start the adoption process? Visit Adoption.org or call 1-800-ADOPT-98 to begin your adoption journey. We have 130+ years of adoption experience and would love to help you. Are you considering placing a child for adoption? Not sure what to do next? First, know that you are not alone. Visit Adoption.org or call 1-800-ADOPT-98 to speak to one of our Options Counselors to get compassionate, nonjudgmental support. We are here to assist you in any way we can.