There were several instances where my adoption story changed my understanding of what love is.
Adoption is defined in the dictionary as "to take and rear (the child of other parents) as one's own child, specifically by a formal legal act."
This is extremely simplistic. What it fails to mention is the love that forms around adoption, the sacrifice it requires, and the community it creates.
An adoption is an act of sacrifice and love by both birth parents and adoptive parents.
When I was 20 years old I found myself staring down at my third positive pregnancy test.
I felt an overwhelming sense of disbelief, followed by an immense fear of what lay ahead of me.
I had no idea what to do next, but I knew I couldn't do it alone.
I called my then-boyfriend and told him we needed to talk. As I pulled into the parking lot at his work that afternoon, my heart was in my stomach.
We had only been dating about a month, so I had no idea how he would take the news. I couldn't get the words out until finally I just blurted, "I'm pregnant."
I will never forget the look on his face. It was a look of terror, followed by one of self-preservation.
His first and only reaction was that I needed to get an abortion.
It broke my heart to hear that he wasn't ready to start a family and that he didn't want anything to do with me.
He continued to pressure me into getting an abortion, but being the avid pro-lifer I am, it wasn't an option for me.
As I sat there beside him, I wondered how he could be so callous. After all, I wasn't the only one involved in the creation of this life.
But no amount of pleading would change his mind. He was not going to be a father.
I hopped out of the passenger seat of his truck feeling totally defeated. The only thought running through my mind was "What am I going to do?"
I found myself driving down the highway with no destination and nowhere to go.
I was supposed to sign a lease at an apartment with him the next day. But suddenly I was homeless, pregnant, humiliated, and alone. Not what I had imagined for my life at 20 years old.
The more time passed, the angrier I became at the man who had abandoned me and his baby. I was set on parenting my unborn child, even though I had no idea how I would do it.
When I told my parents what had happened, they told me to place my baby for adoption. I just couldn't bring myself to even consider it for multiple reasons.
First, I had convinced myself that there was no family out there that could take care of and protect her as I could. Second, the mere fact that my parents were pushing it so hard to do something made me want to do the exact opposite.
It offended me that they thought I couldn't be a mother. At least that's how I perceived it.
One day, when I was out with my mom and sister for lunch, my mother brought up the subject of adoption again.
At that time I was pretty annoyed by the amount of adoption talk there was.
I was so irritated that I told her that even if God himself told me to place my baby for adoption I wouldn't. I can only imagine that God was up in heaven laughing at my asinine challenge.
It wasn't a week later when God told me that I was to place her for adoption. And, as expected, His will overpowered my own and it changed my understanding.
I set up an appointment to see a social worker from a Christian adoption agency for the next week. It changed my understanding.
While anxiously waiting for my appointment, I pored over the online profiles of couples looking to adopt.
I narrowed it down to three couples I was interested in and forwarded their profiles to my mom. I asked for her help in choosing.
She, in turn, forwarded them to my pastor, my grandmother, and my dad. They each prayed individually and did not speak to one another about who they were leaning towards.
When they all came together, they had unanimously chosen a couple I'll call "T" and "H." God had spoken to us all. He had chosen this couple.
Finally, the day of my appointment with the social worker arrived.
She brought with her what seemed like an endless amount of hard copy profile books.
I looked through them half-heartedly since I had already decided who I wanted to adopt my baby too.
After I finished looking through the parent profiles, which included one of "T" and "H", I told Emily that I had found a family. She looked surprised that I had been able to decide so quickly.
Waiting to meet "T" and "H" was one of the hardest things I've had to do. Time seemed to go by so slowly.
In the meantime I pored over their book multiple times a day, trying to get to know them better.
From what I saw, they were the perfect couple. They had been married for 15 years, which gave me confidence. "H" wanted to be a stay-at-home mom and had already left her job in preparation for that.
They were also active with their family, church, and the outdoors.
Every time I read through their book, it changed my understanding and I was more confident in my decision. The hand of God seemed ever-present in each passing day.
When the day to meet "T" and "H" finally came, I put together a little care basket with all the stuff I had bought for my daughter when I thought I was going to parent, as well as a DVD copy of her ultrasound.
Sitting across from them was like a dream. It changed my understanding. I couldn't find one flaw in anything they told me.
They loved the Lord, which was one of the most important aspects of what I was looking for, and they also wanted an open adoption. They were perfect!
After that day I stayed in close contact with them. They drove down for all my doctor appointments and I talked to "H" regularly on the phone. It was easy to love them and it changed my understanding of love.
As time went on, I felt more and more like my daughter had always been theirs.
God had his hand in this from the very beginning. Still, despite my greatest efforts, I fell in love with my unborn child.
While I desired to raise this beautiful girl, I knew that "T" and "H" were her parents. It changed my understanding and I had no idea about the journey that lay ahead of me.
Having my daughter changed my life in so many ways. It made me a better person, and I thank God every day for the life of that little girl.
On January 25th, 2012 I checked myself into the hospital. I was having contractions and was mentally ready to give birth.
I called my mom and let her know. My mom, dad, sister, and grandmother headed up to the hospital, and "T" and "H" and a friend soon followed.
Pregnant and considering adoption?
Get your free adoption benefits and support bundle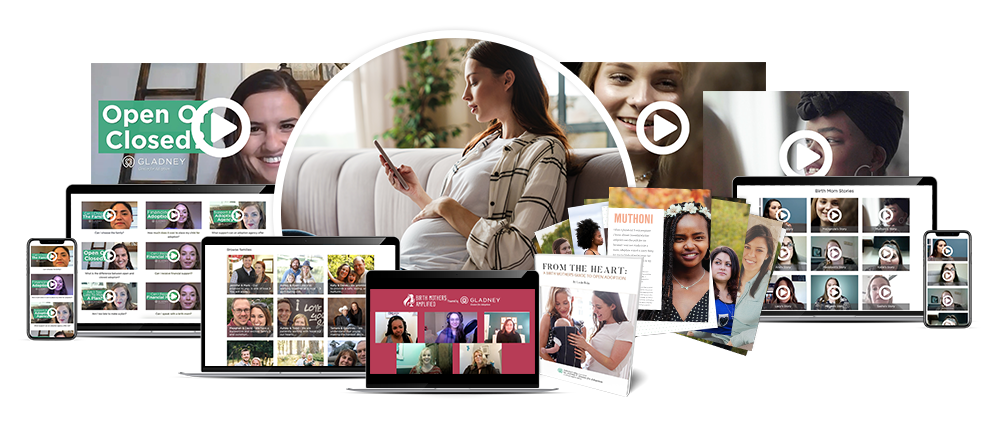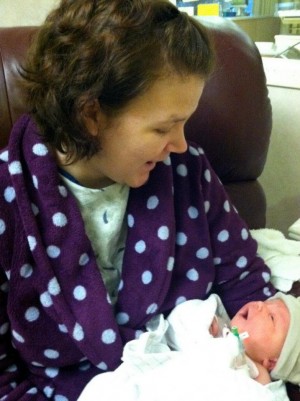 At 3:29 p.m., "RM" was born at 7 pounds and 5 ounces. At that moment I was flooded with emotion. I already loved her more than I can ever describe!
"RM" spent all three days of my hospital stay in the NICU due to complications from my labor. At the time I was extremely disappointed because I didn't get to spend the amount of time with her that I wanted.
But looking back, I am extremely grateful. I don't think I could have had the strength to place her with "T" and "H" had she spent all three days in my room. The gravity of what I was about to do didn't hit me until the day of placement.
When the nurses brought her out of the NICU for discharge, I was able to see and hold for the first time without all the wires hooked up to her. She was so beautiful.
"T" and "H" waited for my family and me to have our time with her. Everyone got to hold her and tell her how much they loved her.
At the time, we had no idea what kind of involvement we would have with them in the future so we wanted to get as much time with her as we could.
Everyone cried with me as I prepared to do the hardest thing I've ever had to do. "T" and "H" came in and spent some time with just me and "RM" before the entrustment ceremony.
After that, I spent a few minutes alone with my daughter and talked to her and let her know just how much I loved her.
As I headed toward the ceremony, I felt like I was being led to my death. I didn't want to let this beautiful girl go.
Everyone gathered in a circle around me and prayed over the adoption. It was time for me to say goodbye.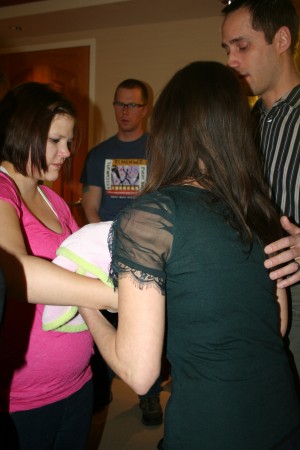 Through tears, I handed my baby, and the right to be her mother, to "H."
It was so hard on me. But it was also one of the most rewarding things I have ever done.
It's been 3 ½ years since I placed "RM" with her "T" and "H," and I have to say it's been amazing. Watching them love her like their own continues to fill my heart with joy.
While there are days that I miss her, there are many, many more days that I am grateful that she is with them.
They are everything I wanted for her. Each day is a blessing with them.
Having my daughter changed my life in so many ways. It made me a better person, and I thank God every day for the life of that little girl.
Going through the process of adoption and seeing "T" and "H" be "RM"'s parents has made me think so much about my own life, specifically about my mom and dad and everything they've done for me.
My mom was about the same age when she found out she was pregnant with me. The man responsible for some of my biology left her to go it alone.
She decided to parent me and did everything she could to be the best mom for me. She worked hard to provide, and if you ask me she's done one hell of an amazing job.
Thankfully God gave her a man to be my dad and they got married when I was two years old.
Before I had placed "RM" for adoption, I never really realized the choices my father had made in his life. When he married my mom, he also got me and became my dad. Not my stepfather, but my father!
The most important lesson I have learned through this process and what changed my understanding is that biology is not required to make you a parent. Sharing DNA does not make you a father.
A father is someone who picks you up when you fall. Someone who pushes you around in a wheelbarrow full of leaves. Someone who can't sleep because he is worried about you. Someone who takes up your defense no matter what. Someone who loves and forgives you unconditionally. Someone like my dad.
He didn't need to share my blood to be my dad. Parenthood comes in many shapes and forms. Whether it's through birth or by adoption, children are a blessing from God!
I thank Him for everything he has done in my life! I am thankful for "T" and "H" and their willingness to take in "RM" as their own. And I am thankful for my mom and dad for all the sacrifices they have made for me and their unconditional love.

Are you considering placing a child for adoption? Not sure what to do next? First, know that you are not alone. Visit Adoption.org or call 1-800-ADOPT-98 to speak to one of our Options Counselors to get compassionate, nonjudgmental support. We are here to assist you in any way we can.