What is family? For some, a family is a group of people connected by genetic traits. For others, a family is a group of people who love and care for each other, no matter their genetics. Some people claim family through legal and social ties, while others do not. For adoptive families, those definitions all blur and fade in and out of each other.
From the time Laurel Davis was a little girl, she knew she wanted to adopt children. Her mothering adventures began, however, in a very traditional way. She got married and gave birth to four children. Even though her husband, Mike, was content with four, he had received strong, personal feelings that he should be open to adoption. A few years after their youngest was born, Laurel and Mike began to feel out the adoption world.
They began by going to their church's adoption agency. They were surprised when they were met with "You're too old," or, "You already have four children." With the understanding that this agency's focus was on placing children with parents who could not have biological children, they decided to begin to investigate other options.
A few years later, Laurel began to have strong impressions that a specific child was waiting for her in China. Because of the urgency of her feelings, Laurel and Mike completed all the paperwork for international adoption in record time. Just as the Davises were about to turn in their paperwork, China closed the doors to all adoptions.
Devastated, Laurel turned to the only person she knew to turn to—God. As she prayed, once again, she felt that a specific child was waiting for her, but this time, the thought "Your child is in Vietnam" floated through her mind. Vietnam! In her lifelong thinking and praying about adopting, Vietnam had never been a consideration. The only thing she knew about the country had to do with the Vietnam War, and she readily admitted it wasn't much.
With a new purpose and direction, Mike and Laurel began searching for Vietnamese adoption agencies. Time after time, they were faced with roadblocks. Knowing that a specific child was waiting for them in an unknown Vietnamese orphanage, Laurel and Mike persevered. Finally, they found the International Assistance and Adoption Project. Dick, the director of IAAP, accepted their adoption application, made sure all their paperwork was in order and explained that they should receive a referral for a child in about three to six months.
Just a few weeks later, Laurel received the phone call that she had waited for since she was a little girl. Dick, with a panicked tone in his voice, asked if the Davis's were willing to take a 15-month-old little boy who had been chosen by another family that had backed out at the last minute. A quick run to Kinko's and a faxed photo of a little boy sent a flood of relief through Laurel. She recognized him, even though she had never seen him before, "Yup, that's my boy." She knew that this little guy was the one that was waiting for her.
When Mike and Laurel told Dick that they certainly wanted this little boy, relief flooded through Dick. When Laurel asked why, Dick explained that he didn't want to tell the Vietnamese orphanage that this little guy's family had backed out because he would never again be put up for adoption, now being considered "damaged goods."
A few months later, Mike and Laurel made the trip to Vietnam. There, with a large group of adoptive parents, they met their son, Jackson, even though they both felt that they already knew him.
For all of Jackson's 21 months of life, he had lived in a crib, no bigger than a typical restaurant's booth table, with two other crib mates. While the workers were loving and kind, the staff was limited because of the lack of resources. The only time Jackson had ever been out of the crib was to be fed and changed. Understandably, for the first several days, he pulled away and acted very limp every time he was held. They didn't even know he could walk until four days later when he jumped up to run after a toy (he had never played with toys before). Mike and Laurel were in Vietnam for two weeks until they could bring Jackson home.
Jackson's new siblings loved him from the first moment. Jackson flourished and grew. It hasn't all been easy with Jackson. Continuing issues have resulted from the neglect of his first two years of life, but he was able to graduate from high school and now has a job and a girlfriend. He loves his family and knows that he is loved in return.
When Jackson was about 3 years old, Laurel received the strong impression that another child was waiting for her. She and Mike had intended to adopt from Vietnam again, but when Laurel prayed about it, she received the impression, "Your child is in China." Once again, the adoption agency was changed. This time, when the referral came, it was for a 3-year-old girl.
Laurel went to China with her cousin to pick up her new daughter. There was another large group of adoptive parents. Laurel recognized her daughter immediately, not only from the photos but also from the backpack that the Davis family had sent to Shaye. An agency worker brought Shaye to Laurel, and Shaye said, "Mama."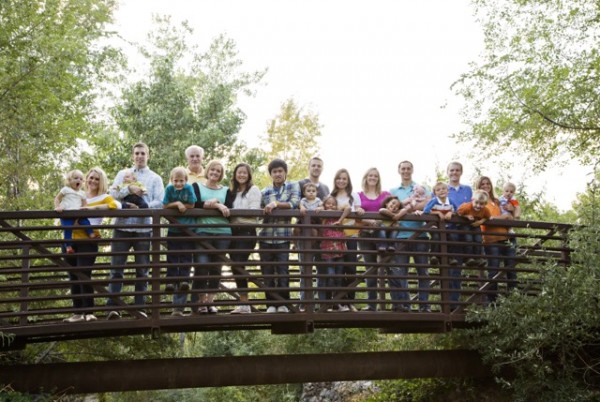 The entire Davis family before they adopted Nina. The first years of Shaye's life were very different than Jackson's. She had spent some of her time with foster families and had been exposed to the concept of family. Even though she was much more friendly and had an easier adjustment than Jackson, it was still a traumatic experience for Shaye to be taken from the only place she had ever known to be with new people in a new country with different food and even a different language. As Laurel and Shaye were driving to their hotel, a solitary tear rolled down Shaye's cheek. After her very first real bath, Shaye just lit up when she got new clothes. Shaye's internal princess erupted through and has stayed ever since. Shay recently graduated from high school with honors (she was a cheerleader) and is now in college.
Approximately two years after Shaye joined the Davis family, the desire to give love and a family to an older child was planted in Laurel. Excited to pick up the daughter that would then complete her family, Laurel flew to China. This experience, however, was very different. Nina was 11 1/2 years old. Nina's parents abandoned her when she was 1 year old and she had spent the next 10 1/2 years of her life without a family. Even though her abandonment occurred before she was old enough to remember it, the abandonment and the subsequent years had been very traumatic.
Nina came to the Davis family full of anger not only for the trauma of the first years of life, but also because she was then faced with becoming a daughter to strangers who were of a different race, spoke a different language, had a different culture, beliefs, and faith system, and who was taking her to a foreign country. Even though the Davis family would give her more than Nina could ever imagine, the depths of anger remained.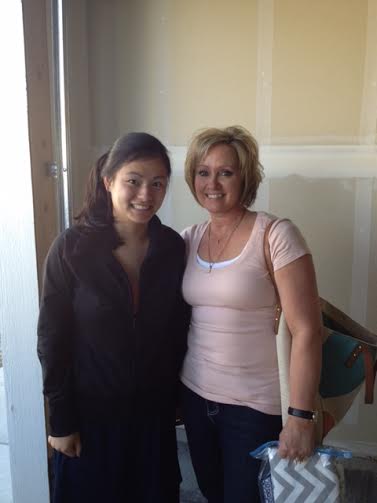 Undaunted, Mike and Laurel were determined to shower Nina with love and whatever she could need or want. The second ten years of Nina's life were full of ups and downs. There were times when Nina did well and seemed to be adjusting and loving her family, but there were others when the struggle was all-consuming.
Even though all seven of Laurel's children came to her in different ways, and each has presented her with unique challenges, she loves each one with the same intensity. Each of her adoption experiences was very different but represent typical experiences of adoptive parents, including challenges with agencies, the opening and closing of adoptions in foreign countries, a child who adjusted easily and well and has thrived and excelled, a child whose adjustment was more difficult and who has had more challenges but who loves his family and loves and knows that he is loved, and a child whose adjustment has been very traumatic and even with the complete love, support, and caring of a family may never be able to truly be happy. Yet, through it all, Laurel is the proud momma of seven great people. She knows that all children bring their own joys and sorrows, no matter how they come to a family.
All of her children are now grown, some are married, and she is a grandmother. Even though her children are in various stages of independence, she still considers her primary work each day is to be a mother.
The miracle and blessing of adoption continue to be part of who she is. Laurel's daughter, Lyndsay, and her husband have made their family through adoption—of their five children, the first four came to them through adoption. Laurel's adoption journey doesn't end there. A few months ago, after having biological children, her son and daughter-in-law adopted a toddler from Bulgaria.
"I hate it when people say that my children are so lucky to have us and what a blessing we have been in their lives. I disagree. Mike and I are so lucky to have them, and each one has been a great blessing in our lives. Each one has given far more to me than I could ever give to them."
For Laurel Davis, the family is simply about love and sacrifice, laughter and tears, excitement and worry. Her family isn't about genetics, race, characteristics, traits, origin, or baggage. It's simply about love.

Are you ready to pursue adoption? Visit Adoption.org or call 1-800-ADOPT-98 to connect with compassionate, nonjudgmental adoption specialists who can help you get started on the journey of a lifetime.