During an unexpected or unplanned pregnancy, especially when making an adoption plan for your unborn child, it is difficult to focus on anything besides actually being pregnant, then placement. But don't forget that your body is about to go through an incredible transformation of its own: giving birth between those two events.
Having mentored many expectant mothers over the past six years, I have seen everything from the ultra-prepared birther to the whatever-happens-happens birther. In general, those who do at least minimal preparation for labor and delivery have an easier time immediately post-partum and physically healing afterward. Some women choose classes, others read everything they can, most participate in expectant-parent online forums, and some do a combination of everything.
Although modern medicine now gives the option of a pain-free (or nearly so) childbirth experience, it is of great benefit to know what your body is going through during the process. Sometimes the unexpected can happen (and, often, it will!), and it is always better to be over-prepared than otherwise.
The following is a list of great resources to help prepare yourself mentally (and physically) for labor and delivery.
Books
1) What to Expect When You're Expecting by Heidi Murkoff and Sharon Mazel
This book has been a favorite for new and veteran moms for years, and gives week-by-week information on the growth and development of your baby, your body, and different experiences that expecting women may have. From conception to birth, this book covers all of the basics and gives a crash course on different pain management methods during labor and delivery, as well as advice on how to care for yourself afterward.
2) The Official Lamaze Guide: Giving Birth With Confidence by Judith Lothian
While most women opt for an epidural or other form of pain relief during labor and delivery, it is beneficial to also know other methods of dealing with pain during labor . . . just in case. Lamaze is a combination of breathing and pain management methods that encourage relaxation and understanding of the pain that may be experienced. Lamaze is incredibly beneficial even for those who do choose to have an epidural to help stay calm when feeling the extreme pressure of contractions and to focus when pushing.
3) Ina May's Guide to Childbirth by Ina May Gaskin
Following the Midwifery Model for childbirth (little to no medical intervention), this book encourages trust and confidence in a woman's ability to give birth peacefully and avoid the medicalized version of labor and delivery we have come to expect. If you want to go unmedicated, or even possibly opt for a birth-center or home-birth, this book is invaluable.
4) Homebirth in the Hospital by Stacey Marie Kerr, M.D.
While an unmedicated labor and delivery may be the goal for many women, it is not always the best or safest option. With birth stories ranging from completely unmedicated and unassisted to emergency cesarean-sections and unexpected loss, this collection gives very real and relatable variations of labor and delivery to expecting mothers without encouraging fear. If you're like me and love the idea of a peaceful home-birth, but also find comfort in knowing that medical assistance is available immediately if needed, then this book is perfect for balancing your birth plan.
5) Husband-Coached Childbirth: The Bradley Method of Natural Childbirth by Dr. Robert Bradley, Marjie Hathaway, Jay Hathaway, James Hathaway
Whether your birth plan includes the father of your child or not, this book has been a favorite of unmedicated and medicated birthers alike. Newer prints of the book have clarified that "husband" is to mean any partner or support person during delivery. This book highly encourages an unmedicated birth and ways that your support person can help you with your birth plan, but also allows room for the decision for forms of medication to help if desired.
Websites
Inspired by the book, the "What To Expect" website has all of the resources and information you need at your fingertips, as well as forums specific to your due date and links to other resources you may need. When you sign up (it's free), you receive emails and updates tailored to your due date and interests. The app is also a great resource to have on the go.
This is another website that gears emails and updates toward your specific due date and interests, and also offers an app to keep you up-to-date on your baby's daily/weekly/monthly growth and development.
Pregnant and considering adoption?
Get your free adoption benefits and support bundle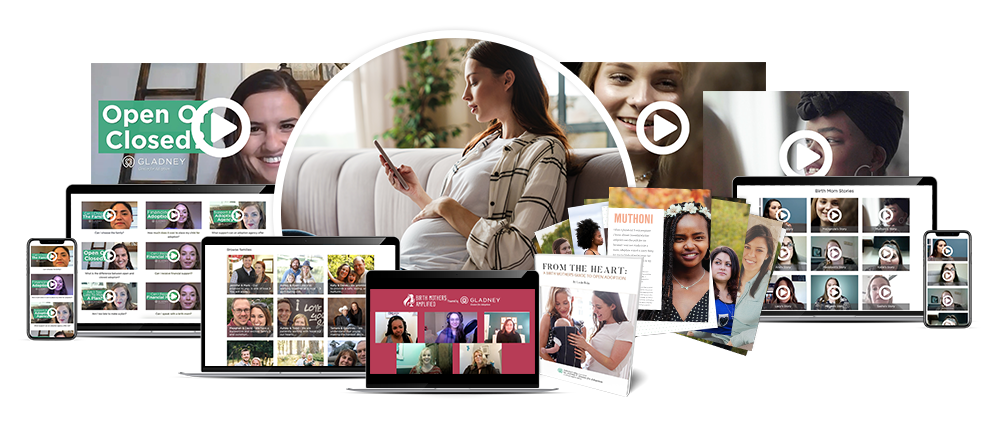 8) NaturalBirthAndChildCare.com
As you can tell from the title, this website is geared toward a natural, unmedicated, "crunchy" labor and delivery. It is also a lot of fun and has great access to birth stories and useful home remedies for the aches and pains that accompany pregnancy and childbirth. Online hypnobirthing classes are available via the website as well.
Live Preparation/Support
9) Hospital-provided Childbirth Classes
Usually for a fee, these classes let you and a partner or support person explore all of your labor and delivery options specific to that hospital. Classes cover prenatal care and birth preparation, pain management and delivery options, cesarean-section deliveries, vaginal deliveries, breastfeeding, and postpartum care. These classes usually include a tour of the labor and delivery facilities and last anywhere from 3 to 6 weeks (1 to 2 weekly classes).
10) Private Childbirth Classes
Whether hypnobirthing, Bradley Method, or the same model of childbirth class that hospitals provide, a private childbirth class is one that you choose based solely on YOUR desires for labor and delivery. What works for one person may not work for you, and many "alternative" classes (such as Hypnobirthing and Bradley Method) may let you try out one class for free to see if it is a fit for your style.
There are many, many more resources available. Often, women find that the most valuable place for advice and information to prepare for childbirth is from their own mother, sister, or other trusted woman in their life. Women love to share their experiences, good and bad, so don't be afraid to ask!
Which resources were useful to you when preparing for labor and delivery? Let me know in the comments!
If you're pregnant and considering the adoption option, know that there is support available to you. Click here to connect with an experienced, compassionate adoption professional.