detectives logo
30+ Years experience reuniting families
free consultation
World's largest reunion registry
about adoption detectives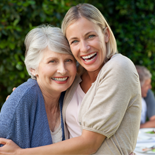 Adoption Detectives has 30 years of experience.
Adoption search can be hard. Are you an adoptee wondering how to find your birth parents? A birth mother searching for your adopted child? Adoption.com has compiled a team of experienced, licensed professionals, genealogists, and professional researchers to aid you in your search.
The decision to find a birth family member or the child you placed for adoption (adoptee) can be daunting and difficult. You might wonder:
Where do I start?

How do I search?

What will I find?
Many opt to search for birth relatives on their own. Unfortunately, too often searching for adoption records without professional support is a dead end.
Our team has spent 30 years reuniting those who have been separated through adoption. Our team is uniquely comprised of adoption constellation members who are well-versed in all adoption search scenarios.
Take the first steps in your search by filling out the form to the left for a free evaluation of your search.
FAQ
What services do you provide?
We collect all available information from you regarding the party that you are searching for and conduct a search using all legal resources, databases, and public records at our disposal. We may then contact the other side to verify the relationship and assess their willingness to be contacted by our client, after which we convey all of the information we have collected to you.
ARE YOUR BIRTH RELATIVE SEARCHES GUARANTEED?
No licensed, private investigative firm can guarantee a positive outcome to an adoption search. In many cases, the information provided at the time of birth may have been falsified, incorrect or incomplete. What we will guarantee is we will not accept your search unless there is at least a 90% chance of us solving it.
WILL I RECEIVE UPDATES DURING MY BIRTH PARENT OR ADOPTEE SEARCH?
You will be working hand in hand with a number of our investigative research team members. Any time we have new information or additional questions, you will be contacted immediately.
HOW LONG DOES A BIRTH FAMILY SEARCH TAKE?
There is no way to gauge how long a search will take. Some searches could take a week; some could take months or years. Our shortest search took 2 hours, while some of our longer cases took 5 years. It all depends on how much information is provided and how cooperative the states and/or agencies involved are.
CAN I CANCEL MY ADOPTION-RELATED SEARCH?
You may cancel your search at any time; however, since you have paid in full and search fees are non-refundable we suggest you put a hold on your search instead. A hold will allow you to revisit the search at a later time. When searching, emotions may arise that you are not prepared for, and taking time to process while temporarily pausing your search can be helpful.
ARE YOUR SEARCHES DISCREET?
In the course of our search, it will be necessary to disclose some information surrounding the adoption to verify that we have the correct parties, but we do so in the most discreet manner possible while protecting the confidential nature of the search.
WHAT INFORMATION IS NEEDED TO START A SEARCH?
In your initial consultation, we will ask you specifics, but any dates, locations, organizations, and non-identifying information you have will be useful, even if you think it may be inconsequential.
WHY CAN'T I JUST SEARCH ONLINE?
Often the internet doesn't contain enough information to enable someone to locate a birth relative on their own. We have access to additional resources, knowledge, and experience that enables us to resolve even some of the tougher cases.
CAN I SEARCH ON MY OWN?
Adoption.com has a free search and reunion guide, a free eBook containing stories and advice from those who have found birth relatives, and a free registry. We encourage you to take advantage of these services and contact us if additional help is needed.
WHY DOES SEARCHING HAVE TO COST MONEY?
Adoption.com provides many free resources and helpful content. When further investigative/search help is required, an experienced team of licensed investigators and/or researchers step in with tools and resources that are not freely available to the general public and incur additional expenses. In order to offset that expense, we charge a one-time, flat rate fee. Please complete the form to your left for a free evaluation of your search.
HOW SHOULD I APPROACH MAKING CONTACT/REUNION?
Every person, and thus every situation, is unique, but there are some common bits of advice from those who have been reunited:
Don't have expectations/be prepared to accept any outcome.
Be in a good place in your own adoption experience so as not to transfer any anxiety, burden, guilt, or expectation to the other party.
Birth parents should not expect or attempt to "pick up where they left off" or replace the adoptee's family.
All parties should consider the perspective and feelings of all who may be affected (spouse and/or children of the searched party, adoptive parents of adoptee, etc.) and proceed with sensitivity.
Adoption.com has compiled stories and advice from others who have searched in a free eBook. You can download it for free here.
Our professional team has years of experience handling delicate first contact calls. While we encourage you and will coach you to make the call yourself, should you feel uncomfortable or unable to make the call, we will make that call for you.