When you are building your family through adoption, you need to do a lot of work. One thing (well, it's more like three things) is you need to create an appealing and authentic profile. You'll need a "Dear Expectant Parents letter," a profile book, and an online profile. This is your first impression to expectant women and couples considering an adoption plan. I have spent a ton of time thinking about and planning our adoption profiles.
Below are some tips I have picked up along the way.
1. Start thinking about it now!
The first time we were looking to build our family through adoption, we did not even consider that we would need pictures of ourselves. Dumb, I know. In our defense, we were more concerned with the whole parenting thing and educating ourselves about the adoption community. Going into this, we were a childless couple that took very few pictures. We never did engagement photos or any other type of couple pictures. Social media isn't something my husband or myself regularly share on so our selfie game was weak.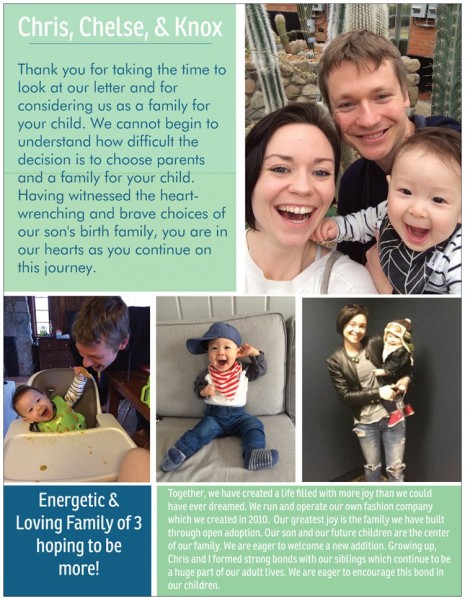 My advice is to start making an effort to snag some snapshots of your life while you are living it. Do this as soon as you start thinking about building your family through adoption. It will take some of the pressure off when you are putting your profiles together.
Another thing to consider, that I always wish I had were some casual professional family photos that were not just seasonal-themed. A good family photo is hard to get. We had to have my brother's friend come over to get a shot of my entire family. I was so stressed out by this point. We needed something to show that I really do have a brother and parents that I like to spend time with. Start thinking about it before you are frazzled by everything else. One more thing: when it comes time to make the book, make sure to label who everyone is in each photo.
2. Think about what is important to your family.
Think about your morals and values. Consider the things you actually make time for and are important to you. For us, we like to run, be physically fit, and eat as healthy as possible. We also like to be silly and spend a lot of time hanging out with grandma, aunts, and uncles. There is so much that goes into the daily lives of a family, I find it helpful to focus on a few things that really matter. What do you love the most about your life? I think that passion and authenticity shine through. By default, you will probably have pictures that show you doing these things.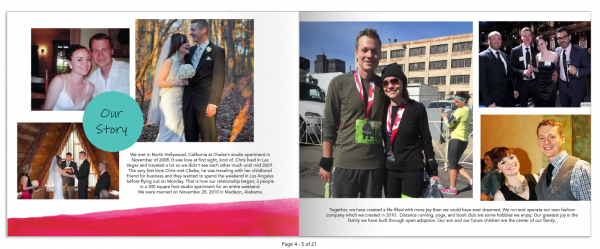 3. Are you going to use the Internet to make your desire to adopt known?
In my opinion, you need to have some type of online presence showcasing your desire to grow your family through adoption. Look into sites like Parent Profiles. Does your adoption professional have an online presence? You will need to have content prepared for these sites along with hard copies for your adoption professional. Remember to look into the cost of these services. You will need to budget this into your adoption expenses.
4. After you have gathered all the information you want to share about your life and family, you have to present it in an easy-to-digest way.
I always think about how overwhelming it must be for an expectant woman to read all the letters and sort through all the albums. I'm a picture looker and a word skimmer, so our profiles are always heavy on the picture and simpler with the words.
Consider shipping times when printing beautiful profile materials. We use Shutterfly to make our profile books. They have very easy to use templates and the print quality is great. They have very slow standard shipping.
Fun fact: The first time we ordered our books from them, I was unaware of how slow the shipping was. I was tracking these books every day to see when they were going to arrive. Our home study was approved and we were ready to be in the pool of families ready to adopt. We just needed these books to arrive. We missed being considered for a situation because the shipping time was so slow. When they did arrive, the books were in our neighbor's mailbox. I didn't know until after I called customer service in a panic, demanding these books be resent A.S.A.P. The customer service was amazing but still, slow on the shipping.
Where should you make the letter? I'd recommend not using Microsoft Word. We did it the first time. Our letter looked kind of bad. It was hard to put pictures in and the background was plain white. I did find that you can use VistaPrint flyer templates. We did this our second time. I am very happy with how our letter looks. VistaPrint has fast shipping times. The downside is that to use the flyer template, you have to order the flyer minimum, which is 25 copies of our profile letter.
In conclusion, take some time to figure out where to create your hard copy profile materials. Take into consideration shipping times and prices. If you are going to use Shutterfly, look for coupons. They typically have some type of discount code. Plan to spend at least $100 in making you hard copies. Our agency asks for 3 copies of the book and it is nice to keep a copy for you.
5. Remember to breathe.
Creating your profile is the last step. It's your final big push into the pool of amazing, hopeful, and beautiful families. I know how daunting the task is. You are presenting your most vulnerable self to the world. Your biggest dreams and desires are out in the big scary world. Your family is unique and beautiful and will stand out to the right person at the right time.
Considering adoption? Let us help you on your journey to creating your forever family. Visit Adoption.org or call 1-800-ADOPT-98.