Since becoming a foster and adoptive parent, I have become a little obsessed with children's books about adoption. In talking with other moms like me, I've found this isn't at all uncommon; many adoptive parents seek out opportunities for their child to see a version of their story out in the world, and adoption books are a perfect place to start. They can be such powerful tools!
Our children all came to us through foster care, and while I am always looking for great books for our collection about foster adoption, we have many titles that explore private adoption and international adoption as well. When my oldest children started school, I wanted to be sure that their teachers and peers understood our family and what makes it unique. I wanted their teacher to be thinking about our situation when assigning projects on families or genealogy, and I wanted to be sure that the students had access to books featuring children of all races, ethnicities, and backgrounds. I decided to give their teachers a back-to-school gift bundle of books on adoption, and it was a hit! I've been on the lookout for new titles to share ever since.
In thinking about books to share with a classroom, I am looking for a couple of things specifically. For one, in most school settings, they have to avoid religion or faith as an element in adoption. Second, as much as I adore all of the make-me-cry-every-single-time adoption books that I share with my children at home, I feel that books shared with the class need to be a little more information and a little less emotion. Of course there will be feelings, but making everyone ugly cry might not be the best way to have a nice, upbeat discussion about adoption.
As with all potentially sensitive topics, I would recommend previewing each book carefully before sharing it with your child or classroom. There's nothing worse than starting a story and realizing in the middle that it really isn't a good choice for your specific situation. A little planning goes a long way!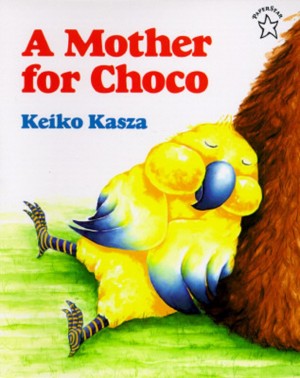 A Mother for Choco by Kieko Kasza.
This is one of my all-time favorite adoption book for children. It's a great introduction for younger kids, but my seven-year-olds still ask for this one. It starts out feeling very much like the classic Are You My Mother? By P.D. Eastman, but instead of finding the mother that looks like him, our little bird friend finds a mother bear who wants to be his mother. Choco is worried at first that they don't look alike, until he meets Mrs. Bear's other children—a hippo, a pig, and an alligator. The colorful illustrations actually show that not all families look like each other, and while it doesn't introduce any adoption language, the story is simple enough that adding in the terms that works for your situation is a cinch.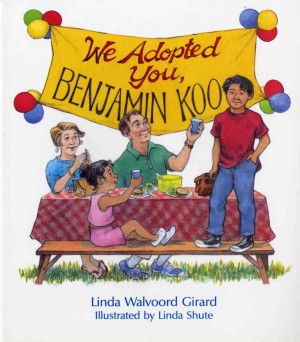 We Adopted You, Benjamin Koo by Linda Walvoord Girard.
This is the story of 9-year-old Benjamin, who is adopted from Korea and moves to America. This makes it perfect for explaining and exploring both older-child adoption and transracial adoption, and the fact that it is told through the perspective of Benjamin himself makes it all the more powerful. (Incidentally, it is based on the true experience of a real boy, and Holt International Children's Services is credited for their assistance in the facts of this story.)
Benjamin Koo touches on (but does not dwell on) many adoption ideas and challenges that an adoptee around Benjamin's age—whether adopted as an infant or an older child—might be developing awareness of, such as adoption paperwork, inappropriate remarks made by others, celebrating multiple cultures as a family, and the ways that a counselor can help make sense of feelings related to being an adoptee. It explains many curious aspects of adoption in a way that is informative for any child, adopted or not. As this was originally published in 1989, the illustrations feel a bit dated, but the story is still very relevant today.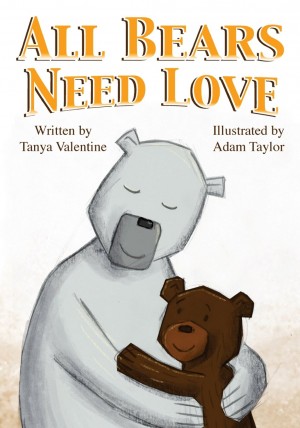 All Bears Need Love by Tanya Valentine.
This book is darling in so many ways—the illustrations are wonderful, and the message of acceptance and love is appropriate for all children. While it's geared towards younger readers, it does explore the negative things that people might say, whether though ignorance or otherwise, to families or people who don't fall into traditional categories. This makes it the perfect tool in a situation where something hurtful has already been said, but I also love it for helping develop empathy and explaining why it's OK to be "different" ahead of time. I appreciate opportunities to address questions before they come up, so that when they do, my children feel confident and prepared to handle them effectively. This book provides just that.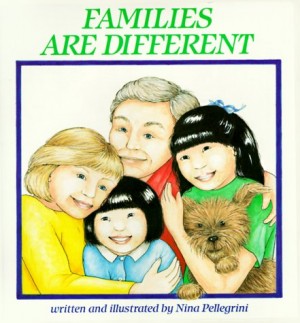 Families Are Different by Nina Pellegrini.
The wonderful thing about this book is that, while the sisters features in the story happen to be adopted, the focus is really more on families than it is on adoption. This makes is great for introducing adoption a little more casually if the situation calls for it. Our protagonist, Nina, is from Korea, and is worried that she does not look like her parents, like some of her friends do. While this is another story featuring international adoption, it is especially easy here to suggest other possibilities while reading it: a simple "Nina was adopted from Korea. Peter is adopted too, and he told us that he was born in Texas" fits in perfectly with the various examples of families who are all "different," and further illustrates the point that while we may all be different, that is part of what makes us the same.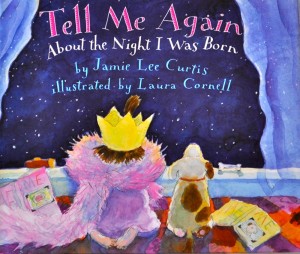 Tell Me Again About the Night I Was Born by Jamie Lee Curtis.
This beautiful book tells the story of a domestic adoption, but it explains the concept of adopt so sweetly that it works for any situation. Being sentimental and focused on the love the adoptive parents have for their child, this book might be a more natural choice to share at home as a bedtime story than in school, but it's so engaging for young readers that I think it would be a wonderful introduction to adoption. Something to know going in is that it does give a very specific reason for placement—that the birth mother was too young to care for the child. It's a brief mention, and my children have never been terribly focused on it, but in a group setting it might be best either skipped or addressed as specific to this particular story.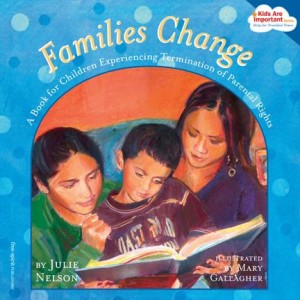 Families Change: A Book for Children Experiencing Termination of Parental Rights by Julie Nelson.
I keep going back to the experience a fellow foster mother had in sharing this book with her daughter's classroom. They were in the middle of an appeal after the birth parent's rights had been terminated, and the little girl was wishing for those around her to understand what she was going through. Her foster mom read her this book, which talks specifically and frankly about the experiences a foster child might have and why their family might be changing, and she immediately asked if she could take it to school. The whole experience was so empowering for her.
Additionally, the back includes discussion questions and strategies for helping a child through traumatic situations, references to organizations that provide help in the form of community groups and counseling, and additional recommended books. It's an extremely well thought out resource, and one that would be helpful for a child's teacher to read on their own, regardless of whether in was shared in the classroom.