My eyes flutter open. I reach over to the bedside lamp and switch it on; glancing at the time–it is 2:13 a.m. I yawn and rub my eyes as I look into the bassinet next to my bed. A little brown-eyed boy gazes up at me. His lips part and a little cry escapes as I reach in and scoop him up to my chest. I cradle him as I walk down the hallway to the kitchen to fix a bottle for him and he starts to quiet as I gently sway back and forth. He begins to coo and make a little "o" shape with his mouth. My heart swells and I kiss the top of his head. I check the temperature of the bottle and then walk to the glider where I sit and begin to feed him. I close my eyes and rest my head against the back of the chair, exhausted, but marveling that this is my life.
To most people, this probably sounds like your average night with a newborn. It's doesn't seem all that special, but most people don't know the years of pain that my husband and I endured to get to this moment. You see, two and a half years ago, I lay in a hospital bed, holding a different baby boy. I kissed his head and whispered how much I loved him. I rocked him back and forth, crying as my heart broke in my chest because my son was gone. His heart had stopped hours before he was born. I would never get to take him home. I would never get to comfort him as he cried. I would never get to hear him laugh or see him smile. I would never get to wake up at 2:13 in the morning to the sound of his cooing.
Four and a half years of infertility, six surgeries, four miscarriages, and the devastating diagnosis in which I was told that I was born with a condition that would probably make it extremely unlikely to have a successful pregnancy was the road that brought me to adoption. It was a painful journey, but bitter sorrow makes joy that much sweeter.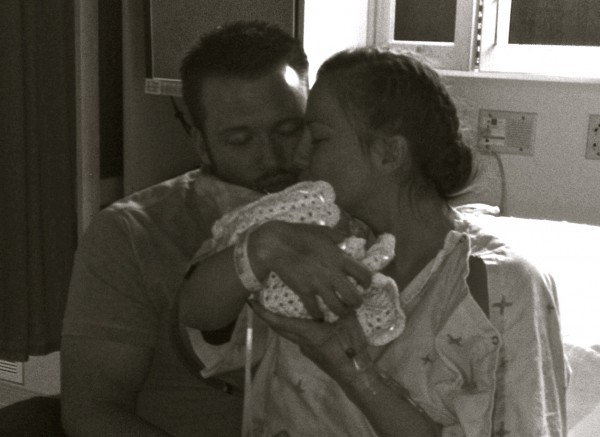 My joy came in the form of a seven-pound, ten-ounce miracle with dark hair, olive skin, and a smile that could melt your heart. He was born to another woman who can only be described as the most incredible and selfless woman I have ever had the privilege of knowing. People have asked me if I could ever love an adopted child the way I loved my biological son, but from the moment my new son arrived through adoption, I was his mother and I would do anything for him.
Adoption after loss is hard. In many ways, the pain from my previous losses resurfaced as I thought of the sacrifice that birth mothers make for the love of their children by placing them for adoption. I also struggled with the feeling that I was abandoning the children I had lost during pregnancy. I felt guilt as my excitement built for a new child. I had to constantly tell myself that it was OK to be happy and to feel love for another child. My heart's capacity for love grew with each pregnancy and the same is true for adoption. My heart grew yet again as they placed my new son in my arms and I became the mom to another precious boy. The logistics of how they each came to the family wasn't what mattered; the only thing that matters is that we are family–forever.
Are you ready to pursue a domestic infant adoption? Click here to connect with a compassionate, experienced adoption professional who can help get you started on the journey of a lifetime.