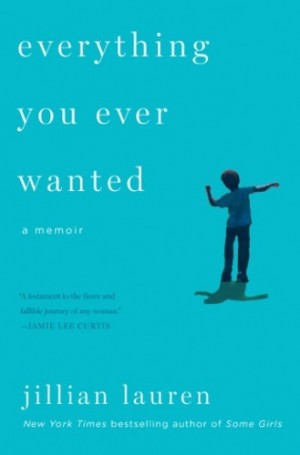 My takeaway from Everything You Ever Wanted isn't that with love, persistence, and a lot of help a special needs child can make giant leaps forward in his development (although there's that too), but rather that the commitment to loving a child, no matter the outcome, is a journey that is worth every sacrifice, every tear, and every hurt a parent endures.
Jillian's story is one that many of us in the adoption world can relate to. It is the story of a woman longing to be a mother with such intensity that every cell in her body cries out for what's missing – a child, wherever he may be. It is a story of love, of commitment, of infertility, of a marriage tested by trials. And, more than anything, it is the story of what happens when things don't turn out the way you planned.
While her path to motherhood is one-of-a-kind, Jillian is every woman in her desires, fears, and heartaches. I was amazed at how similar I've felt on the inside to a woman whose life couldn't be more different than mine on the outside. I'm not married to a rock star, but I've held a child so afraid of the world that she felt the need to hurt herself just to get through the next few moments. I've never been to Beverly Hills, but I've prayed in a store while trying to manage a public tantrum with countless eyes looking on. And I've never been touched by a New Zealand native healer, but I know the desperation and feelings of failure I felt when I started my period and had to accept again that the biological child I wanted did not exist.
With little backstory, the book is mostly chronological, beginning with Jillian and Scott falling in love and the early, carefree days of their marriage. Scott (Shriner of the band Weezer) tells Jillian on their first date that he wants a family, but a child does not come easily. After more than a year of wanting a baby, Jillian tries everything and anything to increase her fertility and heal her body from the damage she inflicted on it in the past as a drug user and high-end prostitute.
When a strange experience gives her sudden clarity, she talks to Scott about adoption. And although he has reservations at first, he agrees to look into the possibility. Both are taken with the stories of adoptive parents at a seminar and their pursuit of a baby in Ethiopia begins. The story takes us through the emotional trip to pick up their 11-month-old son, Tariku, and delves headfirst into the difficulty of parenting a baby whose first months were marked by isolation and trauma.
Jillian's love for her son is almost tangible as she relays her persistence and dedication to Tariku despite the aggression and rejection he displays toward her. And the dichotomy of terror and relief that she feels is apparent when she begins to get some answers, Tariku is diagnosed, and the words "special needs" and "trauma" are used for the first time. It is a previously unknown emotion that every special needs parent has experienced at one time or another.
Set against the family's journey with Tariku is Jillian's own story as an adoptee. Her turbulent and sometimes abusive relationship with her parents is the outcome that Jillian wishes to prevent for her son. Yet, as he yells that he hates her and throws his food across the room, how can she not feel she is failing in every way as a mother? Hers is the universal tale of breaking the cycle and walking the line of giving your child all you can, but not losing yourself in the offering.
In the end, Jillian's is a story of hope. Her positivity and belief in unlimited chances is real, not saccharine. Her prose is both an enthralling and honest look at the realities of parenting a special needs child, a child who has experienced trauma, and the misunderstandings about adoption that are still prevalent everywhere from the doctor's office to the soccer field.
Throughout their fight for him against medical professionals, preschool directors, Jillian's own parents, and even a racist who lives down the street, Scott and Jillian's devotion for their son is a beautiful testament to unconditional love and their story is one I would recommend to anyone who loves a gripping narrative.
More adoption novels are available at AdoptionGifts.com.