You're staring at the positive pregnancy test in your hand, racking your brain as to your next step. The knot in your throat gets bigger, and the tightness in your chest increases as you try to map out your life with an infant in it. Maybe you're young. Maybe this was a one-time thing and now a major surprise for you. Maybe it was a casual relationship. Maybe you're in school. Maybe you're married and in a precarious situation. Maybe you don't have the means. Maybe you don't want to be a mother. Whatever the reason, whatever you're faced with, whatever you're feeling, it is okay, natural, and this isn't the end of the road for your life. This may not have been part of your life plan. This may not have been part of your partner's plan. Where do you go from here? Here are some adoption options, if you're considering adoption.
First and foremost, if you prefer to speak with a professional concerning pregnancy support, please start here.
Although an unexpected pregnancy may come as a surprise and may not be how you envisioned this part of your life to go, know there are always options. There are always choices set before us, and the most important thing to hold on to at this point is the precious life growing inside. He or she is a blessing of remarkable proportions, even though it may not seem that way right now.
When faced with the difficult decision of raising a child or placing a child for adoption, that decision is 100% your decision. When deciding whether to raise your child or place your child for adoption, there are many things to consider beforehand. Financial need, childcare, parental involvement, home environment, child's future needs, medical care, etc.
Sometimes, reaching out to those that either went before you or are walking through a similar situation helps evaluate the full scope of your circumstances. Your heart and mind may be in two different places, and having extra support such as the birth parent forums found here may help your overall mindset.
If you decide placing your child for adoption is the right choice, there are many adoption options and other variables to consider that will be outlined below.
1. Adoption Agency
One of the first and most popular adoption options for a birth mother is adoption through an agency. There are many adoption agencies available in this country; some work with birth mothers who live out of the state they are domiciled in, and others are available right in your hometown.
Adoption agencies are wonderful resources in the decision-making process as well. If you are on the fence about adoption, agency professionals have a plethora of knowledge, compassion, and additional information to provide and may help make the right decision.
When choosing which agency is the right fit, it is important to conduct research and review personal experiences so that an informed decision can be made. A wonderful resource is the adoption agency directory found here, which includes reviews as well. Generally, these agencies will stipulate which states they are licensed to work in and if they have professionals available.
Look into your options with The Gladney Center for Adoption.
2. Adoption Attorney
Another adoption option for a birth mother is working with an adoption attorney. Although adoption attorneys may not be the first preference, they are plenty successful in finding the right match for you and your child. Adoption attorneys work with adoptive parents and typically have a large network of local couples ready and waiting to welcome a child into their hearts and home. One positive about adoption attorneys as an adoption option is they can handle all the background legal steps that are needed throughout the adoption process. As with all adoptions, there is a good amount of legal paperwork that will be filed throughout the process. An adoption attorney will handle all documentation and particulars to begin, will continue throughout pregnancy, placement, and ultimately finalization with the adoptive parents.
These attorneys have a network of social workers for counseling and are also able to handle the financial disbursements for birth mothers throughout pregnancy just like agencies. Adoption attorneys also have the knowledge and expertise to inform you of your state's adoption laws. Each state is different and specific to the state.
3. Matching with Adoptive Parents.
Whether you chose an agency or an adoption attorney as the route for your baby's placement, there will come a time when you will be faced with a big decision. This decision will determine your child's everyday and future: the couple who will raise your baby as their own.
Typically, profile books of couples, their life, their interests, their long-term plans, their home, their community, their religious beliefs, and any extra information they wish to include will be supplied for preview. Some books are provided via hard copy, and others are electronic.
Here's an example of an electronic profile of an adoptive couple.
I can imagine it is difficult as a birth mother to look through a snapshot of someone else's life, trying to envision your child in their life. There is usually an initial connection that is found either in the adoptive couples' lifestyle, their job, their interests, the state they live in, etc. Making a list of what you want for your child's future may help in the decision-making process.
It may take some time and prayer to decide on the chosen family, and once you are matched, the relationship with this family will begin and strengthen.
If you are interested in additional browsing, check out this main link to all adoption profiles available on Adoption.com.
4. Open Adoption or Closed Adoption
Depending on the birth mother, adoptions may be as open or as closed as she would like them to be. Adoptive parents and the birth mother usually discuss this from the beginning so that everyone is on the same page.
When adoptions are closed, the adoptive parents don't have any information about the birth mother, birth father, or extended family. No identifying details are disclosed throughout the adoption process. Closed adoptions were the norm years ago but aren't as common today.
Open adoptions have a large range and can vary from semi-open to completely open. In my own personal adoption journey of our daughter, we established a completely open adoption process. From the beginning and our initial meeting, my husband and I knew full names and had direct contact with my daughter's birth family as well as visitations after she was born. Knowing our daughter's birth background and the beautiful people that she is forever connected with meant a lot to me and my husband. Although we know we are her forever family, it was important to us that the line of communication remained open so that our daughter would always have the option to explore and/or get to know her birth family one day too.
Slightly different from our situation is semi-open in which some details are disclosed, but the contact isn't as frequent or direct. The communication with adoptive parents usually is through an agency or an adoption attorney. It ultimately all depends on what everyone is comfortable with before the child is born and throughout his or her life.
One thing to think about when considering the level of openness is health information. It has been invaluable to have the line of communication open with our daughter's birth family for any health questions we had early on in her life. Throughout her life, we may further encounter additional obstacles or health issues that are linked to her biological background. We are forever grateful to have the level of openness wherein this information is readily available to us. Those with closed adoptions, unfortunately, don't have access to any health information which can be a major obstacle should health problems arise throughout the child's life.
5. Financial Assistance
After reviewing your adoption options and choosing a family for your child, one of the main obstacles in front of you during your pregnancy may be a financial hardship. The financial needs of every birth mother are different—some requiring more assistance than others. A birth mother is not responsible for adoption fees or any of the financial costs of placing her baby with a family. The adoptive parents cover the costs of the adoption and provide financial assistance to you—the birth mother—which covers housing, meals, clothes, utilities, additional and approved expenses, etc. Depending on the state, there may be caps on the amount of assistance, but they are usually well within the ranges needed to help throughout pregnancy and for bringing your baby to term.
Pregnant and considering adoption?
Get your free adoption benefits and support bundle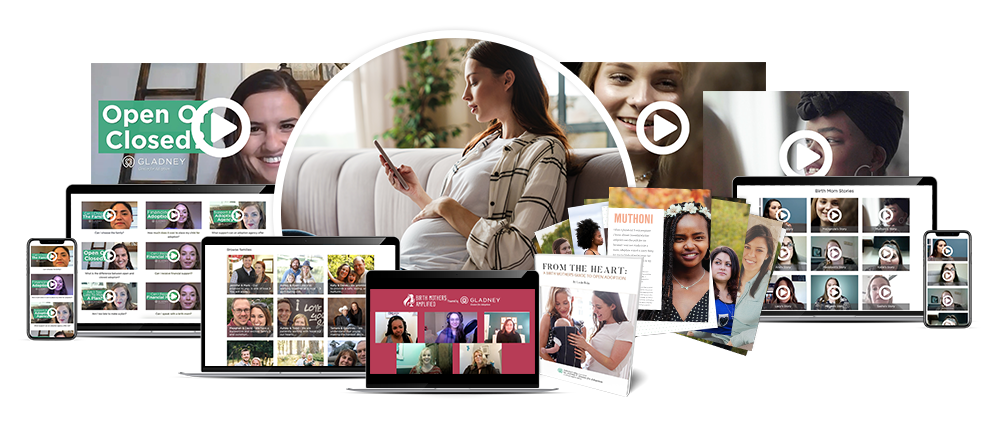 6. Working on the Relationship
The placement plan is in place; the financial burden is lifted. All that is left is time to wait until birth. It is the perfect period to establish a growing relationship with the adoptive parents. Even if you are not entirely comfortable in the beginning, through emails, phone calls, or even visits, getting to know the couple that will love and cares for your baby is important. For one day shortly, you will place your baby with them and will change the course of their lives forever.
At this stage, the adoptive parents want to help you, love you, and get to know the woman that is carrying their future child. The connection and bond between a birth mother and adoptive parents are unlike any other. As an adoptive parent, the love I have in my heart for my daughter's birth mother has no boundaries. The gift of life she gave to our daughter and the gift of a family she gave to me and my husband is something we will forever cherish and never forget. Getting to know her initially and sharing pieces of our hearts with her meant a lot. Letting an adoptive couple into your heart may be hard at times because it is such an emotional roller coaster, but attempting to forge a bond can be vital for your child's future and a future relationship with your child if choosing open adoption.
Browsing the birth parent forums is an excellent resource for support on this part of the journey.
7. Birth Plan
Creating a birth plan helps determine many aspects of the birthing day regarding your doctor, the hospital, the people allowed during labor and delivery, when people are allowed in the delivery room, cutting the chord, skin-to-skin particulars, nursing, if your baby will remain with you or with the adoptive parents, etc. Having supportive people around you during this time will help ease any anxiety, and they can also guide you if additional hiccups may arise during labor and delivery. Whether it is a close friend or family member, having support in your corner creates a safe environment for you as a birth mother during such an emotional time.
Our daughter's birth mother was extremely gracious and wanted us to experience all of the beautiful aspects of our daughter's birth. We were allowed to be a part of every step and witnessed our daughter take her first breath. My husband cut her chord and feeling her skin on my skin as the first touch were moments I hold near and dear to my heart. I can share these precious memories with our daughter as she grows up, letting her know we were all there because her birth mother loved her so much to share all of it with us.
Although our situation was very open, it is perfectly normal for a birth mother to have more privacy and more one-on-one time alone with her baby. All of those details are entirely up to the birth mother.
8. Life After
After childbirth, there is the recovery time and usually, a few days before parental rights are terminated by the birth mother. During the initial days, having support and being in a haven during a difficult time is imperative for long-term mental health. Not only are the hormones up and down after childbirth, but the emotional roller coaster of placing a child for adoption may take you by surprise. It is not an easy road. Any woman that has walked through it will probably agree on how hard the decision was for her. You will have emotional challenges, but reminding yourself of the reasons you chose adoption will help keep you focused on moving your life in the right direction.
Give yourself time to grieve and heal physically and emotionally. This isn't a time to rush your healing or expect life to get back to normal right away. Be kind to yourself and allow yourself time to go through all of the emotions of grief. It is a true loss, and denying the natural emotions and stages of grief will only prolong the healing process. There is light in all of this, and that is the life you have chosen for your child. Hold on to that.
Having counselors at your fingertips after the termination of parental rights is helpful in case you need a compassionate ear to listen and a steady lifeline of support to help you through the initial months post-birth. The agency or adoption attorney you chose to work with should have a network of counselors for you to contact for help.
Hopefully, the adoption options covered here in this article will help in your own journey and will shed some light on the situation you may be in right now. Remember, adoption is love.
Are you considering adoption and want to give your child the best life possible? Let us help you find an adoptive family that you love. Visit Adoption.org or call 1-800-ADOPT-98.