Are you facing an unplanned pregnancy? Are you wondering how a crisis pregnancy center can help you?
Crisis pregnancy centers are designed to provide medical assistance, counseling, and material provision to women facing an unplanned pregnancy. They will provide counseling and education that can help you through an uncertain time.
Why are crisis pregnancy centers around and what can you expect if you call one for assistance?
Let's take a look.
A History of Crisis Pregnancy Centers
Before 1900, there were several crisis pregnancy centers located in major cities throughout the USA. It was common for socially-minded folks to set up centers that provided housing and food for women who had nowhere else to turn. Some homes had room for more than 1,000 expecting mothers to live in at one time. A few of the largest centers included Homes of Mercy and the Jewish Home for Girls.
The first crisis pregnancy center came to the United States in 1967 as a response to a state's liberal abortion laws. It was opened by Robert Pearson in Hawaii. Through organizations like Focus on the Family, the Care Net, and the National Institute of Christian Life Advocates, they continued to grow throughout the 1980s and 1990s.
As of 2017, there were over 2,000 crisis pregnancy centers throughout the United States. They provide a slate of complementary services for women that include care by a licensed medical professional as well as counseling and social service referrals.
What Kind of Help Will do I Get?
Many crisis pregnancy centers provide free pregnancy testing, pregnancy tests, and information about pregnancy options. These centers will often provide free medical services and material assistance, sometimes until the infant reaches 2 years old.
If you suspect you may be pregnant, a pregnancy center can provide free, confidential pregnancy testing. Those looking for confirmation of their pregnancy from a medical professional will find certified nurses ready to support them.
Those looking for an abortion pill reversal may be able to find it at a crisis pregnancy center. You can check online to find the nearest center local to your home or office.
Your pregnancy center will likely also provide free ultrasounds and counseling. Classes taught by registered nurses can teach you about pregnancy, childbirth, and baby care. You may learn about nutrition, exercise, breastfeeding, and infant CPR. Expectant mothers can take courses on successfully co-parenting with an ex, and expecting fathers can take courses on how they can be supportive. Money management and parenting classes may also be offered.
A pregnancy center can provide you with a consultation regarding making a birth plan. If you're wondering how you're going to afford and manage giving birth and staying in a hospital, pregnancy centers can provide you with the resources you need to start getting prepared.
Expecting mothers may also find themselves dealing with feelings of fear, anxiety, and even excitement at the prospect of parenting a child. Many crisis pregnancy centers may provide free counseling to help you process feelings and make a plan for the future.
Modern crisis pregnancy centers may also provide information and testing for STDs. In some cases, women may be looking for referrals for housing or adoption agencies. Pregnancy centers provide a touchpoint where expecting mothers can begin searching for the resources they need. A social worker can help you gain access to unemployment, healthcare, transportation, and other services.
You should get information about your options going forward including parenting, abortion, and adoption. If you're looking for more facts about these options, a pregnancy center should provide them free of charge. All options involve a different level of financial commitment (although placing your child for adoption is free for the expectant parent) as well as potential emotional and physical concerns. They also each have "pros" that you can consider. The right counselor can make you aware of these and can help you make the decision that you feel you will be most comfortable with ten or twenty years down the line.
The material assistance provided by crisis pregnancy centers typically includes diapers, wipes, baby clothes, and formula. In some cases, you may be able to continue getting these items as needed as your child grows into toddlerhood. Many expecting mothers greatly appreciate the source of material help as they get back on their feet.
In recent years, some pregnancy centers have begun to offer post-abortive recovery, both in group sessions and individual counseling. Any guilt, anger, or regret that women may experience after an abortion can be talked out in a nonjudgemental environment. You can find out if your local pregnancy center offers this service.
Men can also find resources at a crisis pregnancy center. They may find post-abortive care, parenting training, and financial guidance. Even if you don't plan on getting married, a pregnancy center can begin to help you find the resources to step in and support the life of your child.
What Can I Expect During My First Visit to a Pregnancy Center?
During your first visit to a crisis pregnancy center, you'll likely meet with an in-clinic counselor and get a free pregnancy test.
Many pregnancy centers assign women a personal coach who will support them. They should also have access to a certified nurse and childbirth educator. A social worker may attend to practical, immediate needs including housing and social services. Each woman can find a unique program tailored to their needs.
How Do Women Feel About Crisis Pregnancy Centers?
Care.Net reports that over 97% of clients reported having a positive experience at pregnancy centers. If you're unsure of how you will manage the physical and financial burden of pregnancy, you may be looking for nonjudgemental professionals who will point you in the right direction. Many are known for being warm and friendly and helping clients feel safe.
If you need healthcare, diapers, direction, or support, the right pregnancy center can help give you hope and encouragement.
Who Supports Pregnancy Centers?
You may be wondering how pregnancy centers make money if they're providing so many free services to women.
Many pregnancy centers are nonprofits that raise money through donors and fundraisers. Local houses of worship will often hold baby showers for expecting mothers in which people can donate clothes and food.
Caring for Your Body
If you're facing an unplanned pregnancy, your physical health should be your priority. Make sure you schedule your first prenatal visit and start following the advice of your physician.
It's important to avoid alcohol and drugs after you learn that you're pregnant as these could harm your child. Fetal alcohol syndrome (FAS) causes growth problems and brain damage that aren't reversible. It could lead to poor memory, difficulty processing information, poor judgment skills, and hyperactivity.
A child with FAS could have poor social skills and problems with impulse control. She or he may also have physical or mental health disorders. If you want to avoid the possibility of a child born with FAS, it's critical to stop drinking as soon as you learn you're pregnant.
You'll also want to avoid drinking too much caffeine when you're pregnant. Try to stick with only one cup a day. It's also important to stay away from fish with levels of mercury that are too high. This includes albacore tuna and swordfish.
Raw meat can also cause infection so avoid any undercooked eggs or foods that contain them including chocolate mousse or cake batter. You'll also want to stay away from unpasteurized cheeses and meat such as soft cheeses, hot dogs, and deli salads.
Pregnant women need lots of good protein sources including fish, eggs, and cheese. They should also be getting a lot of fiber, iron, and vitamins from whole grains. You'll also want to get lots of protein, calcium, and vitamin D from dairy sources like milk and yogurt.
Your doctor may recommend prenatal vitamins, which can help prevent defects in your infant's brain and spinal cord. The iron in these vitamins will also help supply oxygen to the fetus. It also helps to prevent anemia.
Choose a prenatal vitamin that contains vitamins C, A, and B as these will help your baby's teeth and bones to become strong. Omega-3 fatty acids can help with brain development.
Pregnant and considering adoption?
Get your free adoption benefits and support bundle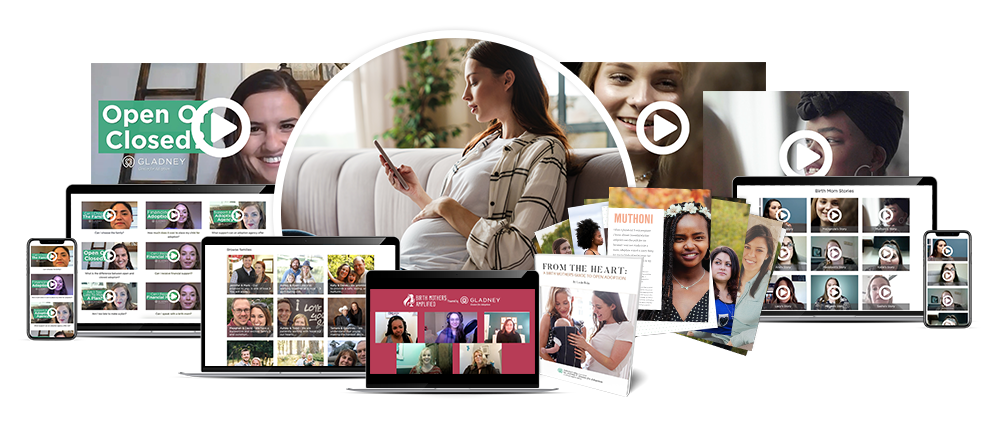 Staying fit during pregnancy is also a great way to boost your self-esteem and combat depression and anxiety. It can even help you boost your baby's brain health!
Ask your pregnancy center director for local prenatal exercise programs in your area. This is also a great way to meet other mothers to socialize with.
Short walks are a great, inexpensive way to get you and your baby moving. They can increase your circulation as well as your endurance. Aerobic exercise in a pool also gets you moving. It can even help relieve nausea and puffy ankles.
Classes that are deemed prenatal are a good place to start. You might enjoy yoga or aerobics. If your class is not specifically for expecting mothers, make sure you speak to your instructor ahead of time to make sure the program is safe. Listen to your body and stop working out as soon as you start to feel tired.
Remember that your focus should be on the physical and mental health of both you and your infant. Who knows? You may even begin a life-long love of exercise while you're expecting.
Caring for Your Soul
It's critical to find nonjudgmental support quickly after you learn what you're expecting. This is where a crisis pregnancy center can begin pointing you in the right direction. They can put you in touch with sympathetic counselors, and some may have even been in your shoes before. The right center may be able to connect you with women who have faced unplanned pregnancies with positive outcomes. Many women became stronger and worked on goals they hadn't considered before.
Facing an unplanned pregnancy can be a confusing time. A lack of financial or physical resources can leave you feeling overwhelmed, scared, and hopeless. You must choose a support system that won't put you down or make you feel put down. The friends and family you once relied on may not provide you with the emotional encouragement you need at this time. That's okay as long as you find new friends who are serious about helping you along the way.
Many online support groups can provide you with free emotional support. They may be made up of women in your situation who are getting stronger and building productive lives. You must choose a support group that is positive so you aren't swallowed in negative emotions. The right support system can help you feel recharged and refreshed rather than depleted.
Getting information about childbirth and infant care can help you feel more prepared for the future. Financial counseling can help you come up with a plan for making your situation manageable, no matter where you are now. And your pregnancy center may be able to connect you with a local organization that can encourage you no matter what decision you make about your future.
Many women also prefer to pursue their journey on their own time. There are many books and podcasts you can find at your local library or online that could give you more helpful information.
Remember that no two journeys are alike, and you'll need to focus on your personal growth and goals.
Moving On
You may have plans for the future that were put on pause when you learned you were facing an unexpected pregnancy. You may have been hoping to go to college, start your own business, or learn a new skill.
It's important to remember that your life is not over just because you became pregnant. Whatever your decision is, you can still achieve your goals and use the wisdom and maturity you gained along the way to make you more effective and compassionate.
With the right counseling, medical care, and resources, your pregnancy can be a phase of life that makes you the person you've always wanted to be. The right pregnancy center can help you get started on the journey of a lifetime.
Are you considering placing a child for adoption? Not sure what to do next? First, know that you are not alone. Visit Adoption.org or call 1-800-ADOPT-98 to speak to one of our Options Counselors to get compassionate, nonjudgmental support. We are here to assist you in any way we can.