We finalized our daughter's adoption at the end of October. Our agency gave us some practical instructions for the day (like making sure our baby had shoes on), but I still found myself with questions. I hope our experience can help you have an idea of what to expect before you finalize your baby's adoption.
In our state, finalization for a domestic infant adoption takes place at least 6 months post-placement. We did not need to be in court any other time.
One thing to consider well in advance is who will be at the courthouse with you. Is there a limit to the number of people in the courtroom? We were allowed to bring four people outside of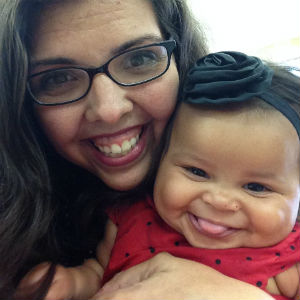 the immediate family. Will you ask the birth family to participate in the day at all, either at court or afterward? I'll admit I had assumed that birth families would not want to have anything to do with finalization, but I learned otherwise in conversations with some birth moms. This led me to decide to broach the topic with my daughter's birth mother.
I definitely felt some conflicting emotions leading to and on finalization day. I was excited for us to officially be part of our daughter's family! There was some nervousness about the court, even though I assumed it would be straightforward. I also felt sadness, both for my daughter and her birth family. No matter how you slice it, adoption comes from loss, and finalization day is a reminder of that.
We had to travel around four hours for court, which meant driving to town the night before. Luckily, we were able to stay with my husband's aunt and uncle. They were unsure of how long it would take us to get to court in the morning, and being the Type A personality that I am, I insisted that we leave on the early end of their estimation. We ended up getting to court fairly early, but at least we weren't late!
The courthouse was very small. We went through security (metal detector) and then were directed to check-in at an office. When our lawyer and agency head arrived, we were directed into the courtroom, which was much smaller than I imagined.
My father-in-law was a prosecutor, so my husband had drilled our boys on proper courtroom etiquette. Turns out that family court is much more laid back than criminal court! Our sons were surprised that the judge was not wearing robes (though on learning this, he offered to go put them on!). He waved at us to stay seated when he entered and instructed us to not refer to him as "your honor." Every judge is different, though, so it's a good idea to default to being more formal!
The hearing itself took twenty minutes. The judge asked us how our daughter was doing and verified the facts of her adoption. He addressed our young sons directly, to make sure they understood what was happening. "Today is the day my sister officially becomes a Zimmerman!" my four-year-old declared. Finally, the judge made sure that we all understood that our daughter was now a permanent member of our family, just like our biological children, and that we were solely responsible for her. He then invited us all onto the stand for photos. Our daughter "helped" him sign all the paperwork, and together they banged the gavel to signify the end of the proceedings. Our sons each got a turn to bang the gavel as well—after the judge managed to pry their sister's fingers off it, that is! Future judge, perhaps?
The judge left after photos, and we were left to finish some paperwork with our attorney and head of our agency. Then we were all done! We officially belonged to our daughter!
It was an emotional and beautiful day that we will always remember.
What are some things you learned when you finalized your child's adoption?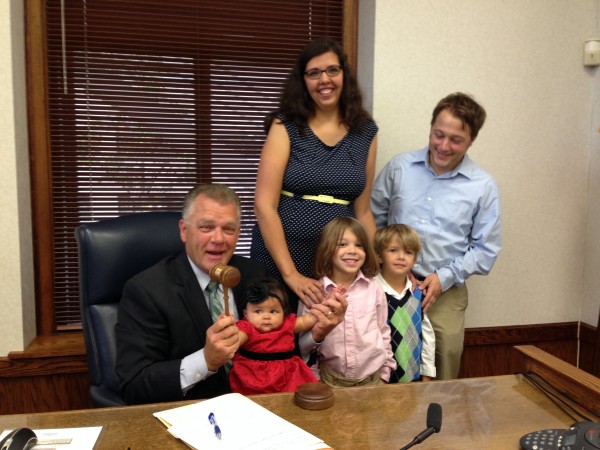 Are you ready to pursue adoption? Visit Adoption.org or call 1-800-ADOPT-98 to connect with compassionate, nonjudgmental adoption specialists who can help you get started on the journey of a lifetime.