"We must figure out what no one else has figured out." — Dr. Jamie Schwandt
I recently developed a new theory called the Foster Care Trinity. The elements of my theory within the trinity are Policy, Systems, and Family. We can influence Policy, create intelligent Systems, and intervene in Families prior to abuse — I call this i3 or i-cubed. The key to success here is to find areas that work in other systems and apply them to foster care.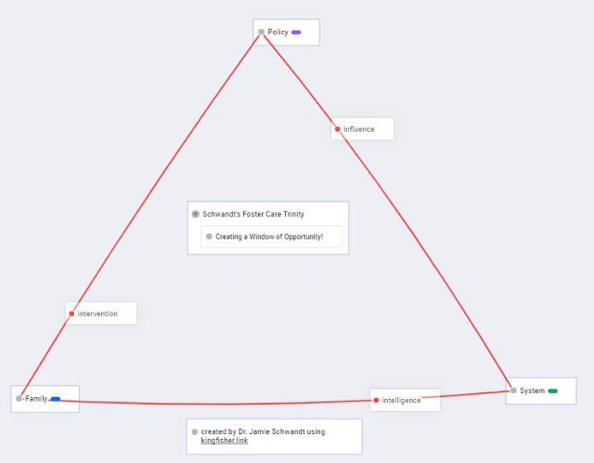 After thinking about the open-source model and open-source governance, my mind started racing. What about Open-Source Foster Care?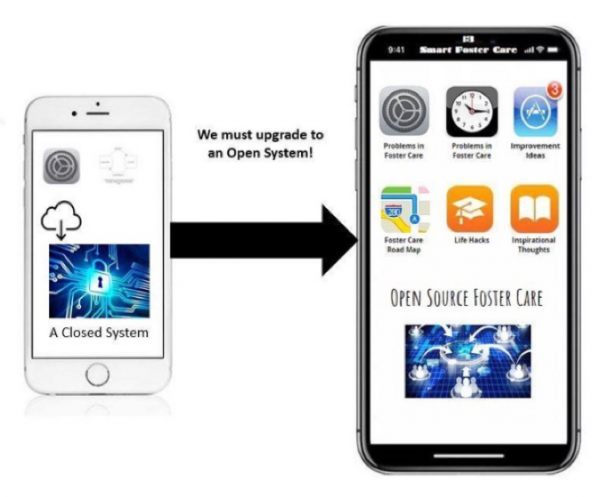 What exactly is open-source?
Open-source model — a decentralized software development model encouraging open collaboration.
Open-source governance — a political philosophy advocating for the application of open-source and open-content, combining them with democratic principles leading to new policy.
Let's now take a look at how we could change the entire foster care system with this model. Let's discuss Open-Source Foster Care.
Principles of Open-Source Foster Care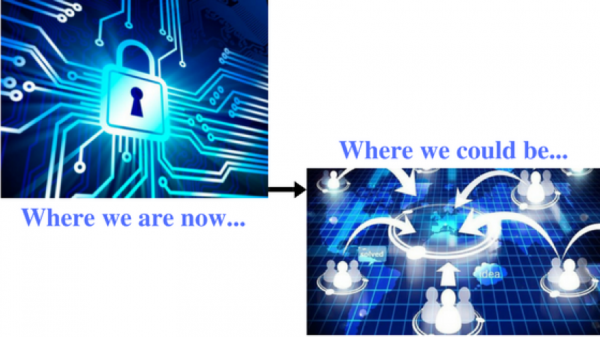 "Open-Source Foster Care is radical innovation!" — Dr. Jamie Schwandt
Open-Source Foster Care is a philosophy advocating for an open-source movement enabling the passion of the public to influence effective policy in foster care. The principles include the following:
Open government: public engagement and participation in the creation of policy.
Open collaboration: coordinated and goal-oriented interaction seeking innovation in the foster care system.
Open content: everything is open — rules, regulations, policy, and finances.
Radical Innovation: lastly, no idea is off the table and we must look for radical and revolutionary ideas. We must figure out what no one else has figured out!
Public Engagement
"Speech is power: speech is to persuade, to convert, to compel." — Ralph Waldo Emerson
Open-Source Foster Care would thrive if we had interactive policy. I recently came across a tool allowing public participation and engagement at Loomio.org. This is a program similar to Google Moderator, which was used in 2008 by (then) President-elect Barack Obama. Loomio is a decision-making software allowing people to start discussions and initiate proposals.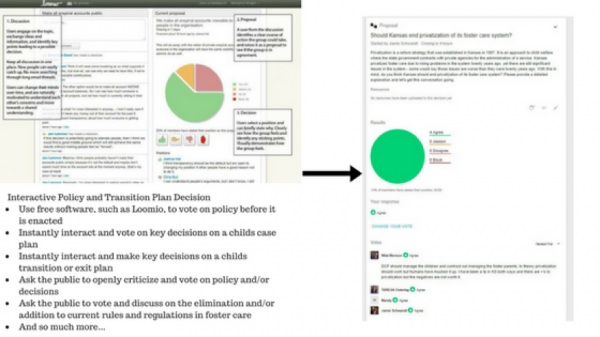 I decided to give it a shot (it's free to use). The image above identifies ways this could be used.
Another idea for public engagement could be similar to that of the Sunlight Foundation. Here we could potentially create a way to share all foster care policy. We could create a website or app to criticize, vote, and even change rules.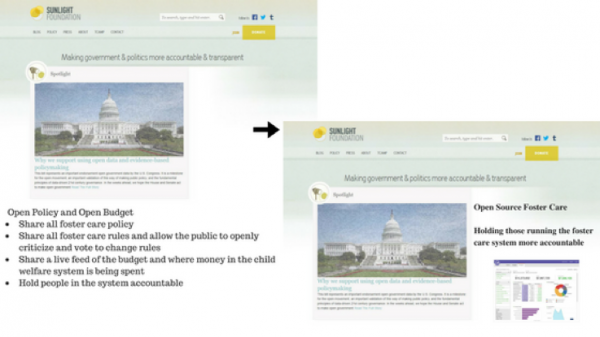 Furthermore, why not create a place where everyone could openly share ideas, forcing decision-makers to react and consider those ideas? Think of the collaboration and phenomenal ideas we could build off of.
Crowdsourcing in Foster Care
"Crowdsourcing is a great way to approach creation because in any given point there's always somebody on the Internet who knows something better than you do." — Guy Kawasaki
Let's take a look at something we should definitely take advantage of in foster care — crowdsourcing. In order to keep this discussion short, I will interchange crowdsourcing and crowdfunding (which is essentially a form of crowdsourcing).
Here are a few of my ideas for crowdsourcing in foster care. As you read them, think of the innovative ways we could fund foster care and save quite a bit of money!
Fund the creation of schools, such as the National Schoolhouse of Theater Arts (NSTA) — a school for foster children.
Fund the building of infrastructure for the foster care system.
Fund Social Worker salary.
Fund Foster Parent salary (the creation of the professional foster parent).
Fund the foster care system itself (along with the Foster Care Bond)!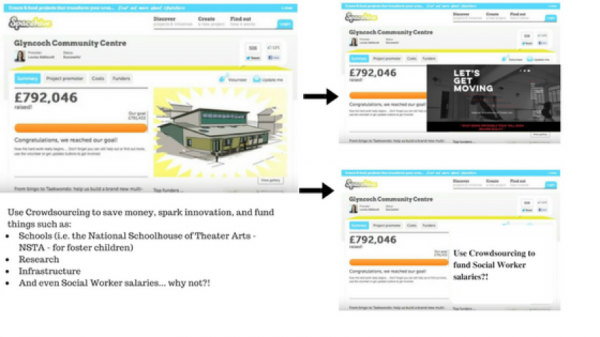 Transparency in Foster Care
*photo credit to the Kansas City Star
"A lack of transparency results in distrust and a deep sense of insecurity." — Dalai Lama
If there is one system completely lacking transparency, it is definitely foster care. Let's take a look at an idea I have for this along with a concern that must be addressed.
Children are literally dying in and out of foster care and no one seems to be doing anything about it. Here is a potential way.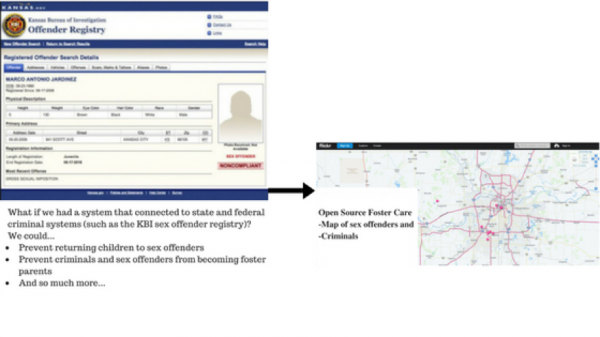 Now let's briefly discuss an alarming concern. How many of you would be upset if you were discriminated against for speaking out against something horribly wrong? I would assume just about everyone would. Here is an example of what happens when you speak out in foster care.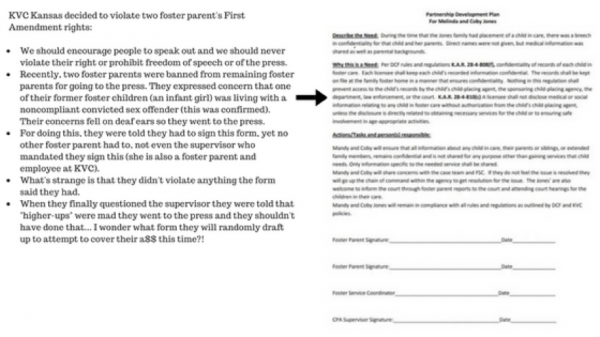 Foster Care University
"There is one thing stronger than all the armies in the world, and that is an idea whose time has come." — Victor Hugo
Foster Care University is a concept I came up with along with a phenomenal person by the name of Kathryn Ratey. We are still in our beginning stages of this concept/idea, but I think the open-source model will assist us. Let's take a look at a couple ideas.
First, why not create a model similar to that of the Creative Commons?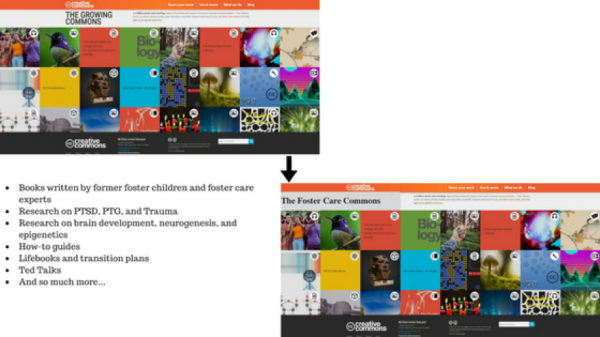 Second, if you have ever watched a TED Talk , you understand the importance of sharing ideas. So, why not create a Foster Care TED Talk reoccurring event?
Declaration of Interdependence
"When the people fear the government, there is tyranny; when the government fears the people, there is liberty." — Thomas Jefferson
The last two ideas I will discuss were inspired by the organization B Corps. Two things immediately caught my attention when I visited to their website.
The Declaration of Interdependence.
Their motto "Certified B Corporations are leading a global movement to redefine success in business." So why not use that as inspiration for foster care?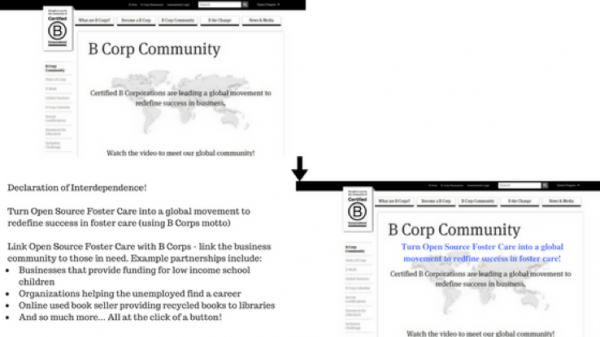 Lastly, we hear all the time about the shortage of foster parents. I do not necessarily believe this. I think there is probably enough, yet how do we find them when we need them? Why not create an app called Foster Parent GO? After all, if we can create an app to find an imaginary creature, surely we can find a real foster parent with similar technology.