Your adoption profile is about you. Your family is an extension of you, so it makes sense to include them in your profile. Obviously the majority of the profile should be about your immediate household, but getting to know you also means knowing a little about the people in your life.
Including family and friends in your profile gives expectant parents who have created an adoption plan a further glimpse into your life. It shows who your support system is and can give a feel for what the child's life in your family may look like. So how do you go about including that?
1. Pictures.
Photos from family holidays, traditions, events, gatherings, or even just captioned portraits are a nice addition. It's nice to have some variety. We included group photos to show our large family gatherings as well as photos of individuals or small group family shots to "introduce" our family to the expectant mother.
2. Share Connections.
I started out with pictures of my immediate family, added in parents, siblings, nieces and nephews, then moved on to extended family like aunts and uncles, grandparents, and cousins. Captioning who the people are and maybe sharing where the picture was taken or what holiday or event it was helps the viewer understand and follow along.
3. Traditions.
Our family has certain traditions that usually surround holidays or other special events. The way each family celebrates varies from family to family. My close-knit family often has a big Italian meal on Christmas and my grandpa wears his Santa hat while all the small children act as Santa's helpers and pass out gifts. My husband's family has a big Easter egg hunt every year and the men (my husband being one of them) find great joy in hiding eggs in hysterical locations. Those events are great additions to a profile book because they show so much character and provide insights into your life.
4. Quotes.
Something fun to add to your profile and get your family and friends involved in your adoption process is asking them to write a very short message to the expectant parents. You can ask them to provide a quote about adoption, the excitement they feel about the pending new child, or some thoughts about you. What a great way to show how much your family and friends support you!
While you don't want to overwhelm the viewer with too much information or pictures in the extended family and friends section, including it can add an additional layer that sets you apart or shares a further snapshot into your life. Something in there may jump out at them or remind them of their own family or a family they would love to see their child be a part of.
Here are some samples from our adoption profile: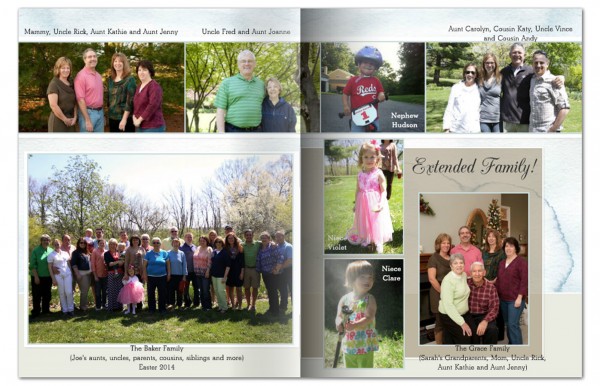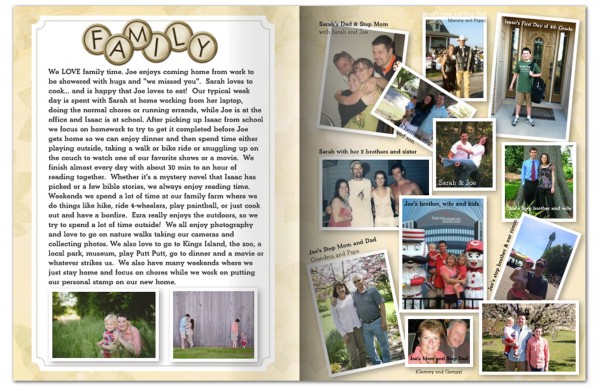 For tips on writing the introduction to your adoption profile, read more here, for tips on writing the bio of your adoption profile, read more here and for tips on writing the activities and interests section of your adoption profile, read more here.
**Stay tuned for tips on other sections of your adoption profile**