Each adoption agency will likely have specific requirements for creating your adoption profile. Many will have a template to follow while others give wide-open freedom in its creation, layout, and size. However, overall they all will contain the same necessary elements that will allow expectant parents to get to know who you are and decide if you would be a good match for an adoption placement. Writing an introduction will be part of that.
An adoption profile will have a general flow to it that eases the reader into getting to know who you and your family are. An introduction is a sensible place to start your adoption profile. So what should be in your introduction and how can you make it stand out from the rest? Here are 4 tips on writing the introduction to your adoption profile.
1. Cover Image and Design
What does the photo you have chosen say about you and your family? Do the colors and design reflect your personality and style? By choosing a photo that is not only in focus and high resolution to display on the front, but also captures who you are, the reader will be immediately engaged and want to continue further.
Many people chose a professional photo for the cover image and that is fine; many professional photographers today are skilled at lifestyle images that capture your family with raw emotion and having fun together. If it's not a professional photo, other options are you at a favorite destination, sporting event, or participating in a hobby or special life event.
Part of the design is selecting a font. A font that reflects your specific style is important, but also the ability to easily read the font is necessary. Some decorative fonts are very attractive but difficult to read. When using more than one font, be consistent with how you use the varieties.
2. Greeting
The first mistake many hopeful adoptive parents make is in the greeting. Many agencies or unknowing hopeful families accidentally greet the expecting mother as "Dear Birth Mother." You will want to avoid addressing her as a birth mother or birth parent in any communications, due to the sole fact that she is not yet a birth mother. This is a role she MAY fulfill after placement, but until then she is an expectant mother who has created an adoption plan or is considering adoption placement. You may want to start with a simple "Hi," "Hello," "Howdy," "Salutations," or other fun greeting. You can make your greeting short and full of imagery or you can write a heartfelt and genuine letter. Be yourself and share details of who you are and what makes your family tick.
3. Background
Including information about who you are and where you've been in life will provide insight into where you are heading. Share your hopes and dreams. Share your goals and hobbies. Some things you may want to include are how you and your partner met, where you grew up, what your town or school district is like, or other things that may make you more relatable to the person reading your profile.
When you say you enjoy something, try to paint a picture of how that activity makes you feel. When you describe something by showing vs. telling, the reader can get a feeling of what it would be like to be in your life. This is a great time to share information about your education, careers, pets, religion, core values, and favorite activities or things like foods or other things that may click with the right reader. You don't want a broad adoption profile in hopes of reaching many, but rather a unique and sincere adoption profile that reaches that one right match.
4. Photos and Captions
Just like your cover image, the images placed throughout your profile should be clear and of high enough quality for the format of your adoption profile. These images should contain variety and not just be picked solely on having a great hair day or everyone wearing matching outfits; rather, they should provide a glimpse into your life. Do you like gardening, boating, fishing, playing sports, playing with your dog, riding horses, playing an instrument, crafting, etc.? If you have a hobby, share it through images! Caption photos to share insight of what it is or who is with you the photo. Make the captions clear and easy to skim. If there is a lot of intense reading and the expectant mother is viewing several profiles, it could be difficult to go through if there are more words than images.
Your adoption profile should be a reflection of who you are, not who you wish you were or would like to portray. Be real. Be genuine. Be you! Finding a successful adoption match often comes in the form of finding similarities in each other. With open adoption being the goal of most adoptions, having similar interests or common ground will be a great foundation for a long term relationship. Remaining true to who you are will set your relationship up for success instead of failure. Focus on what makes you, you—and shine!
What is something unique about yourself you'd like to include in your profile? Birth parents, what was something that stood out in the profile of the adoptive parents you chose to place with?
**Stay tuned for tips on other sections of your adoption profile!**
Here are some sample profile pages to help spark your imagination: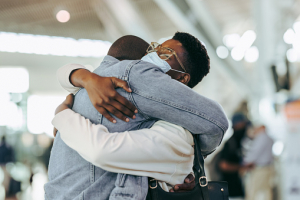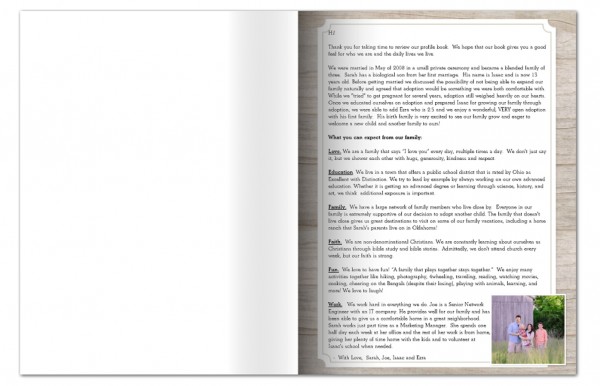 Are you and your partner ready to start the adoption process? Visit Adoption.org or call 1-800-ADOPT-98 to begin your adoption journey. We have 130+ years of adoption experience and would love to help you.