I have never had the experience of seeing two pink lines on a little white stick. I have never joyfully announced the words "I'm pregnant!" to my mother. But I have had several sleepless nights thinking about how to "break the news." My parents learned they would be first-time grandparents at a dive bar in Baltimore. Moments before a reading of one of my plays, I blurted out that my husband and I had decided to build our family through adoption. Specifically, we were pursuing a special needs child in China. My parents met the news with smiles and tears. In a kind of awkward aftermath, we paid the bill and made our way to the theater.
During my reading, I processed everything my parents had said. I thought about the way they had looked. Were they excited? Were they disappointed? Was this something they foresaw or was this out of the left field? While my husband and I had been processing the idea of adoption for a while, my parents were new to the adoption world. Five years and two adoptions (from two different countries) later, I realize that much of our adoption journey has followed this pattern. We research, consider experience things with our children, and then share these findings with our loved ones. It is a very different experience compared to building your family through biological children. There are complexities and intricacies that many outside the adoption triad would never consider. But I have come to learn that it is part of our job as adoptive parents to educate those around us.
Our education began the moment we began our process. As we gathered each document, we shared with our family the reasoning behind it. Employment letters, police clearances, tax returns: all were necessary to show to both the U.S. and the foreign government that we would provide a safe, nurturing environment for a child. When our case got stuck in court we reminded them (and ourselves! that the process takes time as per the Hague Convention. We must guarantee that each internationally adopted child is indeed an orphan and in need of a home. When we needed to drive to Richmond, Virginia to authenticate every document so the Chinese government could be sure we were who we said we were, my mother rode in the car alongside me and together we waited.
At Christmas, we gifted our families the book "In On It," by Elizabeth O'Toole to further explain our paperwork process and what role our extended family could play in our adoption process. At the suggestion of our agency, we wrote a letter to our families explaining what our needs would be when we returned home from China. Our child would be struggling with attachment issues so my husband and I would need to be responsible for feeding, changing, and soothing our son. Unlike with the birth of a biological child, we would need care for ourselves rather than our new child. My mother was upset she "couldn't hold the baby while I took a nap," but instead we suggested ways she could help. Bring groceries, help us cook, and help us with the laundry. As tough as it was to "observe my new grandson from afar," in the long run we knew it would pay off. And it did. Not only does Amma have an amazing relationship with her grandson, but she also proved indispensable when we came home with our daughter from India three months ago.
When my son has a bad day at school and needs to co-sleep for the night, we do it. When my daughter throws her food across the room in anger we gently rock her until she calms down. In these small ways, and many more, my children are parented differently than their cousins. We don't let our children "cry it out," we use "time ins" rather than "time outs." We may co-sleep, we may spoon-feed (literally)when they regress and need some reconnection time. Our extended family has come to recognize our children experienced trauma and abandonment in their young lives that most kids never encounter. We choose to parent and discipline through attachment because that's what our children need. And we share these adoption parenting philosophies with our extended families so they can better understand and be part of the process.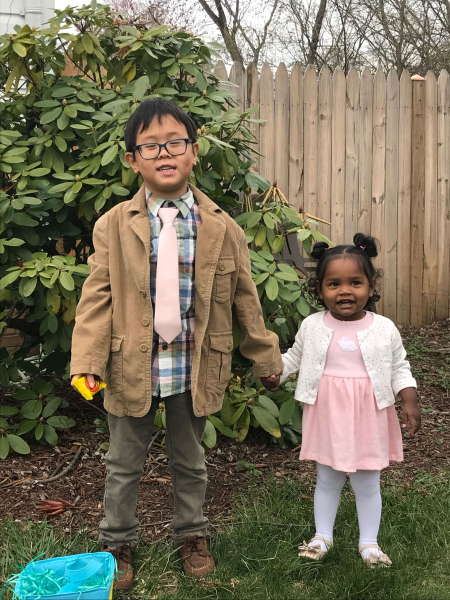 My mother was at a local coffee shop when she first got the question: "Are they really your grandchildren?" One child from China, one from India: we are a transracial/transcultural family and we are conspicuous. "Are they really siblings?" and "They look so sweet, why didn't their real parents keep them?" are questions we get all the time. My husband and I have considered carefully how best to use positive adoption language in these instances for our children's sakes and we have learned that we must teach our extended families this language so they too may become advocates for our children. We have the hard conversations that though they love and see "Just Jack" their grandchildren will experience a very different world as they grow up. Our children will encounter racial prejudices and biases neither I nor my husband ever knew. And there is a lesson in that.
But the most important lesson we have learned is DNA does not make a family. Family can look exactly like you or family can be waiting for half a world away. For us, the family is formed through choice. When my father helps string the lights up for Chinese New Year he chooses his grandson. When my mother sends information on local Diwali festivals she chooses her granddaughter. And when every day our children wake up and choose us, I am eternally grateful.
Are you ready to pursue adoption? Visit Adoption.org or call 1-800-ADOPT-98 to connect with compassionate, nonjudgmental adoption specialists who can help you get started on the journey of a lifetime.