Aleese from Texas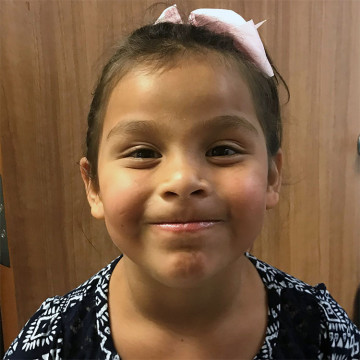 Age 8
Gender Female
Location Texas
Ethnicity Hispanic
Case Number 90079
---
Aleese has a very silly personality and is always a joy to be around. She loves to laugh and make others laugh. Being silly is one of her favorite things to do if she is not singing. Whenever she is feeling sad, she likes to hug those around her to help her feel better. She enjoys swimming and playing outside with her siblings. She also enjoys watching cartoons and movies when it is too hot to play outside. She works hard at trying to stay positive every day. She is also very happy about being able to start school again soon. She loves to constantly learn new things and enjoys school because she has lots of friends and likes to be the teacher's helper. She and her sister have a very close bond and are very excited to start the next chapter in their lives with their forever family and make lots of new memories.
Like most sisters, Annacelie and Aleese are as much alike as they are different. The connection they have with each other is strong. Annacelie is the older sister and tends to be the protector/caretaker. Annacelie and Aleese are the showboats, who like to make you smile. Any chance they get, they will make each other laugh or others that are around them. They would do best in a home that can provide them with patience, understanding, and most of all love. They will benefit from an environment that is structured and safe. Annacelie and Aleese would like to remain in their local state and this is to continue their strong bond that they have with their siblings that are not part of this adoption. These sisters are super excited to make new memories together along with their potential forever family. Both girls are very active and like being outdoors, so a family that has lots of energy would be great.
Aleese's forever family will provide lots of love and patience. She needs lots of nurturing from her forever family. Once Aleese has a sense of security in her home, she will brighten any family.