A'zaria from Texas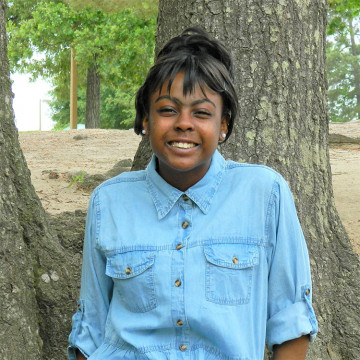 Age 14
Gender Female
Location Texas
Ethnicity African American
Case Number 92948
---
A'Zaria has a big heart and is very nurturing. She loves being a big sister but is learning to enjoy getting to be a kid. She loves fashion, going shopping, painting her nails, and talking with friends. She enjoys playing board games and watching movies. Her favorite subjects at school are math, writing, and reading. She has the capability to do well in school with encouragement and support. A'Zaria is an active child and likes to run and play volleyball. A'Zaria enjoys singing, has a beautiful voice, and writes her own lyrics. A'Zaria's palate varies in that her favorite foods are seafood and nachos. A'Zaria likes to try new activities and shows interest in many areas. She enjoys cooking, riding bikes, dancing, fishing, and photography. She hopes to find a family that supports her various interests and continues to show her new activities.
A'Zaria, Ahmadria, and Ahmadrick have a typical sibling relationship. A'Zaria loves her younger siblings as she was a caregiver for them for many years. She has worked on stepping out of that caregiver role and being a kid. Ahmadria enjoys playing with her siblings but really enjoys one on one time with caregivers. Ahmadrick misses his other two younger siblings more than the older sisters, but they all wish to maintain a relationship. All three children are very active and interested in a variety of activities. They enjoy comedy and making each other laugh. They each love animals and hope to have a home with a pet. The siblings love being outdoors camping, riding their bikes, or going on walks. Each child has their own set of interests and love to show off their talents!
A'Zaria needs reassurance that herself and her siblings will be safe. Her forever family will help her grow and learn as she is becoming a teenager. Her forever family will support and love to help her achieve her goals of going to college and one day possibly working with children that are experiencing the foster care system as she has. A'Zaria loves her current foster mother very much and will need a family that can help her transition into a family and go at her pace in the bonding process.