Dennis from Texas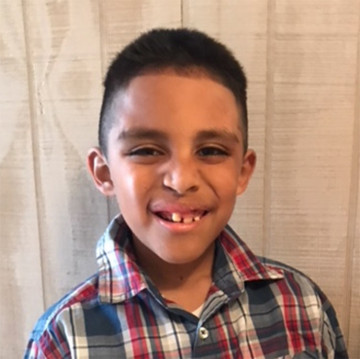 Age 12
Gender Male
Location Texas
Ethnicity Hispanic
Case Number 78594
My Siblings Sergio
---
Dennis is a very active child who loves to run around and play with toys. He likes to play on the playground, color, watch cartoons, ride his bike and work on floor puzzles. Dennis likes Pokeman and collects Pokeman cards and toys. Dennis is especially connected to his brother, Sergio, and likes to play with him. Dennis is diagnosed with Autism Spectrum Disorder Alhough Dennis has some behavioral challenges due to his diagnoses, he can be quite loving and affectionate. He loves to give hugs. He is not too verbal but is able to communicate by pointing and saying words here and there. Everyone who meets Dennis comments on his amazing smile, which can light up a room. Dennis's favorite foods are plain cheeseburgers, salads with ranch dressing and hot Cheetos.
Meet Sergio and Dennis! They are affectionate, enthusiastic, and have lots of energy. Sergio enjoys participating in family outings. Sergio likes to color and build puzzles. Sergio has a great appetite and likes most any food. He enjoys going to restaurants where he can play in the playground areas. Dennis loves to color and interact with his siblings. He also loves to play outdoors. Dennis is a very active child. He has trouble sitting still and loves to run around and keep busy. They are very bonded to one another but they do argue and fight, like typical brothers. However, they generally respond well to redirection. Sergio and Dennis also enjoy playing with one another on the playground, riding bikes, coloring, and working on puzzles. They enjoy being active together and spending time together.
Dennis will need a family who can provide him with a great deal of patience, consistency, structure and supervision. Ideally he will have a two-parent family, with a strong support system. It will be beneficial for his forever family to be knowledgeable, have experience, or be willing to learn about working with children who have autism.