Dennis from Texas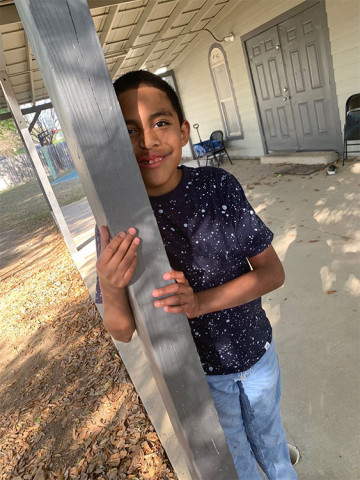 Age 13
Gender Male
Location Texas
Ethnicity Hispanic
Case Number 78594
My Siblings Sergio
---
Dennis is a very active and curious boy. He enjoys playing with Pokemon toys, toy trucks and cars, Legos, coloring, swimming, bike riding and playing with his friends and brother. Dennis enjoys playing sports and has a competitive mentality when playing football, basketball, or baseball. HE enjoys being active; however, also enjoys independent play, watching movies, and cartoons. Dennis enjoys helping staff around the house and setting the table. He enjoys playing with his brother and his peers. He has a bright smile and he often giggles when he is playing. Dennis enjoys school. He benefits from additional support while attending school. Dennis is placed in a Life Skills contained classroom that provides the needs necessary to meet Dennis' educational needs. Dennis enjoys assisting his teacher and is motivated by reward system. Dennis will be a great addition to a loving and caring forever family.
Meet Sergio and Dennis! They are affectionate, enthusiastic, and have lots of energy. Sergio enjoys participating in family outings. Sergio likes to color and build puzzles. Sergio has a great appetite and likes most any food. He enjoys going to restaurants where he can play in the playground areas. Dennis loves to color and interact with his sibling. He also loves to play outdoors. Dennis is a very active child. He loves to run around and keep busy. They are very bonded to one another but they do argue and fight, like typical brothers. However, they generally respond well to redirection. Sergio and Dennis also enjoy playing with one another on the playground, riding bikes, coloring, and working on puzzles. They enjoy being active together and spending time together. They will be a great addition to a loving forever family.
Dennis' forever family will provide him with a great deal of patience, consistency, structure and supervision. Ideally, he would have a two-parent family, with a strong support system. His family will be knowledgeable/have experience or be willing to learn about working with children who have autism. His family will ensure he receives any services he needs. Dennis' family will be an advocate for his educational and therapeutic needs now and will continue to access appropriate services as he transitions to adulthood.