Dustin from Texas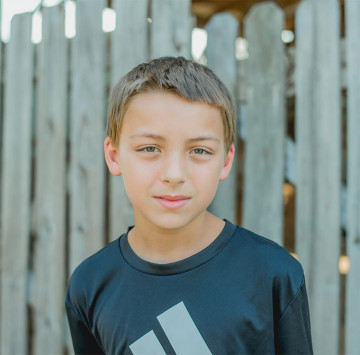 Age 14
Gender Male
Location Texas
Ethnicity NA
Case Number 83478
My Siblings Emily
---
Dustin comes across as somewhat shy and quiet when he first meets new people. However, once he grows to know someone, he becomes more open and can talk about his feelings. Dustin responds well to positive attention and talks about making positive choices. In school, he enjoys social studies and science and has big dreams for his future. Dustin wants to be in the Army or the President when he grows up, but has also considered having a YouTube channel. Dustin enjoys playing baseball and football, and has a natural talent for sports. He loves to be helpful and responds positively to encouragement. He likes it when his caregivers are proud of him. He enjoys being an "entrepreneur" and has an interest in antiques and estate sales, and can spot things that have worth. Dustin has been working hard on learning the best way to deal with his emotions and is making progress all the time. At times he can struggle in school, and benefits from receiving support in this area.
Dustin and Emily like outdoor activities and enjoy being in the country. Dustin is the eldest, and looks out for his younger sister, Emily, in many ways. Dustin is a helpful child and enjoys being a leader. Like her brother, Emily also enjoys being a leader. Both children enjoy receiving attention. Dustin wants to participate in sports and appears to have a natural ability in this area. Emily is just his opposite. She enjoys playing dress-up and playing pretend. She especially enjoys dressing up as a superhero and wearing anything with a cape. Both children enjoy camping, estate sales and going out to eat. They both appreciate having a strong relationship with people who they trust. Visit me at the Heart Gallery of North East Texas.
Dustin wants a stable life and needs a family who he can trust. He responds well to love and guidance and is loyal to those he trusts. He needs a family who will understand the strong bonds he has built and will encourage him to keep these connections. He hopes his family will allow and encourage him to play sports. He also hopes his family will take trips to places like Six Flags and will participate in other fun activities. His ideal family will help him handle frustrations and emotions, and help him build coping skills. Dustin needs a structured living environment that is also nurturing. He will do best with clear expectations, consequences, and routines. Since he likes to be helpful, he will do well with a family who will provide positive reinforcement and engage with him.