Jeremy from Texas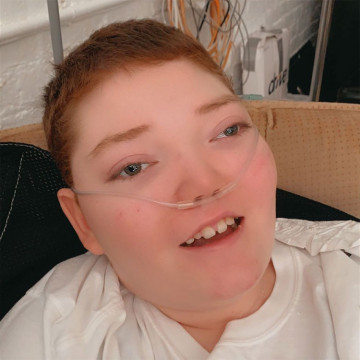 Age 15
Gender Male
Location Texas
Ethnicity NA
Case Number 80381
My Siblings David
---
Jeremy is a sweet, mild-mannered teenager with a lot of love to give. He is an affectionate child who enjoys giving hugs. He likes to play with toys and play on his tablet. Jeremy enjoys being taken on walks to explore the outdoors and get some fresh air. He likes to watch cartoons and listen to music. Jeremy enjoys being read to and listening to storytelling. Jeremy prefers to keep to himself and keep himself occupied. Jeremy faces several health challenges and requires total care at this time. He has some difficulty communicating, but he is able to understand what is being said to him. Jeremy requires a high level of attention and supervision in a structured and routine environment. Jeremy will be a great addition to a loving and caring forever family.
Jeremy and David interact and play with each other on occasion. Both children are diagnosed with Autism Spectrum Disorder. David is also diagnosed with Cerebral Palsy. Jeremy is aware that his brother is in the same home as him, but due to lack of communication on the part of David, and limited communication on Jeremy's part, their true bond to one another is unclear. Jeremy goes into David's room to interact with him and play with him. Jeremy enjoys being independent and going on outings or being outside. He is affectionate and passive. He prefers routine and is not favorable of many changes. David is sweet and loveable. He loves all the attention he can get. He enjoys visitors, but does not like visitors who come to make him workout. Jeremy and David would like to continue their sibling bond and share their extraordinary love with their forever family.
Jeremy's forever family will provide consistent attention, structure, 24/7 supervision, be flexible, and willing to learn how to care for him. His family will be experienced in caring for children with medical needs. Jeremy's family will be able to provide a loving, structured, and consistent environment. His family will offer patience, understanding, and continued guidance would be beneficial for Jeremy and his continued personal growth. Jeremy's family will be committed to him for the rest of his life. His family will recognize the need and importance for continued therapeutic services to ensure his needs are being fully met so that he can live a happy and productive life. His family will also a lot of one-on-one time with Jeremy and be willing to access the resources he needs. Jeremy would do well in a two-parent household that can provide the time and attention he deserves. Families that have experience with children that have medical needs would be helpful.