Mariah from Texas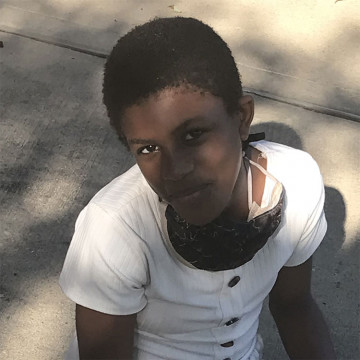 Age 11
Gender Female
Location Texas
Ethnicity African American
Case Number 87384
My Siblings Jaylin
---
Mariah is a friendly and articulate child. Mariah has a bubbly personality and is very down to earth. She engages and interacts well with family and friends. Mariah loves to play with Barbie dolls, Elmo, paper dolls, and watch television. She enjoys community walks, playgrounds, drawing, dancing and singing. Her favorite foods are pizza, corn dogs, and pasta. Mariah has a good sense of humor and everything makes her laugh. She is a soft spoken child that has a very robust laugh once she gets to know you. She is not easily upset and is protective of her older brother, who she enjoys spending time with. She is ready and willing to be adopted. One of her dreams is to be adopted with her brother and a have loving forever family.
Mariah and Jaylin have a very close connection with each other and desire to be adopted into a loving family. They enjoy playing together and are always looking out for each other's best interests when they are together. Jaylin is rather shy and loves to receive attention and affection from his caregivers. He loves to collect basketball and Pokemon trading cards. Mariah and Jaylin share many of the same hobbies, but each have their own unique personality. Mariah is a soft spoken child that has a very robust laugh once she gets to know you. She loves playing with dolls and watching cartoons. Jaylin is very down to earth and not easily upset. Jaylin, being the older of the two, is very protective of Mariah and loves her very much.
Mariah desires to be a part of a family with a mother and father. Her forever family will be loving, active, and consistent. Mariah's forever family will adopt her with her brother. She will benefit from a family who has a strong focus on academics. Her family will be proactive in advocating for her educational goals and progress. Mariah's forever family will provide a nurturing and emotional connection which is created and sustained overtime. Her parents will have consistent rules, clear goals, and reinforce positive behaviors with praise and rewards. The home environment should be highly structured and loving.