Saphira from Texas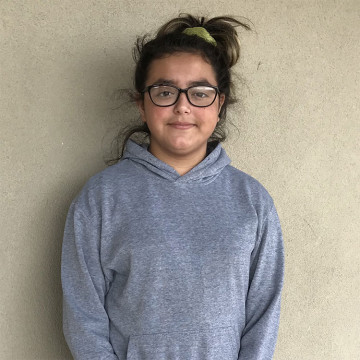 Age 14
Gender Female
Location Texas
Ethnicity Hispanic
Case Number 91178
My Siblings Evan
---
Saphira is an easy going, shy and quiet young lady. Once she feels comfortable in her environment she will open up about her feelings and will talk about what is on her mind. Saphira is pleasant, kind and likes to be helpful. Saphira is bonded to her brother and enjoys spending time with him when she can. Saphira likes to go shopping for clothes and enjoys shopping for shoes. She also has a fondness for all kinds of accessories. She has a small collection of jewelry that she plans to make a bigger collection. Saphira likes to listen to music, Billie Eilish is her favorite singer. For comfort, Saphira likes to create art of all kinds. Saphira wants to be where she is wanted and comfortable.
Evan gets along well with his sister, Saphira. He is he youngest of his sibling group. Evan is close to his sister Saphira. They have positive interactions despite the age difference. Saphira is patient with her little brother. They enjoy hanging out with each other even if it's just to watch tv. They play together with Evan's toys too. He enjoys Toy Story and his favorite character is Buzz Lightyear. Evan is a talker and loves to display his toys in his bedroom. He is a social child and enjoys talking about all of his toys. Saphira likes to shop and do girly things when she can. Evan and Saphira like to be silly together and Saphira opens up to her true self when they are together and they are both very happy when together.
A single or two parent family who is able to be understanding. Saphira's forever family will make sure she feels comfortable and loved. Her forever family will be nurturing, patient, understanding, and supportive.