Ailitzy from Texas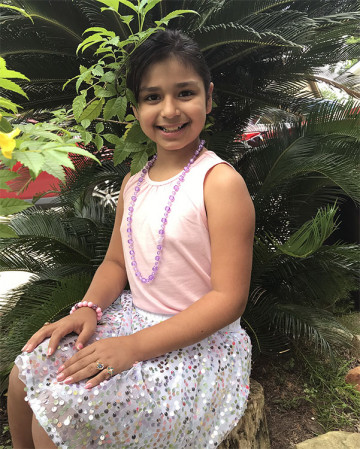 Age 11
Gender Female
Location Texas
Ethnicity Hispanic
Case Number 89558
My Siblings Gustavo
---
Ailitzy has great energy and loves to be active, she loves to dance and do cartwheels. Ailitzy loves attention and is very affectionate. She loves to give and recive hugs. Ailitzy has a very social personality and can strike up a conversation with just about anyone. She is intelligent, insightful, and excels at school. Ailitzy loves to draw and paint. Her favorite subject in school is art. Ailitzy enjoys creating different styles with her hair and enjoys being pampered by going to the salon. She is interested in make-up and fashion, and she likes to keep up with the newest trends. Ailitzy is a very creative child who enjoys designing clothes for her dolls with clothes that no longer fit her.
Ailitzy and Gustavo are two creative and imaginative children who enjoy creating new worlds within their computer game worlds. They enjoy playing Roadblocks and Pikachu online. The pair enjoy going to carnival and getting on the rides together. Ailitzy enjoys getting on all the rides while her brother waits for her at times. Ailitzy and Gustavo play well together and enjoy playing kickball and soccer to pass the time. Ailitzy is very considerate towards her brother when they watch television and will let him choose shows he wants to watch. She also enjoys dressing up and likes having her nails and hair done, while her brother can wear just about anything. The siblings enjoy attending church and they look forward to attending a youth group that has activities for them to learn and participate in. They love to play soccer together and can get very competitive with each other. This duo enjoys playing games together and can watch TV all day if given the opportunity. Ailitzy and Gutavo are definitely not picky eaters and can eat just about everything, however, Ailitzy would rather eat sweets at times.
Ailitzy will benefit from a family who will give her lots of attention, guidance, and provide a stable, safe home. She thrives with structure and consistency in the home. Having an active family who is able to keep her busy will be ideal for Ailitzy. Ailitzy does well with animals in the home and looks forward to being adopted with her brother.