Alex from Texas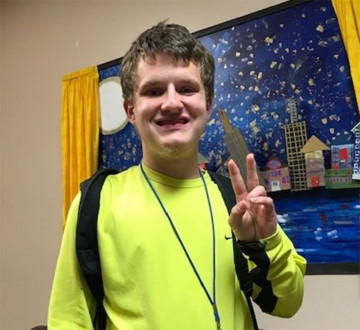 Age 16
Gender Male
Location Texas
Ethnicity NA
Case Number 89278
My Siblings Anthony
---
Alex enjoys being outside and playing basketball. He enjoys going to the park and making new friends. Alex's favorite toys are his Bey Blades, and he loves to show anyone he meets how to use them. His favorite things to do at school is draw and go to his P.E. class. Alex loves the basketball player Stephen Curry and enjoys talking about him. Alex has been diagnosed with Autism Spectrum Disorder. His favorite TV show is The Flash, and he enjoys telling people about what happens. Alex has a very fun and energetic personality, and he loves to tell jokes. Alex enjoys being on the move, exploring and doing new things. He does best when he has a schedule and knows what to expect. Alex is a very sweet and kind youth. He is learning to identify his feelings and express them appropriately. He loves spending time with his older brother, Anthony, and looks forward to joining their forever family!
Anthony and Alex are energetic brothers. These brothers both enjoy being outside, playing at the park, or going to the movies. They both have a love for Bey Blades, basketball, and the color red. The two of them share everything when they are together, and Anthony takes his big brother role very seriously. Anthony likes to help his brother with everything. Alex wears his heart on his sleeve, and he cares about everyone around him. Both Anthony and Alex love school and learning new things, they also love to adventure and try new things together. The brothers enjoy having books read to them and watching Netflix shows, like The Flash and Beyblade. They both enjoy playing and watching basketball. Anthony and Alex desire to join their forever family!
Alex will benefit from a two-parent home where he can continue to develop independent skills. He will enjoy an active home that provides opportunities to participate in a variety of experiences, such as going to museums, workshops, or community events. He will benefit from caregivers who have experience with children with similar needs and will work with needed specialists. Alex looks forward to playing with, talking to, and spending time with his forever family!