Athena from Texas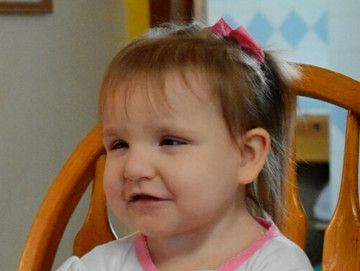 Age 5
Gender Female
Location Texas
Ethnicity NA
Case Number 90657
My Siblings Karma
---
Athena is a sweet little girl that's full of curiosity. She enjoys playing with her favorite toys which are a giant slinky and rubber snake. She likes to sit at the kitchen table or her highchair when playing with her toys. She also enjoys flipping back and forth through pages in a book and watching Peppa Pig. She is nonverbal and does not babble. She knows a few signs and will show people what she wants. Athena does require medical attention and has several diagnoses. She is currently working on learning about hygiene and is being potty-trained. She receives PT and OT on a weekly basis in the home. She has casts on her feet in order to correct her feet and balance. She has not experienced any seizures in the past year.
Karma and Athena enjoy being around each other and have an understanding that they are siblings, but also like to play solo. They both have high medical needs and have consistent follow up appointments for their care. They both enjoy watching Peppa Pig, getting in the pool, looking through books and coloring together. Both girls are nonverbal, but Athena does know a few signs to communicate and Karma knows a few words to communicate. Karma and Athena are very loving, affectionate, and curious of their surroundings.
Athena will do well in a two-parent household. Both caregivers should have a background in fostering children with medical needs. It would be appropriate for the caregivers to be experienced and have an understanding of the services that she needs. She is a very sweet girl and usually likes to do solo activities. She will need continued positive support in the home and at school. She has several appointments for follow up each month and the caregivers will need to understand the importance of staying up to date with the appointments. She does not have a strong understanding of adoption and has been in 2 separate foster homes since being in care. She tends to have a closer bond with her caregivers than her peers.