Caleb from Texas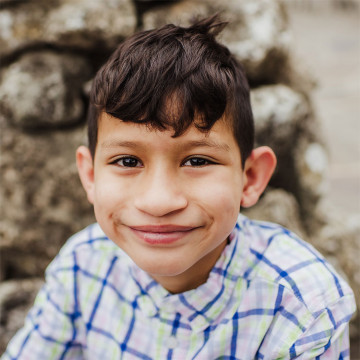 Age 11
Gender Male
Location Texas
Ethnicity Hispanic
Case Number 90118
My Siblings Kyle
---
Although Caleb can have a slow to warm personality at first, he is very respectful and demonstrates great manners around others. He loves superheroes, including Marvel Comics and Spider-Man. Caleb is friendly around his peers and enjoys playing with others. He is very active and has most of his fun outside playing sports. Caleb also enjoys building things with Legos. He enjoys learning new things, and benefits from additional support to ensure he is his most successful. Caleb continues to strengthen his ability to process his feelings and needs, and share them with those around him. Caleb responds well when redirection is provided to him.
Kyle and Caleb are very close with each other and get along well. They both feed off each other's interests and hobbies and tend to be competitive in nature. However, these brothers will benefit from a family who takes the time to help them develop individual hobbies that they can enjoy as a family. Kyle can be protective of Caleb around others. Both brothers are looking forward to finding their forever family who will provide them both with a sense of "normal." The boys will benefit from being provided with individual attention while also having the bond between them supported and grown.
Caleb desires a family who will accept him and his brother and show them amazing opportunities. He enjoys learning new things and is eager to learn about new things. Caleb will do best in a two-parent family who will offer him unconditional love and support him through his development. His family should be consistent and structured, but can also be nurturing and empowering.