Cristina from Texas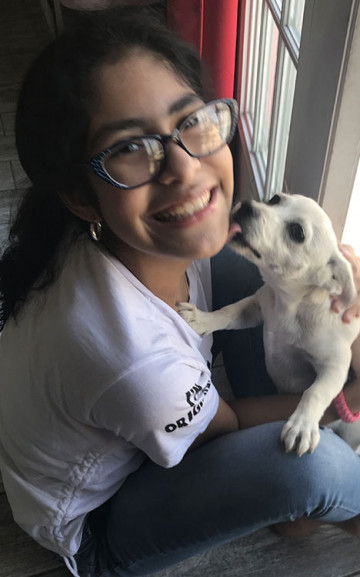 Age 11
Gender Female
Location Texas
Ethnicity Hispanic
Case Number 80719
My Siblings Keyla
---
Cristina is sweet, caring, and active girl. She is described as creative, talkative, and easy going with those around her. She is an extrovert and enjoys socializing with individuals. She is not afraid of meeting new people and having new experiences. Cristina loves dancing and listening to her favorite music. She also enjoys various activities such as art and crafts, playing board games, and playing outside. She loves animals and wants a puppy for Christmas. She does well in school with the right motivation, she thrives from receiving praise and being reminded how smart and witty she is. She has recently learned to embroider and is working on a pillow with her name on it. Cristina likes to have her hair styled and dress up for all occasions.
Keyla and Cristina are sweet, caring, and charming girls. Keyla has a competitive nature as she enjoys being number one at everything. Keyla is very smart and usually receives A/B Honor at school and always tries to be teacher's pet as she enjoys the rewards that come with it. Keyla enjoys playing outside and for relaxation she enjoys building houses with her Legos. Cristiana is the younger child and she enjoys receiving all the attention. Cristina and Keyla enjoy riding their bikes, playing outside, jumping on the trampoline, and watching cartoons. Both girls also enjoy spending time with their foster family and going out on family activities such as to the park, having BBQs, attending church, and visiting the mall. Keyla and Cristina are looking forward to being adopted together.
Cristina's forever family will be consistent and structured. Her family will offer guidance, unconditional support, and supervision. Her forever family will understand her active drive and offer positive reinforcement. Cristina's forever family will be loving and caring.