Damon from Texas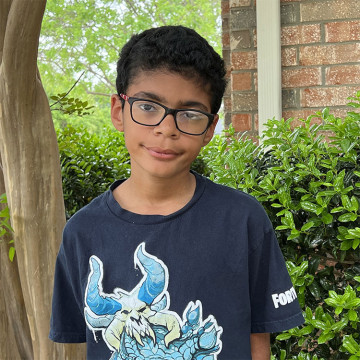 Age 11
Gender Male
Location Texas
Ethnicity African American
Case Number 100347
My Siblings Ireanna
---
Damon is an outgoing and caring child. He loves to learn and talk about all natural disasters, especially tornados. He also likes to learn about rare animals through National Geographic. He loves his Nintendo Switch along with any other type of gaming system or electronic. Damon has never really played sports but has expressed an interest in things such as karate and football. He also likes to play basketball with other children in the neighborhood. He is actually very funny and will keep you laughing at all times! His favorite show to watch is Teen Titans Go! He wants to be a meteorologist or storm chaser when he grows up. He typically tells you exactly what he is thinking at all times! Damon learned how to swim last summer and loves to be in the water.
Ireanna and Damon are siblings. They are very bonded as they have been through a lot together. They like to do activities together such as play video games, draw, play outside, etc. They have sibling arguments every now and then, but nothing out of the ordinary! Damon helps Ireanna when she needs it and Ireanna looks up to Damon. They are always laughing together and being silly together. Ireanna is very imaginative, and Damon is very realistic, so they are always having very thoughtful conversations together. They are both very outgoing and are typically up for anything! They both love trying new things and traveling to different places. Some of their favorite places they have been is the water park, bowling, and to the movie theater. They both love animals, especially dogs!
Damon's forever family will be very patient and understanding. His family will be very supportive emotionally, but also is able to set clear boundaries and structure. He would also do well with a family who is very active and involved in extracurricular activities. His family will be supportive and loving.