Darleesia from Texas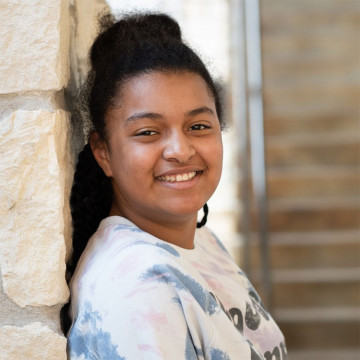 Age 15
Gender Female
Location Texas
Ethnicity Hispanic
Case Number 85804
---
Darleesia is an energetic and talkative teenage girl. She comes off as shy at first, but her bright personality will shine right through when she begins to feel comfortable with you. She is lovely, kind, and affectionate. It is very hard not to fall in love with her infectious personality. She is occasionally soft-spoken but loves to laugh and is very easy to get along with. Darleesia enjoys listening to Christian music and dancing - even though she will laugh at her own skills. She enjoys doing arts and crafts. She loves coloring and painting. She often uses those activities as a creative outlet. She enjoys watching Disney movies. One of her favorite movies is Frozen. She has a newfound love for fashion and make-up. Darleesia has two siblings, brothers, that are incredibly important to her. She absolutely loves spending time with them. Darleesia loves bonding with her brothers over Marvel characters and comic books.
Tracy, Darleesia, and Darryl are three energetic siblings whom will tug on your funny bone and keep you laughing all day long. The boys love Marvel superheroes and can carry on hours-long conversations about everything Marvel. Darleesia is a typical girl and loves singing, dancing, and fashion. Tracy, Darleesia, and Darryl all love food and often find themselves bonding over a really good meal. All three siblings have incredible imaginations. This sibling group has an incredible bond. They love each other very much. They love spending time together. They enjoy getting to be active outside together. The siblings often challenge each other to a serious game of H-O-R-S-E. The game may start out serious but ends in bouts of infectious laughter. Tracy, Darleesia, and Darryl are an adventurous bunch and can't wait to get out there to explore!
Darleesia's forever family will set clear boundaries and expectations. She does best in a structured and supportive environment. Darleesia responds well to positive affirmations and encouragement. Darleesia would do best in a home where there were limited number of children or even with her being the only child. Darleesia's family will be a nurturing, consistent family to help her grow to her full potential. Her family will be provide patience and have the ability to provide her with the attention, nurturing, consistency, and structure she needs. She will be a great addition to a loving and caring nurturing family.