Felipe from Texas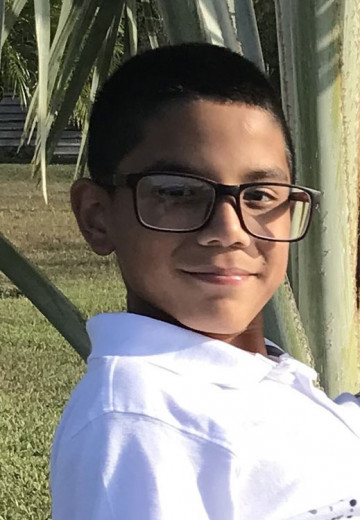 Age 12
Gender Male
Location Texas
Ethnicity Hispanic
Case Number 91378
My Siblings Christina
---
Felipe is a respectful and energetic youth. He likes being involved in many activities. He likes being outdoors and enjoys being active. His favorite sports are basketball and football. He has a fun time riding his bike. He is also very friendly, easy to talk to, and likes laughing. He also spends his free time playing Xbox, interacting with games or YouTube on cell phone, and watching Netflix. He can be hasty at times, but he handles redirection in a calm manner. Felipe enjoys being helpful around the home by cleaning after self or assisting with pets. He is an affectionate male who shows his care and love for his siblings.
Felipe and Christina desire to live together with their forever family making memories. They will warm your heart. Although they have individual interests, they interact well with one another and enjoy playing with phones/tablet, being outdoors, and traveling. They both enjoy being in school sports and both shared their favorite sport to play is basketball. They enjoy spending time at parks, beach, and traveling. Felipe and Christina have a strong sibling relationship and want to see one another do well. They interact well with each other, can laugh for lengthy time, and like being competitive when playing basketball. They care very much about each other. Felipe has a bubbly personality and Christina has a positive attitude. They are affectionate and intelligent children with a world of potential. Felipe is an inquisitive child and Christina is friendly and independent. They will do well in a home with or without other children. They enjoy spending time with their family and being included in family outings. The ideal family for them will enjoy outdoor activities and be socially active. The children enjoy celebrating all occasions, have a fun time on outings and celebrations. The children will continue to receive counseling for their past trauma.
Felipe wishes to be adopted by a two parent household who can be as active as he is. He wants a family who can meet outside for a one one basketball game or race riding bikes. His family should be supportive to his talents and likes. He wants his parents who will take the time to create new memories, see him play at a school game, and celebrate his successes. He wants his family to encourage him to excel in school as he can become easily distracted. He is interested in a mom and a dad for himself and sibling. He would also want his forever family to be open of him continuing to have contact and maintain a sibling relationship with his other siblings. He would benefit from a family who is active and will encourage him to participate in community activities and assist in keeping a healthy lifestyle. He wishes for parents that will provide an environment with structure and stability.