Fernando from Texas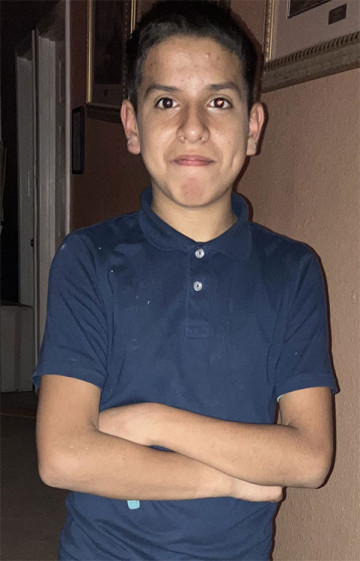 Age 13
Gender Male
Location Texas
Ethnicity Hispanic
Case Number 99427
My Siblings Roberto
---
Fernando is funny, social, has a big smile, and has yet to meet a stranger. He is very playful and always enjoys playing outdoors where he can run and be active. Fernando also enjoys spending his time playing soccer, swimming, playing his guitar and playing with toys. He likes to eat cereal and cheese pizza, and for a treat he likes to go to Walmart to buy gum. He is friendly to his peers and likes to believe everyone he meets is his best friend. He has been learning how to establish healthy personal boundaries with his friends. He is diagnosed with Autism and is working toward overcoming some challenges. Prompts from caregivers aid him in gaining independence. He will be a great addition to a loving forever home.
Roberto and Fernando are fun loving brothers who enjoy having a good time. They are known to be silly and jokesters. They can often be found playing tricks on one another or making jokes so the other can laugh. The brothers are active and enjoys activity which allows them to burn off energy. Fernando is the younger brother. He is a cowboy at heart. He likes to wear cowboy hats and boots. Roberto is the older brother who is fond of the Hispanic culture. He can often be found singing and dancing to Tejano music. Fernando and Roberto like to play video games and play outside together. While playing outside they like to shoot hoops with basketball, go on walks in parks and attend outings together. When outside they like to be competitive with one another while playing video games. Fernando and Roberto are supportive of one another and love each other dearly.
Fernando's forever family will be one who is firm and supportive. His family will provide a supportive environment where he is able to express his needs freely. His family will work with Fernando on regulating his emotions and praise him for positive behavior. They will provide Fernando with opportunities to interact positively with peers. They will provide daily nurturance to help him in managing tasks. His family will be patient and provide him with praise when he does something well. His family will be active and will encourage him to participate in activities that will improve his self-esteem and social skills. Fernando will benefit from a family that values education and is willing to take time to help teach him along with school.