Gerren from Texas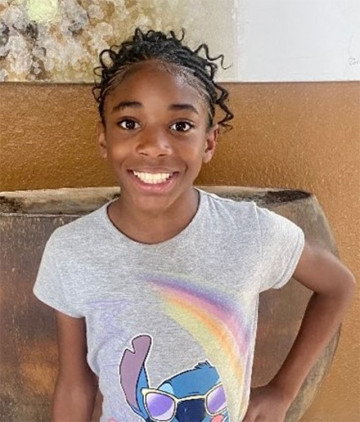 Age 11
Gender Female
Location Texas
Ethnicity African American
Case Number 105610
---
Gerren is intelligent, outgoing, and loving. She loves going to new and interesting places. She likes being involved in many activities that challenge and hold her attention. Gerren is an active girl who loves playing with toys, loves her jump rope, dolls, playing board games, watching cartoons, playing outdoors, and interacting with her siblings. She is thoughtful and considerate of others especially her siblings! Gerren makes friends easily as she enjoys going to school. She is extremely athletic. She takes pride in participating on the track team at her school. She is competitive and winning first place is her goal. Gerren enjoys holding conversation about her day, her likes and her dreams. Gerren can express her emotions in a positive manner. She learns vicariously when others model appropriate interactions and when given advice. Gerren is welcoming and outgoing when she feels that she is a part of the family.
Gabrieon, Gerren, Gavin and Gabriea are filled with talent, compassion, and independent personalities. They show tremendous love and affection for one another. Often times you'll find Gabrieon, Gerren, Gavin and Gabriea cheering each other on, offering to help each other, asking each other for help, and recognizing each other's strengths. Gabrieon is the oldest and the protector and role model for his siblings. He feels that it is his responsibility to look out for his younger siblings. He always tries to help and confront them in time of need. Gerren and Gavin are twins and are similar in many ways. They are both great at holding conversations and are both strong willed. They love staying active and playing outdoors. Gavin differs in being more in touch with his emotions and feelings while Gerren is more competitive. Gabriea is the youngest and probably the most outing. She loves trying new things and being the center of attention. She is affectionate and ensures that everyone gets tons of hugs. Gabrieon, Gerren, Gavin and Gabriea will keep each other entertained and spend large amounts of time playing together. The children love movie nights, going on family outings and having family dinners or pizza nights. The children enjoy celebrating birthdays and holidays. They love weekend outings especially to the zoo! As most siblings do, they also share some rivalry and jealousy. You may find them teasing one another, participating in pretend play, learning conflict resolution, and teaching one another. This just goes to show how comfortable Gabrieon, Gerren, Gavin and Gabriea are with one another. Together they have a host of love and affection to share with their forever family.
Gerren will do well with a two-parent active family who is willing to continue to allow her to be active in extracurricular activities. Gerren's forever family will make her feel secure in herself and gives her unconditional support to her bold personality. Gerren's family will be patient with her and reiterate their love and acceptance of her. They will be firm, structured, and able to alleviate distractions during study or mindfulness time. They will be family-oriented and ensure that quality time together is a priority. Gerren's family will encourage continuous growth and higher achievements.