Jasmine from Texas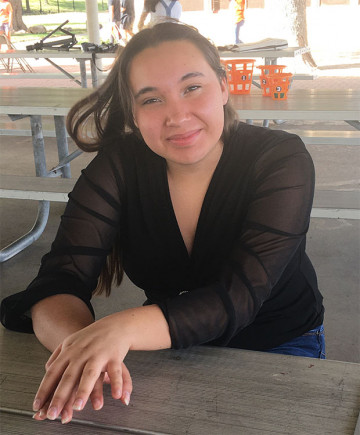 Age 15
Gender Female
Location Texas
Ethnicity Hispanic
Case Number 87579
My Siblings Nathashia
---
Jasmine is a friendly and sweet young girl. She is a kind, caring, social, and playful young girl. Like her younger sister Nathashia, Jasmine enjoys singing and practicing their instruments. Jasmine enjoys making friends with other children, laughing, and making everlasting bonds and attachments with other children. She enjoys playing with any type of animal and has a soft spot for animals, as evident by her kind demeanor and interactions with animals, such as cats, dogs, etc. Jasmine enjoys spending time with her siblings and current caregiver as she enjoys the feeling of being in a loving, caring, and protective family, and enjoys movie nights with her current caretaker as well as family outings to church and eating at restaurants. Jasmine, like her siblings, loves going to the zoo, swimming, and playing outdoors. Jasmine loves fashion and likes flashy dresses, shoes, and fashion choices.
Jasmine and Nathashia are part of a sibling group of two children and love each very much. Jasmine and Nathashia all have a healthy sibling relationship and the children are very much attached amongst each other. Jasmine is the oldest sibling in the sibling group and takes on the role of the big sister to heart and loves to care and spend time with her sister. Jasmine enjoys playing the clarinet. Nathashia is the youngest and enjoys playing with her sister. Nathashia is in band and enjoys playing the flute. At times, Nathashia can be very shy to speak out and her sister Jasmine will be her voice. Both Jasmine and Nathashia enjoying playing with animals and taking care of them. Jasmine and Nathashia also enjoy singing songs together or practicing their instruments.
Jasmine's family will be active and supportive of her extracurricular activities. Her family will go on outings and vacations with her. It is important for Jasmine to be adopted with her sibling. Jasmine enjoys sharing a room with her sister Natashia. Jasmine's family will support her goals and dreams to graduate from high school and to attend veterinarian school. Jasmine will do well in a family that helps support the sibling connections.