Kamyri from Texas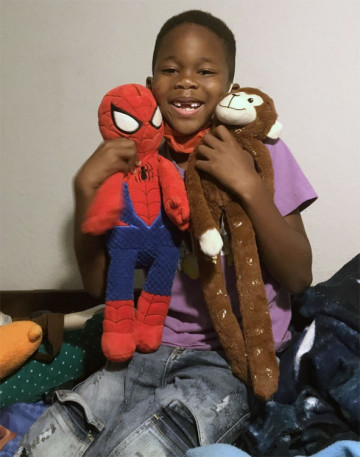 Age 8
Gender Male
Location Texas
Ethnicity African American
Case Number 88558
---
Kamyri enjoys playing with blocks, Legos, and on his tablet. He also likes to watch television. Some of his favorite programs to watch are Paw Patrol, SpongeBob SquarePants, and other cartoons on Nickelodeon. When at home, he enjoys hanging out with his siblings. Kamyri enjoys the outdoors, when it's not raining. He likes to go on walks in the community, as well as playing ball, either basketball or throwing the ball around in the backyard. Kamyri also enjoys making artwork. When Kamyri first meets people, he can come off as being shy until he gets to know you. His favorite restaurants are McDonald's because he loves the fries, Chuck E. Cheese where he can be a kid, or Pump It Up because he loves to play on the trampoline. Kamyri also loves to go to the park. He is very close to his sister, Zamiria.
Zamiria and Kamyri are two extremely bright children who share a close-knit sibling connection. Their love for one another is obvious when they are seen together. Zamiria is eldest of the two. She sees herself as the caretaker for her younger brother. She always considers his feelings and well-being before her own. Zamiria is very attentive to his needs. She is very loving and caring towards her Kamyri. Zamiria would love nothing more than to join her forever family with him. Kamyri, the youngest of the two, is doted on by his older sister and uses his infectious smile to get his way. The pair of siblings enjoy playing board games together and interacting in any way they find the chance to do. They also enjoy playing outside or on tablets together.
Kamyri will benefit from a family who is loving and highly structured. He loves the outdoors, so a family who enjoys being outside will be a good fit for him. His forever family will enjoy spending time together and be loving and caring toward one another.