Kendra from Texas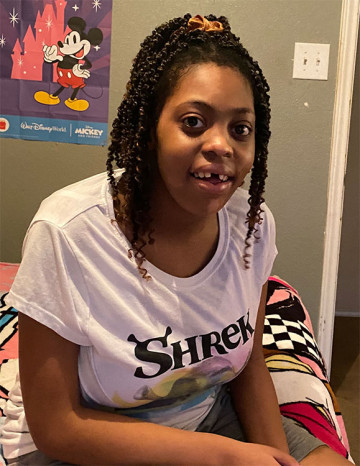 Age 15
Gender Female
Location Texas
Ethnicity African American
Case Number 80257
My Siblings Te'asia
---
Kendra is a very loving child who loves to be with her sister. She loves being outside, going for walks, and jumping on the trampoline. Kendra enjoys being read to and enjoys being creative with arts and crafts. She has never met a stranger and loves to give hugs and kisses; appropriate supervision should always be in place. She is an exuberant child who becomes easily distracted. Kendra prefers more one on one time when interacting with others. She likes to dance and watch dance shows; she is not shy when it comes to dancing, will show off her moves, and tries her hand at singing. Kendra is attached to her younger sister and seeks her out for comfort. Kendra has a great personality and enjoys making people laugh by acting silly and doing silly things.
Kendra and Te'Asia are both very loving girls who are full of life and show overwhelming empathy towards animals and children younger than them. Though their verbal communication skills have been limited, this has not altered their bond with each other. In fact, it appears to have strengthened it. Both girls look for each other when separated and light up when the other enters the room. Te'Asia can easily make Kendra laugh and is very eager to hear her sister giggle. Kendra is always willing and eager to be by Te'Asia's side, experiencing all the new things they are learning in school and their new environment. They love to be read to, play with dolls, do their hair, complete arts and crafts, and play outside. Kendra is the oldest but often looks for her sister for comfort. Kendra appears to understand what is being asked of her more than her sister and will try to help redirect her sister if Te'Asia cannot understand. Te'Asia loves to make others laugh and enjoys making her sister laugh. She is extremely curious and loves to explore everything around her. Together these sisters have an extraordinary amount of love for each other and those special enough to share in their bond. Visit me at the Heart Gallery of Houston. https://heartgalleryhouston.org/
Kendra's forever family will advocate for her needs at home, and in the school system and other various therapeutic providers if needed. The parenting style that will be best for Kendra will benefit from a family who will provide a structured, calming, patient, and able to provide careful supervision. Kendra's family will provide support and assistance on a daily and regular basis at home and at school to complete tasks. Her family will understand that she may need support in various areas of her life until and possibly through adulthood. Kendra does well with other children and love dogs. Kendra thrives when she has an interactive home environment, where she can express herself.