Kristopher from Texas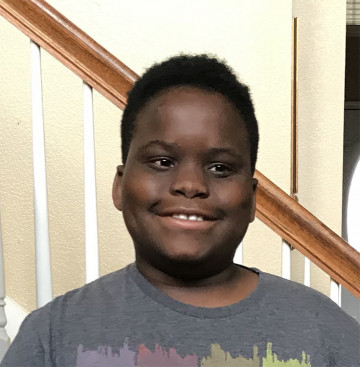 Age 12
Gender Male
Location Texas
Ethnicity African American
Case Number 82221
My Siblings Octavion
---
Kristopher is a polite and respectful young boy who has a kind, loving heart. He is affectionate and caring and often shows compassion towards his peers and adults. Kristopher wants to help and likes receiving affirmations for work well done. For fun, Kristopher likes to play football and basketball as well as play with his older brother, Octavion. Kristopher enjoys engaging in social and recreational activities such as going to local parks and catching the latest release at the movie theater. He also enjoys participating in church activities, camps, and other events. One of Kristopher's favorite past times is to sing and dance.
Octavion and Kristopher are a great sibling group. They are a close pair and enjoy spending time with one another. Octavion likes to play and follow behind his younger brother. Kristopher likes to give directions for Octavion "to be good". They are close in age and share a very special bond. Octavion and Kristopher love to participate in all sorts of activities. Some of their interests and hobbies include, listening to music, playing basketball, and drawing. The children have unique qualities that can warm anyone's heart. The boys are looking forward to spending their future together in a forever home.
Kristopher needs a family who is patient, loving and nurturing. Kristopher also needs a stable, well-structured home where he can receive guidance and redirection. He will do best in a two-parent home with a mother and a father. Kristopher's ideal family will encourage him to participate in extracurricular activities to assist him with developing positive social skills.