Sable-ann from Texas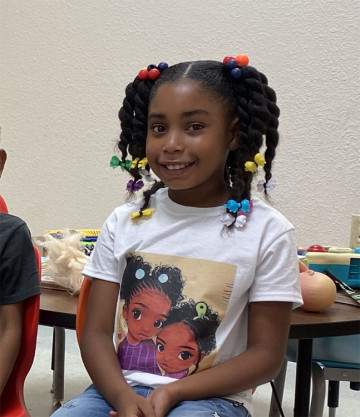 Age 8
Gender Female
Location Texas
Ethnicity African American
Case Number 93886
---
Sable-Ann is a quiet and easy-going little girl. She's calm by nature. She loves getting to explore the great outdoors, especially while jumping on the trampoline. She loves swimming! She considers herself an expert little fish. Sable-Ann has big dreams, and one of those dreams is to one day be a princess! She loves to play dress up and she loves the color pink. She loves to play with baby dolls and dress them up to match. Sable-Ann loves singing and dancing to music. Her favorite artist is Michael Jackson! If you know the words to a Michael Jackson song, you'll be friends for life. Sable-Ann enjoys school and loves to learn. She is incredibly observant. If it's too quiet, you might find her diligently conquering the activities on her Leap Frog.
Sable-Ann, Joseph "JoJo", and Promise are a very fun-loving, energetic, and close-knit sibling group. The relationship they have with one another has truly blossomed over the last couple of years. They enjoy spending lots of quality time together. They are constantly working to improve their sibling relationship. They love playing games, being outside, and singing and dancing to their favorite songs together. Sable-Ann, Joseph, and Promise would like to be adopted into the same family. They would especially love to be with a family that has pets! Sable-Ann is the oldest in the group. She is calm, well-mannered and very sweet. Joseph is the middle child. He can be shy at first, but then the natural jokester will emerge and constantly tug on your funny bone. Promise is the baby of the bunch. She enjoys all the attention and the snuggles. They all have incredibly unique personalities and are ready to share them with the world!
Sable-Ann's forever family will be caring and nurturing. She would like a family with pets. They will provide unconditional love and support. Her forever family will be structured, patient, kind, and of course be animal-lovers!