babykesq
My husband was born on 9/30/1967. He was told his mother stayed at the Zoar Home for Unwed Mothers in the Pittsburgh, Pennsylvania area. The adoption took place in the same area. He would like to learn about his birth family.
Are you sure that the birthday is correct? I was at the Zoar Home, but it was nearly a year before. My son was born on Nov 20, 1966.
Advertisements
I was happy to find this forum. I was about thirty-two years old when I learned that I was born at Zoar Home in 1949. I won't go into the details about how it happened , but it was somewhat unusual. Over the last 30 + years I have tried to get information. I was never adopted. Recently I was directed to The Court of Common Pleas/Orphan's Division, by someone at the Senator John Heinz History Center. The court sent me a form to complete. I am awaiting a response. If any one has any helpful information concerning how to get info from Zoar's records, please contact me:
goshpitchala@hotmail.com
I'd also like to here from any Zoar survivors. Best Wishes, Robert Russell
My older brother that was adopted out of Zoar home in 1984.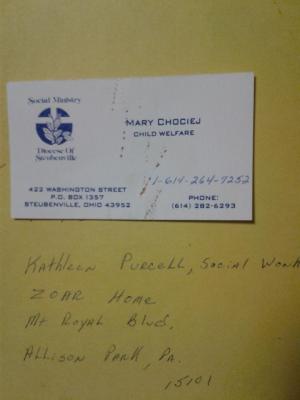 Last update on January 2, 1:59 pm by Kayla Black.